Pete Davidson Has Finally Addressed His Split With Ariana Grande & *Those* Tattoos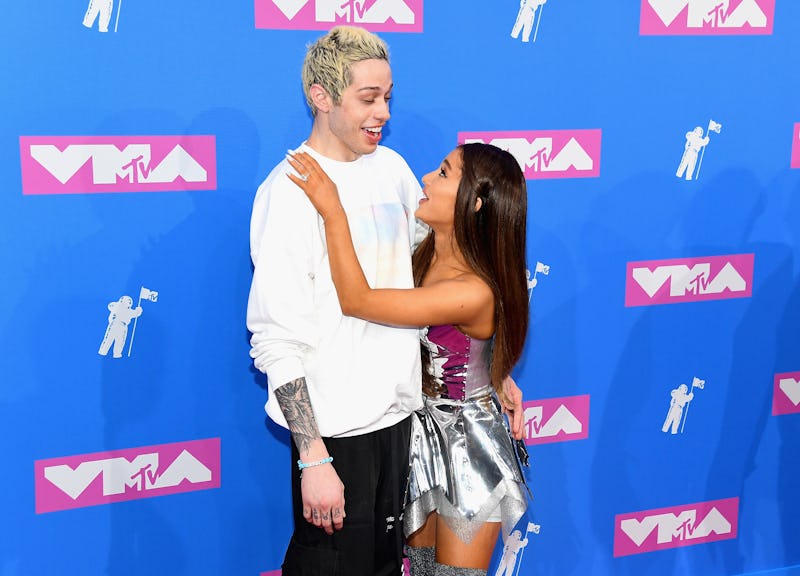 Nicholas Hunt/Getty Images Entertainment/Getty Images
One week after their summer romance came to an end, Pete Davidson commented on his break up with Ariana Grande. But the Saturday Night Live star's remarks are definitely not what you were expecting. On Saturday, Oct. 20, Davidson made his first public appearance since the split at the comedy show Judd & Pete for America at the Coronet in West Hollywood. At the comedy show that he co-hosted with director Judd Apatow, Davidson reportedly joked to the crowd, "Well, as you could tell, I don't want to be here. There's a lot going on. Does anybody have any open rooms? Looking for a roommate?"
As reported by E!, Davidson continued his set by telling the crowd:
"Um, I've been covering a bunch of tattoos, so that's fun. I'm f**king 0 for 2 in the tattoo [department]. Yeah, I'm afraid to get my mom tattooed on me, that's how bad it is."
He also officially confirmed the break up, saying,
"So, obviously you know I, we broke up or whatever but when me and her first got engaged we got tattoos. And it was like in a magazine like, 'Was Pete Davidson stupid?' And 93 percent of it said yes. So my boy, he was like, 'Don't listen to that s**t man. They're literally f**king haters.' And I'm like, yeah, f**k that. I'm not stupid. And the other day we were in my kitchen and he was like, 'Yo bro. Turns out you were stupid.'"
On Oct. 14, TMZ broke the news that Grande and Davidson had ended their engagement. A source told People, "It was way too much too soon. It's not shocking to anyone." Bustle previously reached out to both celebrities' representatives, but did not hear back at press time.
Grande hasn't addressed the split directly, but she has stayed busy in the week since the news first broke. On Tuesday, Oct. 16, she shared a since deleted Instagram post after filming her part in NBC's A Very Wicked Halloween special, a celebration of Wicked's 15th anniversary. Grande told her fans that she would be taking a social media break. She wrote on Instagram,
"today was v special and i'm so grateful i was able to be there."time to say bye bye to the internet for just a lil bit. it's hard not to bump news n stuff that i'm not tryna to see rn. it's very sad and we're all tryin very hard to keep goin. love u. and thank u for bein here always."
Her post appears to have been deleted, so it's unclear whether she's still taking a break. Although, if she is, the singer definitely deserves one.
Over the course of their relationship, Davidson and Grande got a number of matching tattoos. Davidson also got tattoos in tribute to Grande, including the black bunny from the cover of her Dangerous Woman album. Seeing the SNL star address his hasty ink decisions is maybe not the way you would expect him to break his silence about the split, but it's still a very Davidson thing to do.
Seeing those tattoos right now could be a painful reminder that his relationship with Grande is over, so it's understandable that Davidson is taking steps to have them covered up. This is clearly a difficult time for both parties, and it's going to take time for them to heal.