Why Ariana Grande Is Billboard's Woman Of The Year Is So Clear From Her Best Performances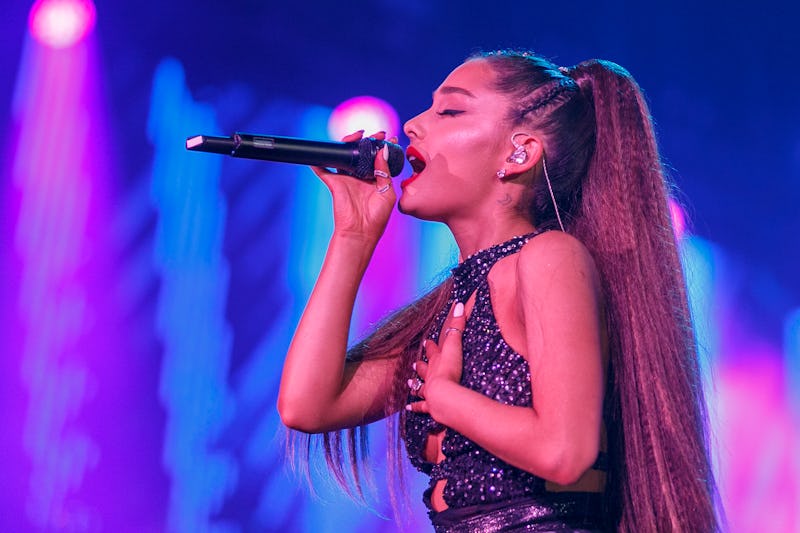 Rich Polk/Getty Images Entertainment/Getty Images
Give your ponytail a celebratory twirl, because Queen Ari is set to receive a major honor. On Tuesday, Billboard announced Ariana Grande is Billboard's 2018 Woman of the Year. Well, that feels about right. Fire up any of Grande's performances from the past year, and you will without a doubt be like, "Yep. Uh-huh. This is the Woman of the Year."
After Billboard made the announcement, Grande responded to the news on social media. "thank u @billboard for this honor," she wrote on Instagram. "now everybody please go out and vote." She is talented. She is influential. She uses her platform to tell people to vote in Tuesday's election. She is perfect. She is Woman of the Year.
Regarding the award, Billboard VP of content Ross Scarano said in a statement,
"Ariana Grande is a star on her own terms, never bending to any particular musical trend or path in the industry. Certain in her convictions, she consistently stands up for herself and her decisions in a world that often isn't hospitable to that sort of strength in young women. She's got guts, she's making some of the best music of her career, and she's absolutely deserving of Woman of the Year."
Yes to all of that.
What a year it has been for her career. On Aug. 17, Grande released Sweetener, a dazzling pop record that includes hit singles "No Tears Left to Cry," "God Is A Woman," and "Breathin." It opened at No. 1 on the Billboard 200, was celebrated by critics far and wide, and is basically the only thing I ever want to listen to anymore. A few short months after she blessed us with her fantastic fourth album, Grande surprised everyone with even more new music. On Nov. 3, she dropped a brand new single called "thank u, next," which happens to be the title track off of her forthcoming fifth album. Oh, and that fifth album could be out, like, any second now.
And do you know what else she gave us in 2018? A whole bunch of performances that knocked the cat ear headbands right off of our skulls.
"God Is A Woman" From Ariana Grande at the BBC
Be sure to brace yourself before the video hits the 2:18 mark.
"No Tears Left to Cry" From The Billboard Music Awards
This performance features exquisite vocals, a tulle hair bow, fun choreography, and a very M.C. Escher set. What more could you want?
"The Wizard And I" From NBC's A Very Wicked Halloween
If you care to find me, look to the western sky... because this performance of "The Wizard and I" knocked me out of my chair so hard that I am now floating among the clouds.
Soundtrack To Titanic From The Late Late Show With James Corden
Grande and Corden's mini jukebox musical is impressive on about a thousand different levels.
"R.E.M" From BBC Radio 1 Live Lounge
This video is such a dream to me.
"(You Make Me Feel Like) A Natural Woman" From The Tonight Show
The evening of Aretha Franklin's passing, Grande performed this tribute on Jimmy Fallon's late-night show. And whew, what a tribute it was.
"God Is A Woman" From The MTV VMAs
Marjorie "Nonna" Grande! Joan Grande! Lani Grande! That ending is such a special moment!
The "God Is A Woman" singer will be presented with the Woman of the Year honor at the Women in Music just four years after Billboard gave her the Rising Star award. The gala will take place on Dec. 6.