Ariana Grande Is Taking A Mini Twitter Break For This Totally Understandable Reason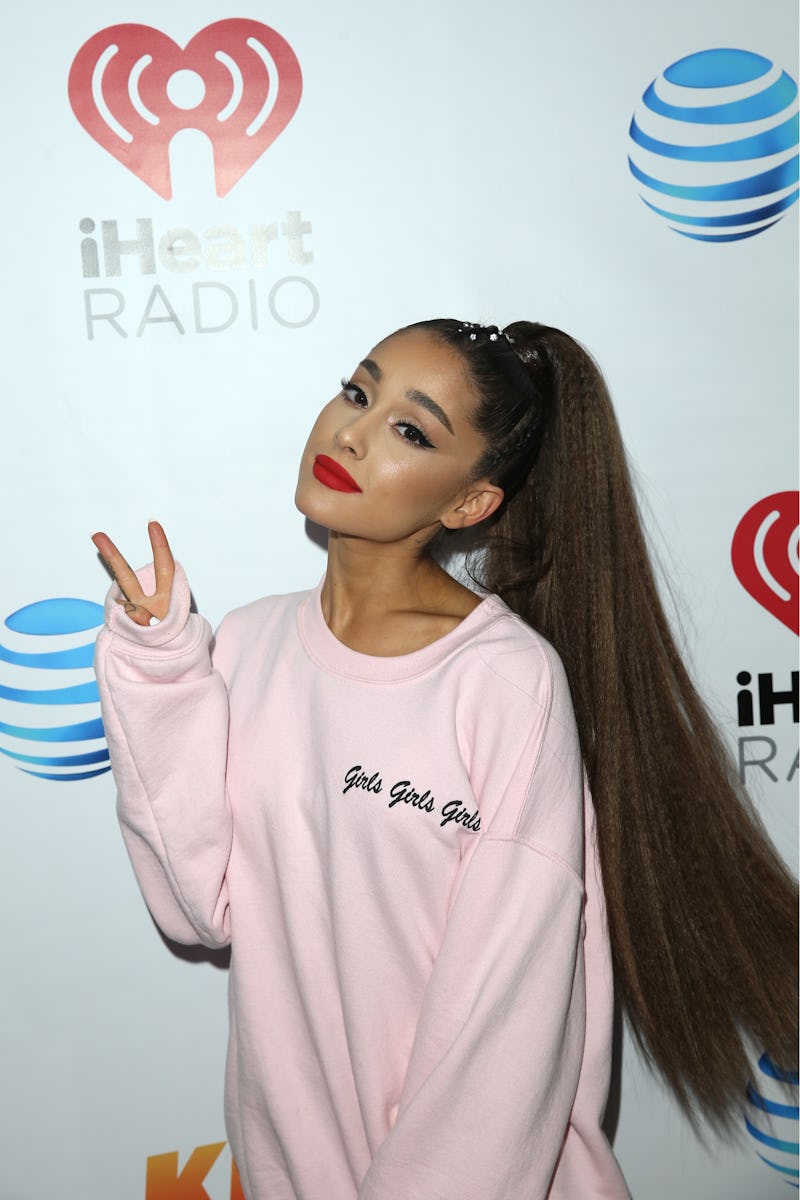 Jesse Grant/Getty Images Entertainment/Getty Images
Ariana Grande has been going through a lot lately, and now, it sounds like she's finally decided to take a step back. According to a tweet she shared on Sunday, Nov. 25, Grande is taking a break from Twitter after she was accused of "milking" Mac Miller's death, and so far, she hasn't shared anything else on the social network at all, even though just a few days ago, she was posting regularly to get fans excited about her upcoming music video for "Thank U, Next."
UPDATE: Early afternoon on Monday, Grande briefly returned to Twitter, sharing love for a BBC Radio 1 post that featured a cover of "Thank U, Next." She quoted the tweet with a heart emoji.
EARLIER: In honor of Thanksgiving last Thursday, Grande took to her Instagram story to share a photo of her and Miller, writing, "you're v missed." It makes sense that the first major holiday after his death would be a time that Grande would be thinking about Miller — after all, they were still together this time last year — but some people didn't see it that way. After that post went live, many fans tweeted Grande their support, but unfortunately, others also shamed her for her grief, and it seemed to be enough to push Grande to walk away from Twitter entirely (for the time being, at least).
At first, Grande simply replied to a tweet that said she was "milking this sh*t" by writing, "I pray you never have to deal with anything like this ever and I'm sending you peace and love." But then, after some fans stuck up for her, she added another tweet saying that she needed a break. She wrote:
"f**k. y'all really make me wanna stay. imma go tho for a min. it's too gnarly on here. i'll be back tho. love u bye."
Before her final sign off, Grande also tweeted, "sending you all a sh*t ton of love" and "peace."
This isn't the first time that the singer has used social media to memorialize Miller. One day after news of his death broke, Grande shared a black-and-white photo of Miller on her Instagram:
A week later, Grande shared a video of Miller on Instagram as well, along with a devastating caption. She wrote:
"i adored you from the day i met you when i was nineteen and i always will. i can't believe you aren't here anymore. i really can't wrap my head around it. we talked about this. so many times. i'm so mad, i'm so sad i don't know what to do. you were my dearest friend. for so long. above anything else. i'm so sorry i couldn't fix or take your pain away. i really wanted to. the kindest, sweetest soul with demons he never deserved. i hope you're okay now. rest."
Shortly after Grande said that what people were saying about her posts made her "sick to my stomach," her friend and fellow musician Halsey came forward to defend her, tweeting:
"ari the world could only dream of being as compassionate and gentle as you. and since ur being, as always, so classy and nice, allow me the honor of telling them to shut the f**k up."
There's no one way to grieve the death of someone who was close to you, and shaming someone for how they handle a loss is not OK, even when that person is a celebrity. Good for Grande for standing up for herself and knowing when it's time to take a break. Hopefully. she'll have the chance to take a breath and come back to social media refreshed when she's ready.