Ariana Grande's Photo Of Mac Miller After His Death Speaks For Itself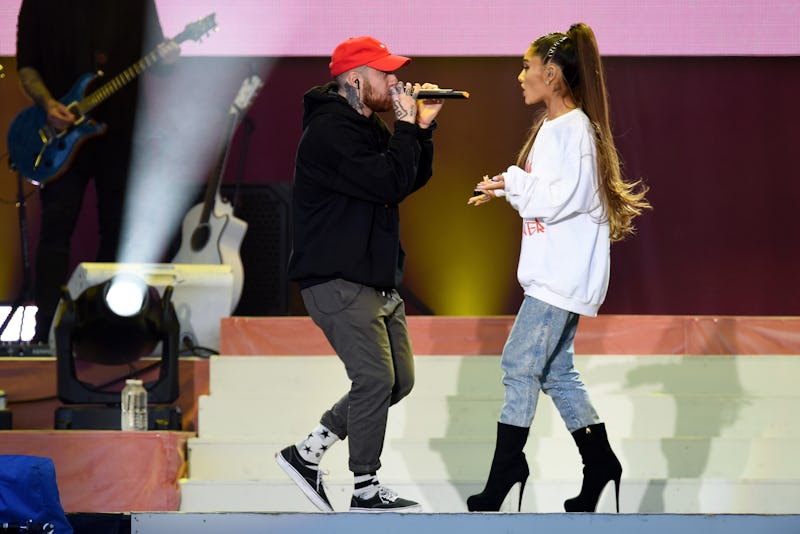 Getty Images/Getty Images Entertainment/Getty Images
On Friday, Sept. 7, TMZ and other media outlets reported that Mac Miller died at age 26. One day later on Saturday, Sept. 8, Ariana Grande posted a photo of Mac Miller on her Instagram account. The candid photo is a black and white image of the rapper sitting on the ground and looking up at the photographer with a neutral expression. The post has no caption, but it clearly speaks for itself. Miller and Grande were frequent collaborators on songs like the 2013 hit "The Way" and the 2016 song "My Favorite Part." The rapper and the singer also dated from 2016 until May 2018.
Miller's family released the following statement to E! News on Friday regarding his passing:
"Malcolm McCormick, known and adored by fans as Mac Miller, has tragically passed away at the age of 26. He was a bright light in this world for his family, friends and fans. Thank you for your prayers. Please respect our privacy. There are no further details as to the cause of his death at this time."
At the time of TMZ's report, Bustle reached out to reps for Miller for comment, but did not receive a response. Bustle also reached out to the Los Angeles Police Department.
Grande and Miller's friendship can be traced back as far as November 2012, when they traded tweets about collaborating on a cover of the Christmas classic "Baby It's Cold Outside." This resulted in their first song together, which was released on Grande's YouTube channel in December 2012 with Miller's performing as his alter ego Larry Lovestein.
Their next collaboration was "The Way," which was released in March 2013. Grande told Billboard at the time that she invited Miller to be featured on the song. She said, "I cut my vocal on it, and then Mac and I had been hanging out for a while at that point, and I was like, 'I really want you to feature on this record. What do you think?' And he said, 'Sounds like a hit to me!'"
The song became a breakout hit for Grande and Miller. "The Way" was Grande's first track to reach the Billboard Top 10. Their chemistry between Grande and Miller in the music video led to relationship rumors, but the duo said at the time they were just friends. "That's the homie. She's got a boyfriend and everything," he told MTV News in April 2013.
But three years later, their friendship turned romantic. In September 2016, Grande confirmed her relationship with Miller on Instagram. She posted a photo of herself and Miller hugging with the caption "baabyyy."
Miller released his track "My Favorite Part" featuring Grande in December 2016. The rapper told People, "I wrote that love song before I saw her. We're very good friends first and foremost. We made that song and started becoming close again. It's very dope and I like how that worked out."
Miller also joined Grande on stage to perform "The Way" during her Manchester One Love concert in June 2017.
In May 2018, Grande announced her split from Miller in a heartfelt Instagram Story. She wrote:
"This is one of my best friends in the whole world and favorite people on the planet. I respect and adore him endlessly and am grateful to have him in my life in any form, at all times regardless of how our relationship changes or what the universe holds for each of us!"
And her latest Instagram photo in the wake of Miller's passing conveyed that still rings true.
If you or someone you know is seeking help for substance use, call the SAMHSA National Helpline at 1-800-662-HELP(4357).