Ariana Grande & Pete Davidson May Be Taking A HUGE Step Forward In Their Relationship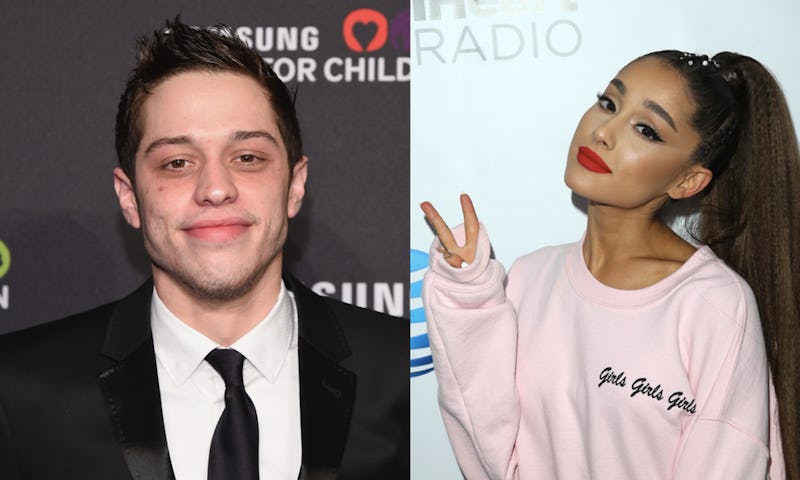 Bryan Bedder/Getty Images Entertainment/Getty Images; Jesse Grant/Getty Images Entertainment/Getty Images
When it comes to their newfound romance, Ariana Grande and Pete Davidson don't seem too concerned with taking things slow. It feels like the couple took their relationship public just yesterday — though, in reality, it was a little less than a month ago, in mid-May. Suffice to say, a lot has happened since then. For starters, per the weekend's news circuit, it looks like Ariana Grande might be moving in with Pete Davidson. There really is never a dull moment with these lovebirds.
If the 24-year-old pop singer's recent activity on Instagram ends up meaning what people think it does, then the reportedly engaged couple may be taking another big step forward. (Bustle previously reached out to Grande and Davidson's reps for comment on the reported engagement news, but didn't receive an immediate response.)
Those fans privy to the recent workings of Grande's Instagram account already know that Davidson-themed posts crop up on there pretty often. Or, at least they have been these last couple of weeks. Unsurprisingly, the last few days proved no different. Trailing a series of Instagram photos that seemed to pretty definitively place both halves of the couple in New York over the weekend, Grande took to the social media platform once again Saturday night, June 17, to share what sounded like a particularly exciting personal-life update. Despite, Grande's ostensible vagueness, the potential announcement that she and Davidson might be sharing an apartment soon doesn't feel any less exciting.
In a move that feels duly characteristic of Grande's penchant for playfulness — and charming the pants off most everyone who witnesses it — the singer dispensed the teaser news out into cyberspace with a makeshift SpongeBob SquarePants meme. "Us in our new apartment with no furniture, 1 speaker and Red Vines," Grande wrote in a caption overlaying the first of several conceivable apartment-themed posts to her Instagram story Saturday night. (For those fans who'd like to take a peek for themselves, the snapshots are still available on Instagram for a few more hours.)
Of course, the "us" she mentioned in that initial post didn't necessarily have to be Davidson. But Grande's string of posts to her Instagram Story did seem to suggest that the "us" in question might not have been referring to herself and a platonic roommate. About an hour later, Grande followed up the SpongeBob meme with an equally light-hearted, filtered video, which saw Davidson confidently sporting a pair of floral-printed animal ears and flashing silly faces at the camera.
The video's dim lighting makes it difficult to discern exactly where the comedian might have been standing when Grande filmed him. That being said, as several news outlets have pointed out, it does look like Davidson might be standing in the foreground of some kind of Manhattan apartment complex. Plus, Grande topped off the Instagram story Sunday morning with two back-to-back shots of the singer looking particularly giddy while standing atop what looks like a pair of couch cushions. Her reported engagement ring, which reportedly cost Davidson something like $93,000, according to a report by E! News earlier this month, is hard to miss.
Grande's enormous pear-shaped ring made a cameo appearance over on Davidson's Instagram account recently, too. Accompanying a truly heartwarming black-and-white photo of Grande cuddling up in her beau's lap (naturally, the rock on her finger is featured front-and-center), Davidson penned a caption that's bound to have you swooning: "u know what you'd dream [sic] it'd be like? it's better than that," he wrote.
Of course, just because Grande posted a photo of herself with a couch and a diamond ring doesn't mean that she and Davidson are definitely moving in together. It's also probably worth mentioning here that neither Grande nor Davidson has commented on the recent string of reports that claim the two are moving in together, so at this point, nothing has technically been confirmed. That being said, if Grande's recent social media posts have anything to say about the status of their relationship, it seems pretty obvious that the two are really, really happy. So, who knows? Maybe Grande and Davidson are moving in together. If they are, here's to wishing them the best.