Now That Ariana & Pete Confirmed Their Engagement, THIS Is The Biggest Question On Fans' Minds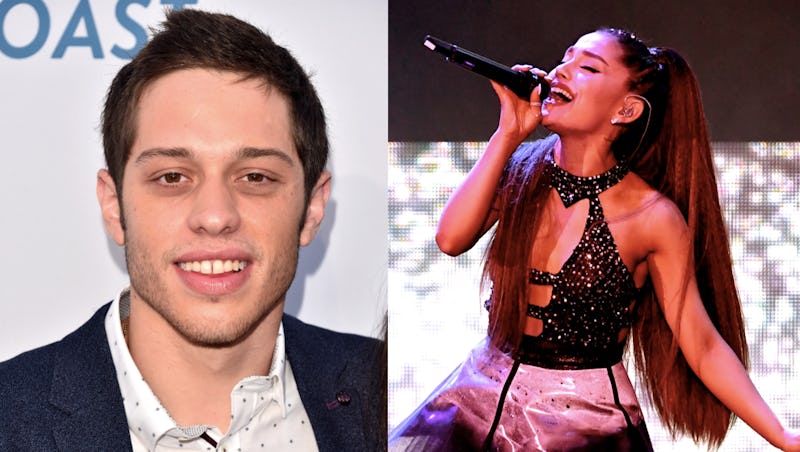 Alberto E. Rodriguez/Getty Images Entertainment/Getty Images; Kevin Winter/Getty Images Entertainment/Getty Images
In news that fans probably saw coming, Ariana Grande and Pete Davidson confirmed their engagement on Friday. And just like the method they used to announce they were first dating, they resorted to Instagram. So when are Grande and Davidson getting married exactly? Their relationship has already felt like such a whirlwind, so let's take a step back and break down what's known so far.
Chatter surrounding Grande and Davidson's courtship first surfaced just last month, and whew, that chatter only gets more captivating by the day. On May 18, just one month ago, Bossip reported that the newly-single Grande and the newly-single Davidson were an item. They did not address the reports for several days, but as Twitter user @theAGparadise pointed out, Grande and Davidson sure did leave a trail of cloud-shaped bread crumbs. But eventually, they confirmed their relationship on — where else? — Instagram. On May 30, they threw on some Hogwarts robes and took a pic for all of the Saturday Night Live star's IG followers to see. As Davidson wrote in the caption, "the chamber of secrets has been opened."
And then, it happened. On June 11, Us Weekly reported that multiple sources claimed Davidson asked Grande to marry him. They did not confirm the engagement right away, but some details about the reported ring surfaced. According to TMZ, the piece of jewelry is apparently worth almost $100,000, was designed by jeweler Greg "Mr. Flawless" Yuna, and took about two weeks to make. As Us Weekly reported, Grande was spotted at Disneyland on June 11 wearing a ring that looked a heck of a lot like the one in TMZ's photo. And as Just Jared noted, the ring in question also made a cameo at the 2018 Songwriters Hall of Fame Induction & Awards Dinner on June 14. Oh, and Grande might've been wearing it during her set at KIISFM's Wango Tango concert in Los Angeles on June 2. (That feels like a lifetime ago, doesn't it?)
And then, another thing happened. On June 15, Davidson posted a picture he took of his and Grande's hands. And on Grande's hand is — you guessed it — a mammoth pear shaped diamond ring. In the caption, Davidson wrote,
"u know what you'd dream it be like ? it's better than that"
Grande replied, "so much better." No, Grande and Davidson didn't write out the words "we are engaged," but uh, you get the literal picture. Grande and Davidson are affianced. It's official: Davidson proposed it up, proposed it up, they're loving, they're marrying, Davidson proposed it up.
So now that the "are Grande and Davidson really engaged?" question has been answered by Grande and Davidson, we shall move on to the next question: When do they want to tie the knot?
Alas, Grande and Davidson have yet to formally announce a wedding date, so that answer remains unknown. However, if the last several weeks have taught us anything, it is that Grande and Davidson have mastered the art of surprise. So uh, bearing that in mind, maybe we should expect them to get married when we least expect it ... whatever that means.
Again, there is no official word on when they plan to walk down the aisle, but an unnamed source did claim to Us Weekly that Grande and Davidson "are not rushing to get married." If that is indeed the case, cool. If that is not the case, cool. As long as everyone's happy, it is all is cool. Whatever happens, we will almost certainly read all about it on the ol' Instagram.