Ariana Grande & Pete Davidson Just Went To Disneyland, So It Def Seems Like They're Engaged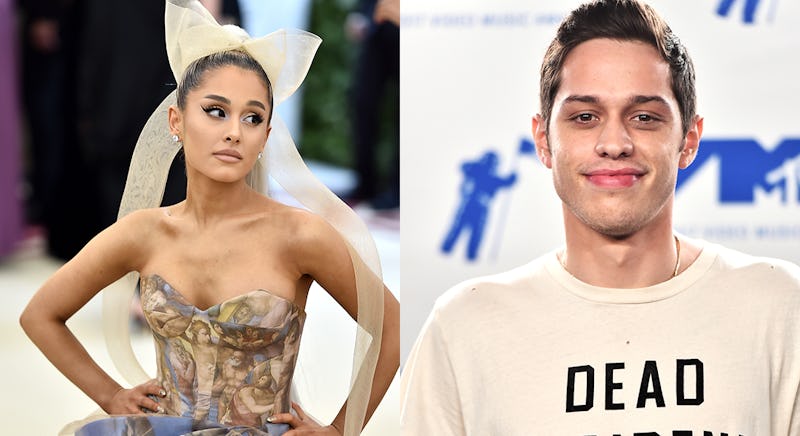 Theo Wargo/Getty Images Entertainment/Getty Images; Alberto E. Rodriguez/Getty Images Entertainment/Getty Images
Fans are still reeling from the news that Ariana Grande and Pete Davidson are reportedly engaged, and now, there's another reason to believe they're celebrating this major milestone in their relationship. On Monday night, Grande and Davidson went to Disneyland, as pointed out by People, and their latest outing is definitely fueling the engagement rumors even more... despite the fact that neither of them have directly confirmed that they're planning to get married. (Bustle reached out to Grande and Davidson's reps about the rumors, but did not receive an immediate response.)
Grande shared videos on her Instagram story of their night in the park, and it seemed like they were having a blast on a ride that appears to be Big Thunder Mountain Railroad, thanks to the goat in the background in one of the shots. The videos are blurry and mostly feature Davidson yelling on the ride, but they look like they're having a good time — because they're celebrating their engagement in the happiest place on earth, perhaps?
Unfortunately, the videos didn't include either of them talking about the news or even a glimpse of a ring, but it's obvious this couple has hit the ground running. As fans are waiting for more details, dying to know what's going on, these dark videos are just another piece of evidence that a walk down the aisle is in their future.
Of course, it's not like you need a reason to spend a night in Disneyland, but it's not like this proves they're not engaged. And as People reported, fans spotted them being couple-y in the park, like in the post from this Instagram account about celebrities who visit Disneyland where Davidson is seen helping Grande off of Space Mountain. How cute are they? And, of course, Grande is wearing mouse ears, because that's what you do at Disneyland.
Grande also stopped to pose for a picture with a fan, so she was clearly having a very busy night. And if she's really, truly about to start wedding planning, she can probably expect quite a few of those in the near future.
News first broke that Grande and Davidson could be engaged Monday afternoon — just hours before they hit Disneyland. Supposedly, he popped the question last week and Grande said yes, and according to what sources close to the couple have said, it seems like they're very happy together.
"It's a recent engagement," one of the insiders told People. "They're just two people who found love quickly and make each other happy all the time. They both started talking about it this past weekend. It's nothing they've been hiding."
Meanwhile, another source told Us Weekly that they reportedly told friends they were engaged at Robert Pattinson's birthday party on Saturday, and even though this engagement came quickly, they aren't in a hurry to make things official. One source claimed that they're planning on a "very long engagement," and another said that they are "constantly making each other laugh" and that their mothers have already met. Sounds like even without the engagement, things between them were getting pretty serious.
"They are a perfect fit. They are not rushing to get married," one of the sources told Us Weekly. "Their friends are really excited and supportive."
Whatever's going on with Davidson and Grande, hopefully, they update fans soon. How long can we all be expected to live in suspense when huge news like this is hanging over us? Let's have that confirmation, you two — and a photo of the ring, please, if you don't mind. Maybe a proposal story, too? Just saying.