Ariana Grande Called Music Her Lifeline & She's Pouring Everything Into New Songs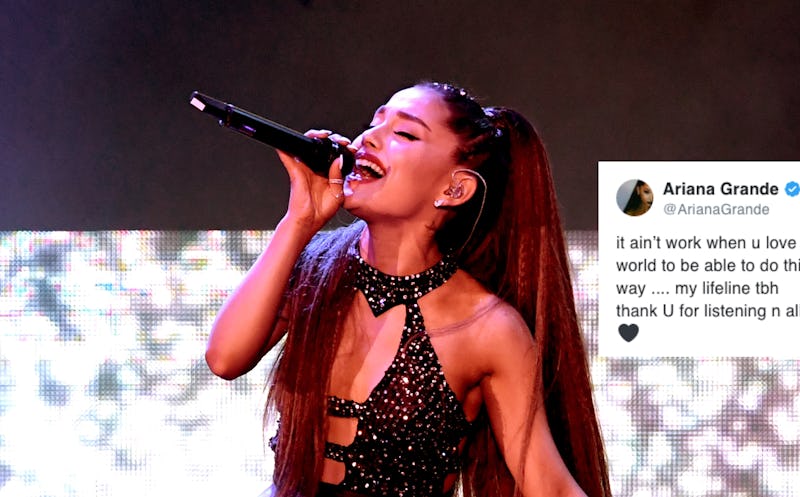 Kevin Winter/Getty Images Entertainment/Getty Images; Ariana Grande/Twitter
This year has been a total whirlwind for Ariana Grande. Even though releasing her new album Sweetener would have been enough to keep her busy, she's also been dealing with her engagement and then breakup with Pete Davidson as well as the death of ex-boyfriend Mac Miller. But fortunately, it sounds like she's found a good way to cope. In a tweet she shared on Wednesday, Grande said music is her "lifeline" as she's healing from the difficult things she's been through this year, so it seems like fans may get to hear her pour her heart out into new songs soon.
The tweet came while Grande was responding to fans, asking her about her next tour and album. When one called her the "hardest working woman in the industry," she explained that making music wasn't work at all because of how cathartic it is for her. She wrote:
"it ain't work when u love it r u kiddin ! i'm the luckiest girl in the world to be able to do this shit n express myself n heal this way .... my lifeline tbh thank U for listening n allowing this to be my life."
It's good to hear that Grande has something in her life that can help her like that, especially since she's had what must have been an overwhelming year.
This isn't the first time Grande has opened up about how therapeutic making music is for her. While talking to Time in May, Grande revealed her song "Get Well Soon" was about her anxiety and that the way the music was layered was "like I'm talking to all of my thoughts in my head and they're singing back to me."
In the same interview, she said that going to therapy also helped her make music, because it helped her get more in touch with her feelings, when before, she thought her anxiety was just "how life was supposed to feel."
"I felt more inclined to tap into my feelings because I was spending more time with them," Grande told Time. "I was talking about them more. I was in therapy more."
And now, it certainly seems like we might get a glimpse into what's been going on in her head over the last few months in her next album — at least, according to her tweets. On Oct. 4, she even shared a clip of a song she's been working on. If music truly is helping her heal, no wonder she's been spending time in the studio.
And it looks like the music is helping, because when a fan asked her how she was doing, Grande replied, "better dis week ily v much."
Even though the idea of new music so soon after Sweetener is obviously exciting for fans, what's even more important is that Grande was able to find an outlet where she can express her feelings when she's going through a lot, like she seems to be now. Now, the rest of us just have to wait for that next album.