Pete Davidson Pulled Out Of Another Comedy Performance For "Personal Reasons"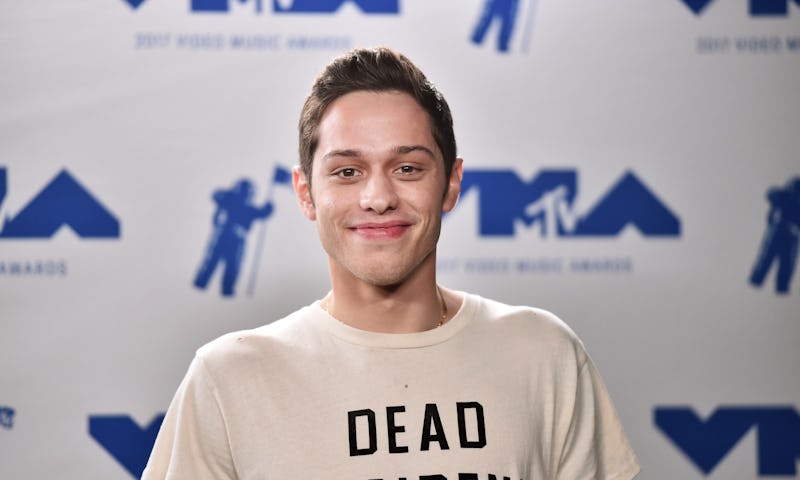 Alberto E. Rodriguez/Getty Images Entertainment/Getty Images
Amid reports of a recent breakup between him and Ariana Grande, Pete Davidson canceled another comedy performance as of Wednesday, Oct. 24. As reported by Us Weekly, Davidson pulled out of an upcoming stand-up show at Saint Louis University, originally scheduled to take place on Thursday evening, Oct. 25. As Us Weekly mentioned in its report, the event's Facebook page recently shared a message (under the "details" section) announcing the unexpected cancellation.
It's not clear exactly when the announcement was posted, though it does sound like a relatively last-minute change of plans. The message read:
"Due to personal reasons, Pete Davidson's appearance at SLU has been cancelled. Stay tuned for more information about another great speaker!"
Although fans are eager for answers, the exact nature of Davidson's "personal reasons" for opting out of his SLU performance has not been confirmed. The comedian himself hasn't offered any sort of public explanation for his absence, though SLU's announcement includes the tags "health" and "mental health" below its message, along with "sketch comedy."
Davidson's SLU cancellation marks the second of its kind since rumors that he and Grande broke up first began to circulate. That was roughly 10 days ago, on Oct. 14, when TMZ reported that Grande and Davidson had called off their engagement. (Bustle previously reached out to both Grande and Davidson's reps about the breakup reports, but did not hear back.) TMZ's first report seemed to open the proverbial floodgates for a slew of other stories like it, including one from People that quoted an unnamed source who said, "[The relationship] was way too much too soon."
The comedian hasn't commented on what caused the split, but he did confirm his and Grande's breakup during a comedy show on Saturday, Oct. 20. (Grande has yet to comment on the breakup directly.) Segueing into a bit about the former couple's matching tattoos, Davidson said, according to E! News:
"So, obviously you know I, we broke up or whatever but when me and her first got engaged we got tattoos..."
It's not clear if their breakup is necessarily behind Davidson's recent string of performance cancellations. That said, the timing doesn't feel like a total coincidence. Last week, two days after the breakup rumors first kicked up, Davidson was set to headline a sketch show called "Comedy Night Live" at Temple University. But, the day before his performance, Temple University's Main Campus Program Board announced that it had been canceled. On Tuesday, Oct. 16, the organization wrote on Instagram:
"Unfortunately, Pete Davidson will no longer be able to do our homecoming show due to personal reasons."
Although Davidson hasn't commented on his reasoning behind these cancellations, some fans on the internet are, understandably, still wondering if they might have something to do with his breakup.
Fans probably know that Grande has taken a step back from the spotlight these last few weeks, primarily as a means of healing. In September, she opted out of attending the Emmys following Mac Miller's untimely passing. Then, the night before TMZ's breakup report was released, Grande canceled her performance at a F*ck Cancer fundraiser — originally thought to be the singer's "return" to the stage after what was ultimately a pretty brief hiatus, given everything she's been dealing with.
So at the end of the day, whether Davidson's (or Grande's) performance cancellations have anything to do with their breakup seems a little besides the point. Even if they're not together right now, perhaps SLU's cancellation news means Davidson is taking a note from Grande in taking a step back from the spotlight — and hopefully taking care of himself in the process.