Ariana Grande Celebrated Her Birthday By Teasing Fans With A New Song, & It's SO Good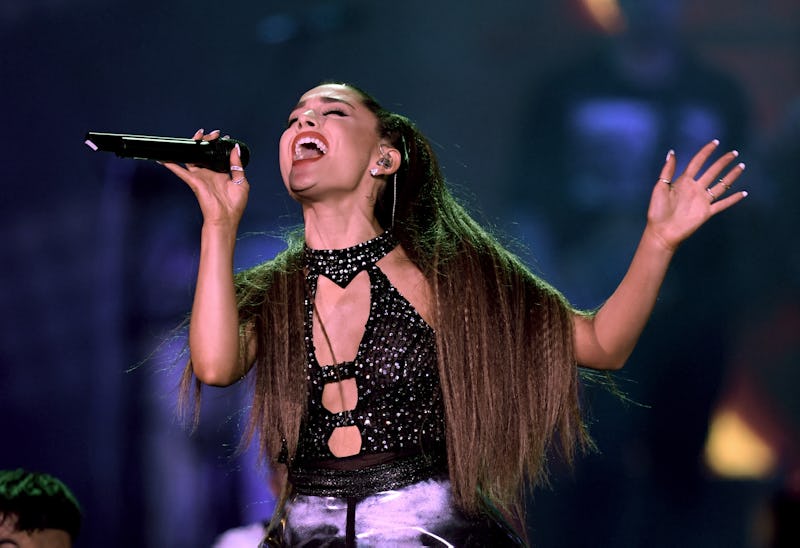 Kevin Winter/Getty Images Entertainment/Getty Images
Proving the "Happy Birthday" song is for amateurs, Ariana Grande teased new music on her 25th birthday. That's right: on her special day, the singer gifted her Arianators with a beautiful new track on Instagram, sharing a clip of a brand new song at the stroke of midnight on Tuesday, June 26.
In the 30-second clip, Ari showcases her killer vocal prowess, belting the stripped-down song, which Billboard asserted is titled "raindrops." The song will reportedly act as the intro track on her upcoming album Sweetener. "When raindrops fell down from the sky, the day you left me, an angel cried," Grande sings while sitting on a giant set of stairs, as the camera flips from an upside down shot, her voice reverberating throughout the seemingly empty room. The song appears to be a cappella, with no instruments and only Grande's voice shinning through.
In the comments section of the Instagram post, her fiancé Pete Davidson, of course, couldn't help but weigh in, writing "OMG HAPPY BIRTHDAY !!!!!" with a series of both cloud and lighting bolt emojis.
Grande may have given fans a gift on her birthday, but she also made sure to have some time to celebrate for herself. Monday night, she made sure to shout out her fiancé in her Instagram stories, and shared some snippets of what appears to have been a pretty awesome birthday party. "I have no wish," she wrote on a photo posted to her Instagram story at 11:11 PM on June 25, showing Davidson's photo on her phone's lock screen. "I have everything I ever wanted. Hi."
That same night, the former Nickelodeon star also chronicled a seriously fab-looking birthday bash in a series of Instagram stories. In one post, big bro Frankie Grande could be seen dancing up a storm, and her friends appear to have really gone all out with not one, but several birthday cakes, all decorated with photos of the singer. Some of the cakes featured childhood photos, while others showed more recent pics. In one black and white shot she made sure to zoom in on, she's kissing Mickey Mouse, with a photo of President Barack Obama featured prominently in the background.
Her photo with Obama wouldn't be her first possibly not-so-hidden political message in recent days. "The Light Is Coming," Grande's new single with Nicki Minaj, features a man repeating the phrase, "You wouldn't let anybody speak, and instead ... " throughout the infectious track. The audio clip was taken from a 2009 Pennsylvania town hall meeting, dubbed "town hell."
MTV News recently caught up with the man sampled, a now-68-year-old Lebanon, Pennsylvania man named Craig Anthony Miller. The reporter actually broke the news to the shocked man and played him the song. His review? "It's OK, he said. "It's not something I'm going to go out and buy or play a lot." His wife Karen, however, couldn't wait to tell their daughter her dad was on the song, saying, "She's gonna roar."
Indeed, her new album will mark the beginning of a new era for her producing music with a message. Saying she often cried while working on Sweetener, in her cover story for The FADER's 2018 Summer Music Issue, Grande explained: "I've always just been like a shiny, singing, 5-6-7-8, sexy-dance…sexy thing. But now it's like, OK … issa bop — but issa message. Issa bop but also has chunks of my soul in it."
While fans still have a bit less than a month to hear Grande's full album, her birthday gift to Arianators is yet another piece of evidence that Sweetener going to be some serious ear candy.