Fans Are Convinced Ariana Grande Confirmed The Engagement Rumors With This Cryptic Tweet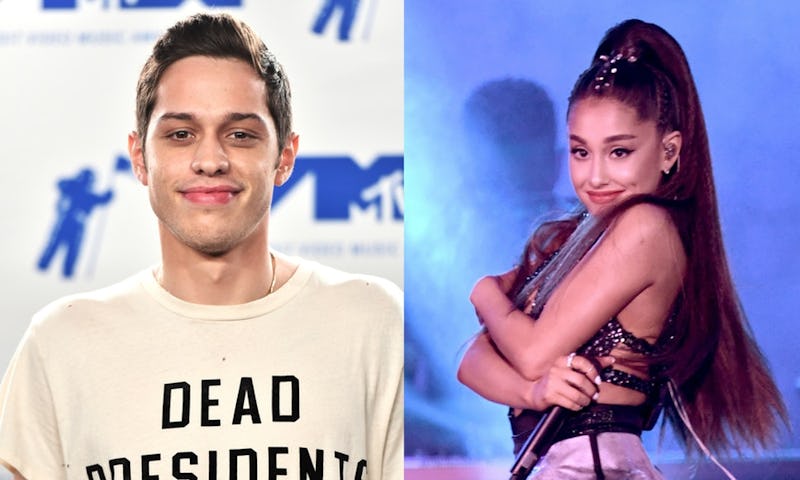 Alberto E. Rodriguez/Getty; Kevin Winter/Getty
On Monday afternoon, People and Us Weekly reported that Ariana Grande and Pete Davidson are engaged. The couple hasn't publicly commented on the reports yet, but some fans think Grande's latest tweet could be a reference to the news. (Bustle reached out to reps for Grande and Davidson about the rumors, but did not receive an immediate response. Bustle also specifically reached out about Grande's tweet.)
In her tweet Monday, Grande wrote "i love u sm ok bye," broken up by a number of monkey emojis. Earlier on Monday, Grande sent several tweets that appeared to be about "Bed," Nicki Minaj's new song that features Grande. Still, fans might have guessed something was up before the engagement news broke: Grande also tweeted "have a good day bye" on Monday afternoon.
The tweet is cryptic, but many people are interpreting the "u" in Grande's latest message as a reference to Davidson, rather than her fans. After all, she and Davidson are no strangers to emoji flirting. In the short time they've been dating, they've gained a reputation for leaving flirty comments on each other's Instagram posts. So maybe a bunch of emoji is just Grande's own way of confirming the reports?
Plenty of fans responded to Grande's tweet with messages of congratulations about the reported engagement.
Kathy Griffin also joined in the conversation, advising Grande (perhaps jokingly?) to "get a pre-nup."
And some fans are wondering whether or not Grande will wear her signature ponytail to her wedding.
Rumors that Grande and Davidson are dating only started a few weeks ago. Since then, though, the couple hasn't been afraid to make their relationship public through various Instagram posts. And while the reported engagement may seem fast, it looks like these two have already forged a close connection. According to some fan theories, Grande and Davidson might have matching cloud tattoos. And getting matching ink might be an even bigger step than getting engaged. Plus, Davidson reportedly has two Grande-inspired tattoos, too, including the initials "AG" and the bunny-ear mask from Grande's Dangerous Woman album cover.
As for the engagement, an unnamed source told People that Grande and Davidson are "just two people who found love quickly and make each other happy all the time." Us Weekly, meanwhile, reported that the two of them were sharing the news about their engagement with friends at Robert Pattinson's birthday party on Saturday.
Davidson and Grande also share something big in common: their love of Harry Potter. While countless people have read J.K. Rowling's novels and watched the movies inspired by them, Grande and Davidson take their Harry Potter fandom to new levels. In a video Grande recently shared on Instagram, Davidson admits that he doesn't know as much about the Harry Potter details as Grande does, saying he doesn't pay attention to details that didn't advance the story. (Considering the backlash against J.K. Rowling's tweets, Davidson might have a point.)
Davidson also shared a photo of himself and Grande wearing Hogwarts robes on Instagram, proving just how deep their fandom is. Davidson apparently fancies himself a Gryffindor, while Grande is a proud Slytherin. The Saturday Night Live star apparently has a Hedwig backpack, too.
Will Grande and Davidson have a Harry Potter-themed wedding, or at least an engagement party inspired by the wizarding world? Only time will tell. For now, though, it looks like the two of them are super happy together, even if they haven't been together for long. Fans shouldn't expect news of a wedding anytime soon, though — a source told Us Weekly that Grande and Davidson are "not rushing to get married." Still, a few Harry Potter engagement photos are only fitting at this point.