Ariana Grande's Comment On Pete Davidson's Latest IG Photo Is Funny Yet Supportive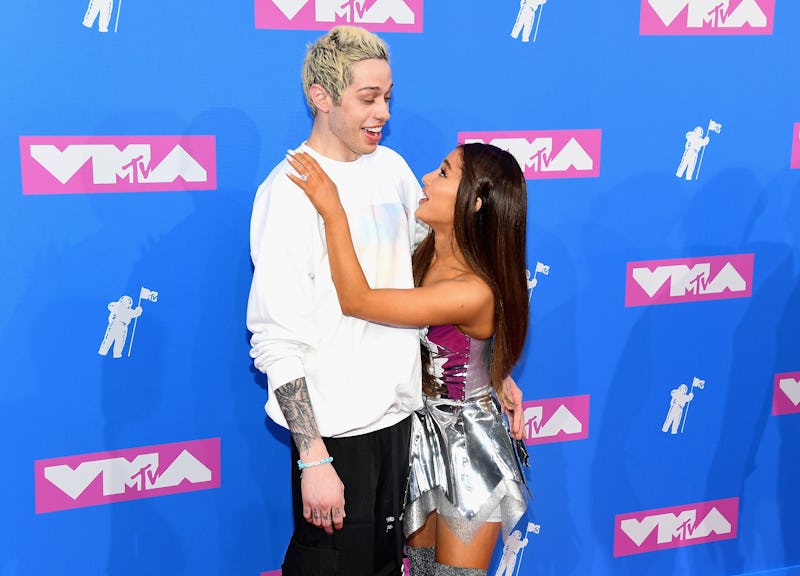 Nicholas Hunt/Getty Images Entertainment/Getty Images
It's been a few months since Pete Davidson deleted his social media posts, but the comedian is officially back. Ariana Grande's comment on Davidson's new Instagram photo is funny, but it also seems supportive. On Sunday, the comedian posted a picture of what appears to be a blurry Polaroid, showing him standing in a doorway. The caption is a pun and reads: "hooray romano." Not long after the post was published, Grande chimed in with a few jokes. She wrote, "where the mixtape" on the artsy photo. Then, she posted a second comment complimenting the picture, writing, "this is sick and ur page looks cool never post again".
Overall, the singer seems to be supportive of Davidson's return to Instagram. (Davidson posted a strongly worded video on the platform last week, but it has since been deleted.) In July, Davidson deleted all of the photos on his account, citing online negativity as the reason. This happened after the SNL star received criticism for commenting "what a cutie" on a photo of Grande's grandfather, as well as being trolled for posting a photo of his fiancée wearing his late father's FDNY chain.
After taking a step back from the platform, Davidson explained the decision in his Instagram Story. He wrote:
"No, there's nothing wrong. No, nothing happened. No, there's nothing cryptic about anything. I just don't wanna be on Instagram anymore. Or any social media platform. The internet is an evil place and it doesn't make me feel good. The internet is an evil place and it doesn't make me feel good. Why should I spend any time on negative energy when my real life is f*cking lit. The fact that I even have to say this proves my point."
Despite his bad feelings about social media, Davidson did hint that he would return to the platform. After deleting his social media photos, the end of his statement read: "I love you all and I'm sure I'll be back at some point." Now that he's back, the description on his account reads: "account run by someone else", but it's likely a joke. The SNL star probably wrote the description to be ironic, but since he hasn't addressed it outright it's not entirely clear what role the comedian intends to have in posting online in the future.
The Sweetener singer has largely been supportive of Davidson's social media habits, whether it is posting new pictures or taking a hiatus. Back in July, Grande also decided to take a step back from her social media platforms following the scrutiny of the couple's relationship. On Twitter, she posted a somewhat cryptic tweet, urging fans to be kind online. She wrote: "the energy u put out is exactly what u get back, please create a beautiful life for yourselves."
In a later tweet, Grande confirmed a small break from social media in a Twitter thread. She wrote:
"i'm prolly gonna post on der for a little while & take a breather from twitter & ig for a little. just sometimes can't help but bump into some negative shit that really can bum u out and it's not worth it honestly. promised i'd always tell you. i love u sm ! be well & happy."
In the meantime, the star remained active on Snapchat. Grande didn't go as far as to delete her Instagram, but she did disable comments on some of her photos.
Davidson and Grande's mutual break from social media may have been a bummer for fans who were enjoying the couple's relationship updates, but ultimately their well-being comes first. Plus, it seems they're both making a tentative return to the social media space. Grande reactivated comments on a few of her recent photos, and Davidson's new post could suggest that he will be more active online. No matter how much the comedian chooses to post on his Instagram, it's clear that Grande is still his biggest fan.