Ariana Grande Penned A Letter To The LGBTQ Community That's Beyond Moving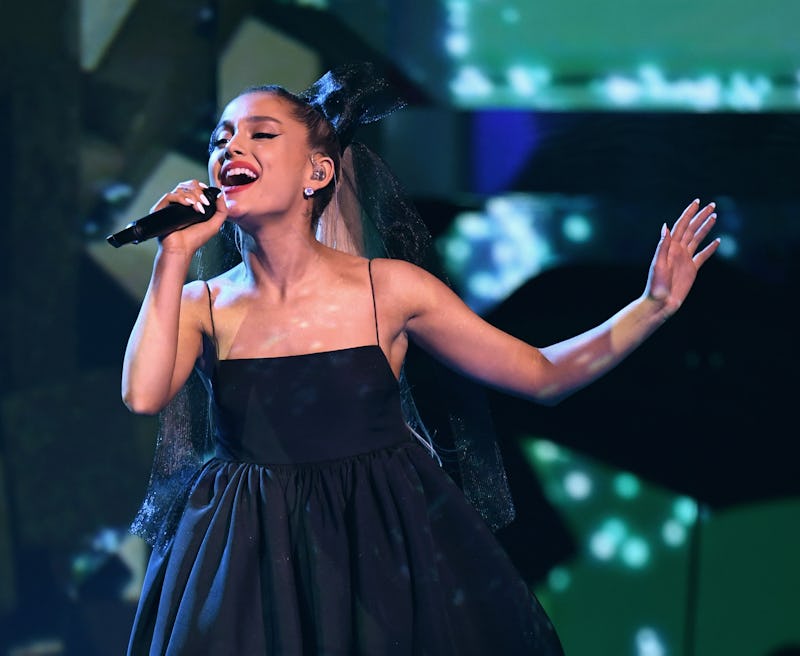 Kevin Winter/Getty Images Entertainment/Getty Images
Over the course of her career, Ariana Grande has amassed a huge LGBTQ following, and songs like "Side to Side" and "Into You" have been dubbed gay anthems by fans. On Friday, the singer showed her listeners some love, as Grande penned a touching letter to the LGBTQ community that Billboard published in honor of Pride Month.
Throughout June, the publication will publish letters from various LGBTQ artists and allies, and they kicked the series off with Grande's note, in which she shared her unfailing support for the LGBTQ community and expressed her gratitude to her fans.
Grande, whose brother Frankie is openly gay, recalled the formative time she spent in gay bars as a teenager. "I was taught to do my makeup by queens in gay bars in New York City," the singer wrote. "I made my Broadway debut at 14 years old and did 8 shows a week but there was never a night I was too tired to run to a gay bar and do a quick Whitney [Houston] cover before bed."
The musician — who is readying for the release of her fourth album, Sweetener — said she always hoped to make music the LGBTQ community would love. And fans already quickly labeled lead single "No Tears Left To Cry" a gay anthem as well, according to Billboard.
In the letter, Grande wrote,
"My music being embraced and celebrated by the LGBTQ community is all I ever truly cared about when I thought about my career goals early on. There's no award I could win or accolade I could receive that would fulfill me more than seeing a 6-foot queen with a 4-foot ponytail walk into my meet n greet and say 'hey girl' or meeting a young queer person at Starbucks and them letting me know that my music has helped them become who they are. Literally nothing."
She also likened love to music, pointing out that neither should be conditional, writing,
"Love is like music. It knows no boundaries and isn't exclusive to any one gender, sexuality, race, religion, age or creed. It's a freedom and a delicious luxury that all people should be able to sink into and enjoy every moment of."
Grande also took to social media on Friday to celebrate the start of Pride Month, tweeting, "hi ! happy pride !"
The singer recently opened up to The FADER about the process of making her new album, and she told the publication that the record is her most emotional yet. Grande said,
"I've always just been like a shiny, singing, 5-6-7-8, sexy-dance… sexy thing. But now it's like, 'OK … issa bop — but issa message. Issa bop but also has chunks of my soul in it. Here you go. Also, I cried 10 hundred times in the session writing it for you. Here is my bleeding heart, and here is a trap beat behind it.' There's definitely some crying-on-the-dancefloor stuff on this one."
She also talked to the magazine about her uniquely close relationship with her fans, which allowed her to open up about recent personal challenges she's faced, including her struggle to come to terms with the tragic 2017 bombing in Manchester at one of her concerts.
"There are parts of my life that they would love to know about," she said, "and hard times that I have been dealing with for the past year-and-a-half that they deserve to know about because they love me endlessly and care. I don't want to hide any pain from them because I can relate to their pain. Why not be in it together?"
Grande has an indisputable connection with the LGBTQ community, and she'll share even more with fans when Sweetener comes out on July 20.