Why Fans Are Thanking Ariana Grande's Mom On Twitter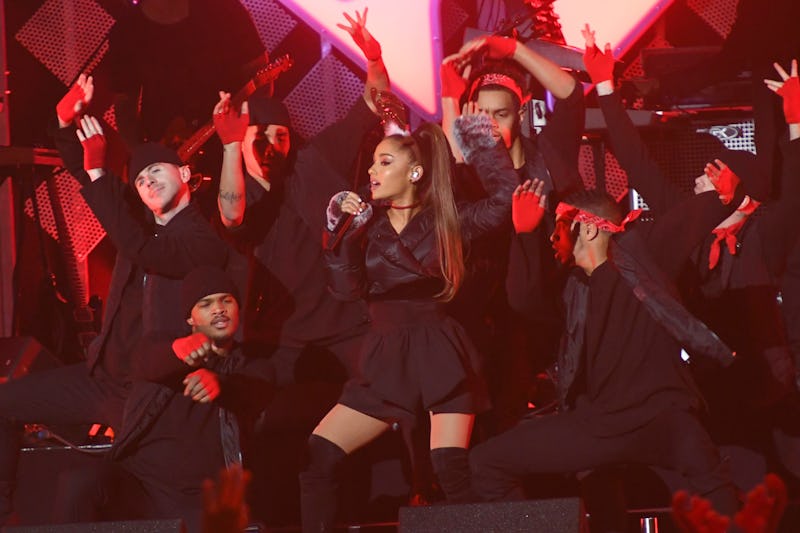 Paras Griffin/Getty Images Entertainment/Getty Images
The world is still reeling after news broke about a bombing during Ariana Grande's Manchester concert on Monday night. The attack resulted in a reported 22 deaths, including children and teens, and more than 50 injured. In the wake of this news, people are offering support on social media in whatever way they can. And amidst the #PrayForManchester tweets, fans are also showing appreciation for Ariana Grande's mom, Joan, who reportedly escorted fans to safety moments after the attack, according to TMZ.
TMZ is reporting, via eye witnesses, that Joan was sitting in the front row when the bomb went off, and she then reportedly escorted a group of young fans backstage, along with the help of security. They also reportedly waited with the fans until it was safe to leave the venue. (Bustle reached out to Grande's rep for comment, but did not receive an immediate response.)
While the report has not been verified by Grande's team at this time, that hasn't stopped Arianators from applauding the seemingly selfless act. After all, it doesn't sound out of character for the singer's mom, who frequently appears at Grande's shows and alongside her at events like the Women's March.
Here are just a few of the many messages from fans, who took a moment to thank Joan for her compassion:
There's no way to know what's rushing through someone's mind in a moment of crisis, yet if the reports are true, Joan did act as a hero, doing whatever she could to ensure the safety of the young fans around her. Joan has yet to speak out about the incident, but her daughter did tweet a heartfelt response last night.
As Grande said herself, there are no words for this type of senseless tragedy. But if you're looking for ways to help the Manchester victims, you can check out the infographic below.
Just like Joan's actions show, sometimes a simple gesture can make a world of difference.