The Manchester Benefit Concert Wraps Up Beautifully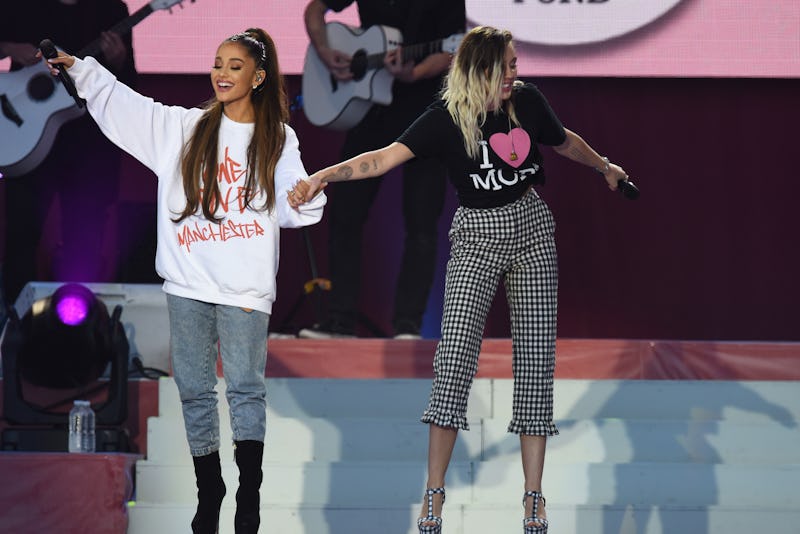 Getty Images/Getty Images Entertainment/Getty Images
The second-to-last song during the One Love Manchester concert was one for the history books, as all of the artists gathered onstage for a group performance of Ariana Grande's "One Last Time." I can't imagine a better, or more memorable, way to help wrap up such an inspiring evening of music and hope. The 23-year-old artist re-released "One Last Time" as a charity track, and all proceeds from the purchase of the song will go to the We Love Manchester Emergency Fund.
First released in 2015, the song re-entered the music chart in the wake of the Manchester attack, due to fans adopting it as an anthem since it was reportedly the final song Grande performed at her Manchester show. "One Last Time" is about a heartbreak, but some of the lyrics certainly resonate with what the singer has been going through. The line "so one last time, I need to be the one who takes you home" is particularly poignant, and seeing not only Grande, but Miley Cyrus, Niall Horan, Katy Perry, and the many other artists who participated in the evening singing it all together was overwhelming.
Throughout the concert, everyone spoke of unity, and seeing so many disparate artists on one stage, arm-in-arm, drove home the message. Manchester stood united in love and hope as they honored the victims of the attack, and there was no better way to segue into the night's final song than to see everyone who participated in the evening together.
Some of the artists danced, while others linked arms, like Perry and Horan. The one thing they all did was join in a celebration of life, and a remembrance of those who couldn't be there because of a senseless act of terror. Concerts are meant to bring people together, and while what happened at Grande's Manchester concert in May could have led people to stay home out of fear, it instead led an outpouring of love.
All of the amazing singers and bands gave the event their all throughout the evening, but it's hard to top seeing them all together, singing with one voice, one last time before the concert came to an end.