Ariana Grande's Final Manchester Performance Is Heartbreaking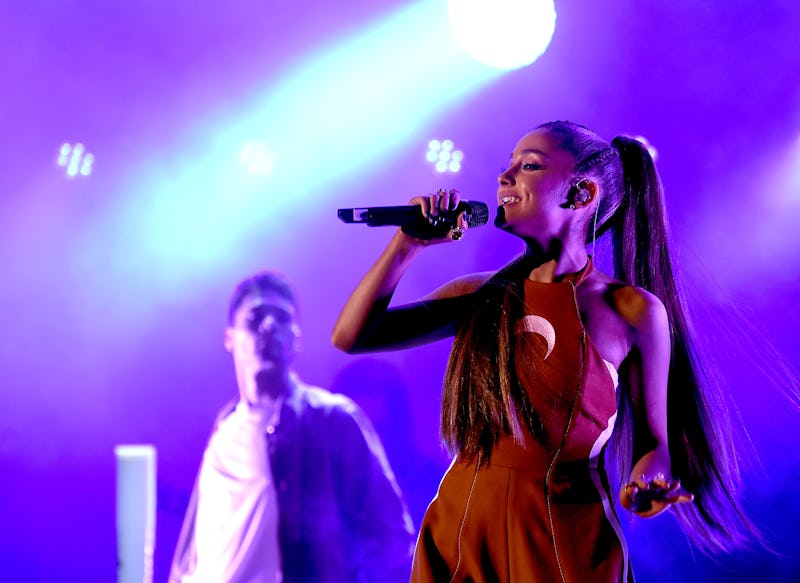 Kevin Winter/Getty Images Entertainment/Getty Images
In the hours since reports of explosions at Ariana Grande's concert in Manchester began rolling in on Monday night, the details of the attack have become increasingly horrifying. Since the event, the death toll has risen to 22, with even more people injured as they were leaving the show. As the concert ended just minutes before the explosions, those people were still enjoying the performance, and knowing the last song Ariana Grande played in Manchester makes the event even more heartbreaking.
According to fans and concertgoers on Twitter, the song Grande closed the show with was "One Last Time," although that hasn't been confirmed by anyone from the singer's camp. Many of Grande's fans have taken to social media to talk about how it was the last song the audience heard before the attack, and it seems they're all in agreement that "One Last Time" now holds a new significance.
Videos of Grande's performance of "One Last Time" from Manchester have also surfaced overnight on Twitter and YouTube, along with messages of support for those who were there. Although at first the source of the explosion was unclear, CBS News has since confirmed that the attacks were committed by a suicide bomber who detonated the explosives as people were leaving the concert. The site reports that Manchester police are now tracing the bomber's actions through security cameras.
Since concerts have been hailed as a safe place for people to unite through the music of their favorite artists, it's terrifying to hear that an attack like this could be carried out around innocent people enjoying the show. It's even more horrifying to consider how young many of the victims must have been, since Grande's fanbase is made up largely of teenagers and children.
It's safe to say that hearing Grande's "One Last Time" will be a different experience for many of her fans from now on. It's hard to think about how the mood at the concert must have changed from happy and upbeat to deadly, and even more impossible to understand what the victims and their loved ones are going through.
"One Last Time" has changed forever — there's no way around that. But hopefully, the song will now serve as a reminder of how important is to be kind to each other in a world that can be such a scary place.