Mac Miller's Family Just Released A Statement About The Rapper's Passing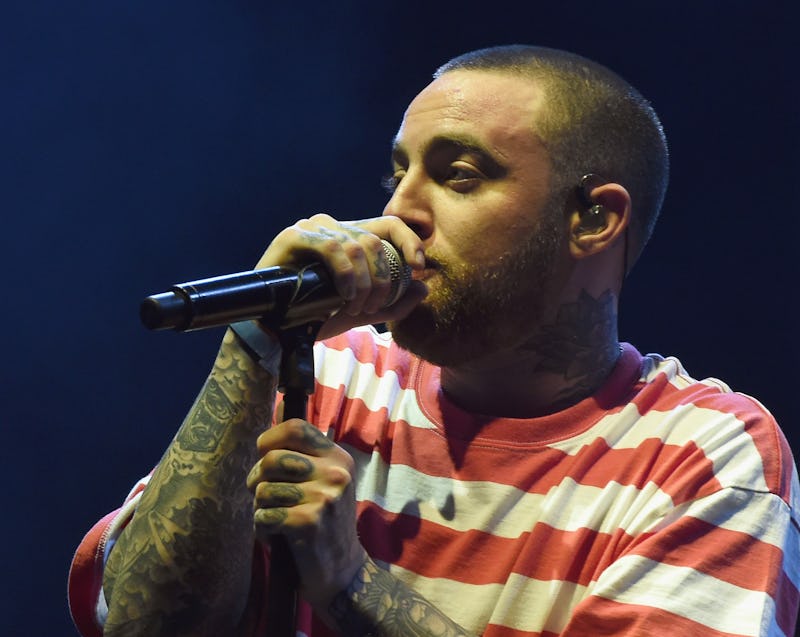 Kevin Winter/Getty Images Entertainment/Getty Images
On Friday, Sept. 7, TMZ and many other news outlets reported that Mac Miller died at age 26. Later in the day, Mac Miller's family has released the following statement about his passing to E! Online:
"Malcolm McCormick, known and adored by fans as Mac Miller, has tragically passed away at the age of 26. He was a bright light in this world for his family, friends and fans. Thank you for your prayers. Please respect our privacy. There are no further details as to the cause of his death at this time."
At the time of TMZ's report, Bustle reached out to reps for Miller for comment, but did not receive an immediate response. Bustle also reached out to the Los Angeles Police Department.
According to multiple reports, Miller was pronounced dead Friday afternoon at his Studio City, CA home. Those familiar with Miller's career and avid fans of his music know that the rapper has often talked about his struggles with addiction and substance abuse — none of which, however, stood in the way of the Pittsburgh native's ability to touch fans with his intimate and relatable lyrics.
Along with fans, collaborators, celebrities, and even some of his closest friends in the industry were also deeply affected by, both, his artistry, and the news of his passing. Chance the Rapper, who cited Miller for being instrumental in the launching of his career, took Twitter to let the world know how much Miller meant to him, as, not only, a colleague, but friend. And in addition, artists J. Cole and Shawn Mendes, amongst a slew of others, also chimed in, honoring his kindness and talent.
Along with celebrities and close friends to the rapper, fans expressed their sadness over the news on social media as well.
Reflecting upon his successful music career and impact he had on fans, many also took to Twitter to share how they planned to honor his legacy. For some, it involved listening to his lengthy discography of hits, and for others, it meant having some really important conversations about addiction and mental health.
With so many conversations surrounding Miller's life and passing in the atmosphere, however, many of his fans are hoping that people remember to lead with respect when commenting. As devestating as the news is for fans and spectators, it has to be even harder for those close to the artist to deal with. And though extremely easy to point fingers towards and put blame on multiple avenues, respecting Miller and his family should ultimately take precedent.
It's totally possible to respect one's life and legacy, while also taking a moment to have important conversations surrounding mental health. And a lot of Miller's fans are proving this to be true.
Miller's passing marks a tragic moment for those within, as well as fans of, the hip hop community. And here's to wishing nothing but peace to the late-rapper's loved ones.
If you or someone you know is seeking help for substance use, call the SAMHSA National Helpline at 1-800-662-HELP(4357).