Ariana Grande Wore A Tiny Pink Skirt As A Dress On 'Jimmy Fallon'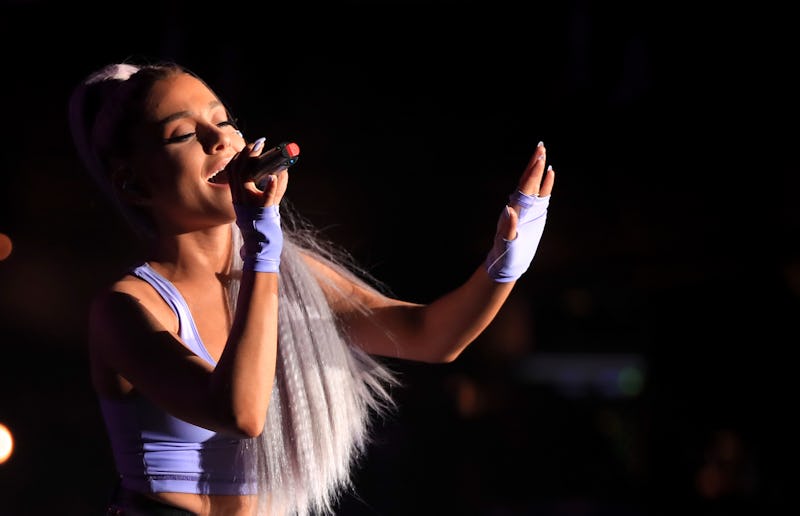 Christopher Polk/Getty Images Entertainment/Getty Images
Most people know Ariana Grande for her iconic hair. Yes, iconic is totally appropriate. The perennial ponytail wearer's style is pretty much defined by, well, her pony tail. However, Ariana Grande's pink dress on Jimmy Fallon may signal a new trend for the star: teeny skirts and very tall boots.
In case you missed Ariana Grande night on Jimmy Fallon, the "No Tears Left To Cry" singer totally crushed a musical genre challenge with host Jimmy Fallon, and while her musical prowess is definitely awe worthy, her teeny skirt dress is also pretty notable. Basically, if a cupcake and a babydoll had a love child, it would be Grande's dress. To top off the look (or bottom off?), she paired the frock with a pair of over-the-knee camel grey boots. To be honest, she kind of looks amazing in it.
It's not the first time that the star has worn this look, though, If you've seen the video for her "No Tears Left To Cry" single, you may have spotted the similarities in her dress from Fallon and the polka dot baby doll she wears in the video paired with over-the-knee boots. It looks as if Grande could just have a new signature look on her hands.
What did fans think of the ensemble, though? Of course, Grande's fans are seriously loyal to her, but they don't have to comment on every sartorial choice. For this dress, though, they did, and they seem to be in love.
Some fans had to applaud Grande for pulling off a look that was kind of a joke when they were younger. Is anyone surprised that Grande can wear anything, though?
Then, of course, there's that obvious comparison to her "No Tears Left To Cry" video, and this fan is totally on board with the baby doll dress rising from it's 2000s grave.
Others, of course, had jokes, but where is the lie when it comes to this one?
Then, of course, there's whatever magic Grande possesses. Not only did she pull off that ultra short baby doll dress, but she managed to do it without a single wardrobe malfunction. If only everyone could be as talented as Grande.
The idea of the look isn't exactly new to Grande, though. She's been rocking oversized tops and those same over-the-knee boots for a while now. In fact, in another segment on Jimmy Fallon where she surprises fans singing one of her songs, she wears a much too large sweatshirt filled with strategically placed holes and what appears to be the very same boots. Sounds weird, but it looks amazing.
Then, during one of her most recent performances at the March For Our Lives rally in Washington, D.C. she rocked the same look. This time, it was another oversized sweatshirt with the March For Our Lies logo emblazoned on the front and a pair of over-the-knee blue-grey boots.
While Grande seems to have only worn the dress and boot combo twice (on Fallon and in her music video), the boot and mini skirt combo isn't new, either. During her performance at Coachella, Grande went full festival chic with a full, shimmering tulle skirt paired with boots again. Clearly, this is Grande's new look for her new album, and fans seem like they're here for it.
No matter what Grande wears though, there's no doubt how talented she is. Did you see that video of her switching musical genres with Jimmy Fallon? Amazing, right? While her ponytail will allows be an iconic part of her image, this new boot and mini skirt or baby doll dress look could just be a new staple added to her repertoire.