Ariana Grande Reacted To Her First Grammy Win With A Ton Of Class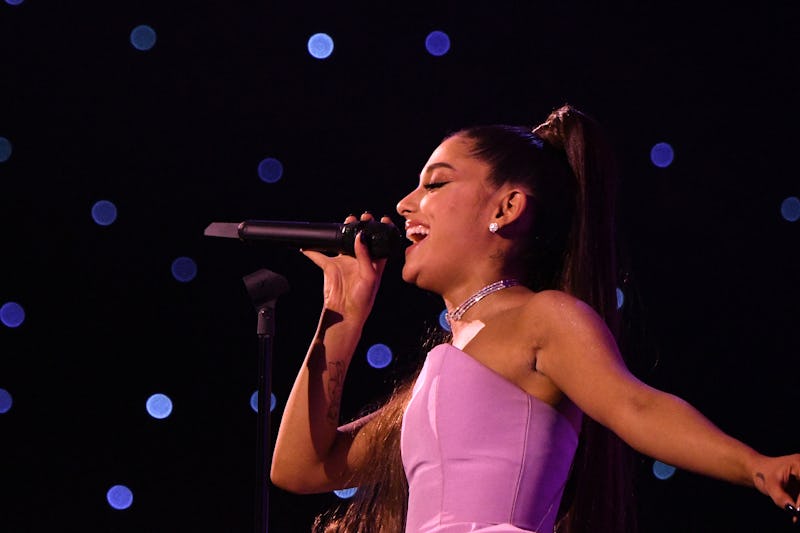 Mike Coppola/Getty Images Entertainment/Getty Images
Ariana Grande started the weekend of the Grammy Awards by celebrating the release of her latest album Thank U, Next, and now she's celebrating her first ever Grammy win for Best Pop Vocal Album for Sweetener. Ariana Grande won her first Grammy just a few days after she pulled out of her scheduled performance at the 2019 ceremony when she came to an impasse with the production team. But her reaction to her win was all gratitude.
Following the announcement that her award was one of those given out before the telecast, Grande took to Instagram to deliver her makeshift acceptance speech. She wouldn't have had the opportunity to give much of an acceptance speech had she been attending, as this Grammy was one of those handed out prior to the ceremony. But Grande still showed reverence toward the award despite her falling out with the show producers.
Grande's caption read, "i know i'm not there tonight (trust, i tried and still truly wished it had worked out tbh) and i know i said i try not to put too much weight into these things .... but f*ck ....... this is wild and beautiful. thank you so much." Grande extended thanks to her collaborators Pharrell, Victoria Monét, Max Martin, Savan Kotecha, Ilya Salmanzadeh, manager Scooter Braun, and all those who helped in the production of Sweetener, reminding everyone that though the album is under her name, it takes a village to produce an award-winning album.
Ariana Grande's fans also got in on the celebration, commemorating her first Grammy win by photoshopping a childhood picture of her with a Grammy award in her hand, which Ariana retweeted and responded to by saying "thank u" without saying "next" afterwards, the ultimate sign of respect from Grande if ever there was one.
Grande has been nominated five times prior to her win for Sweetener, including Best Pop Solo Performance for "Dangerous Woman", Best Pop Vocal Album for My Everything and Dangerous Woman, and Best Pop Duo/Group Performance for her involvement in Jessie J's "Bang Bang" alongside Nicki Minaj. Grande was up for two awards this year, once again for Best Pop Solo Performance for "God Is A Woman" but lost that one to Lady Gaga's "Joanne (Where Do You Think You're Goin'?)". Grande's first win has been a long time coming after continuous recognition from the Recording Academy, but this is likely only the first Grammy win of many for her in the future.
Her song "Thank U, Next" missed the Grammy nomination cut off date by a mere five days, meaning it and the Thank U, Next album will be eligible for the 2020 Grammy awards. While many of her songs from Sweetener got regular radio airplay and were hits in their own right, none of them came near the scope of pop culture domination as "Thank U, Next" which suggests that the song and the album that takes its name from it could move Ariana from competing in the Pop categories to major categories like Record of the Year, Song of the Year, and Album of the Year. There's no telling what the future holds, but right now it is clear that Ariana is grateful for her win.