Ariana Grande's 'Sweetener' World Tour Is Officially Happening, So Get Your Wallets Ready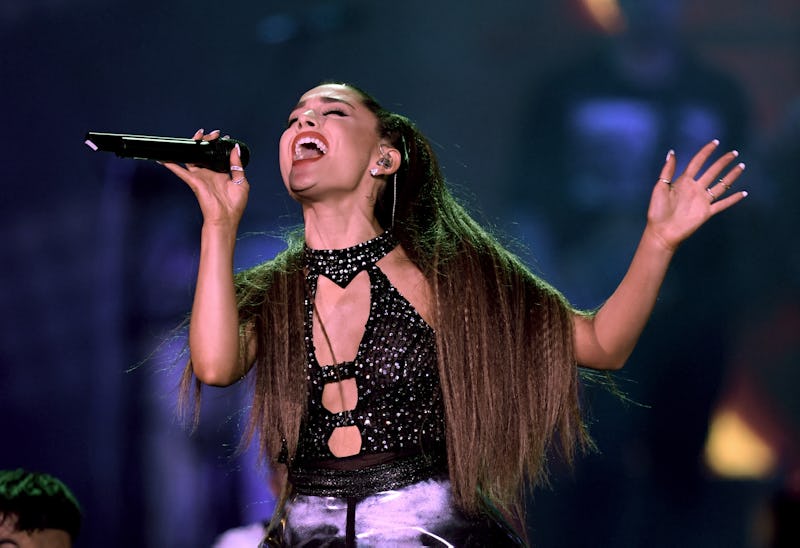 Kevin Winter/Getty Images Entertainment/Getty Images
Well, she wasn't lying. In a series of posts on the singer's official Instagram page, Ariana Grande's Sweetener tour dates were just rolled out — only one day after the singer promised fans she'd be announcing them "soon." Now, to clarify, these aren't all the dates she'll be doing in support of her latest album. These Sweetener World Tour dates are solely for North America, aka the U.S. and Canada, and they don't kick off until April 2019, but tickets will be on sale starting in November — it's really happening, Arianators.
Earlier on Sept. 28, Grande told a fan on Twitter that her "happiest moments are with [her fans] and on stage and stuff," but that the "looooooong chunks of time away from home ... are scary to me rn." So it totally makes sense for her to want to announce the tour bit by bit, and perhaps allow herself to have a break in between touring North America and going overseas.
It's not exactly clear if and when she'll be adding new dates for the rest of the globe. She did, however, express wanting to do a "mini tour" this time around — although, if 41 nearly back-to-back dates over the course of four months in the U.S. and Canada is considered "mini" — wow.
She continued to explain in a tweet,
"i cant do what i did last time right now. that i do know. whatever it is i hope it's okay with you. i just love and miss you. everybody telling me i need to take time but i'm so antsy. idk. ily."
By "last time," Grande was likely referring to the last time she did a world tour, which was in support of her album Dangerous Woman. The 2017 Dangerous Woman World Tour spanned five continents over the course of seventh months, and was temporarily postponed about halfway through following the terrorist attack at her Manchester show.
As for "everybody telling [her she needs] to take time," it's safe to assume that that's in reference to the unexpected passing of her ex-boyfriend, rapper Mac Miller, on Sept. 7. After she and her former fiancé Pete Davidson split around Oct. 14, though, going on tour might be the perfect distraction from her personal life.
Before the dates were released on Oct. 25, Grande assured fans that she would be touring internationally as well, so hopefully no one overseas is freaking out upon seeing these North American dates. During a Q&A on Twitter, a fan asked the singer if her upcoming tour would "include the UK," to which she replied, "only US dates will be announced first but more will come later ! jus something to keep in mind pls." OK, noted.
Here is a full list of Ariana Grande's North American Sweetener tour dates:
Mar. 18 — Albany, NY
Mar. 20 — Boston, MA
Mar. 22 — Buffalo, NY
Mar. 25 — Washington, DC
Mar. 26 — Philadelphia, PA
Mar. 28 — Cleveland, OH
Mar. 30 — Uncasville, CT
Apr. 1 — Montreal, QC, Canada
Apr. 3 — Toronto, ON, Canada
Apr. 5 — Detroit, MI
Apr. 7 — Chicago, IL
Apr. 10 — Columbus, OH
Apr. 12 — Indianapolis, IN
Apr. 13 — St. Louis, MO
Apr. 15 — Milwaukee, WI
Apr. 17 — St. Paul, MN
Apr. 18 — Omaha, NE
Apr. 20 — Denver, CO
Apr. 22 — Salt Lake City, UT
Apr. 25 — Edmonton, AB, Canada
Apr. 30 — Portland, OR
May 2 — San Jose, CA
May 3 — Sacramento, CA
May 6 & 10 — Los Angeles, CA
May 14 — Phoenix, AZ
May 17 — San Antonio, TX
May 19 — Houston, TX
May 21 — Dallas, TX
May 23 — Oklahoma City, OK
May 25 — New Orleans, LA
May 28 — Tampa, FL
May 29 — Orlando, FL
May 31 — Miami, FL
June 4 — Raleigh, NC
June 7 — Nashville, TN
June 8 — Atlanta, GA
June 10 — Charlotte, NC
June 12 — Pittsburgh, PA
June 14 — Brooklyn, NY
June 18 — New York, NY
With all that's happened in her personal life, the last year certainly hasn't been an easy one for Grande. The fact that she's decided to go on tour — even if it is just a North American leg for now — despite of it all, though, truly proves how dedicated she is to her fans.