Ariana Grande's Tour Has Been Suspended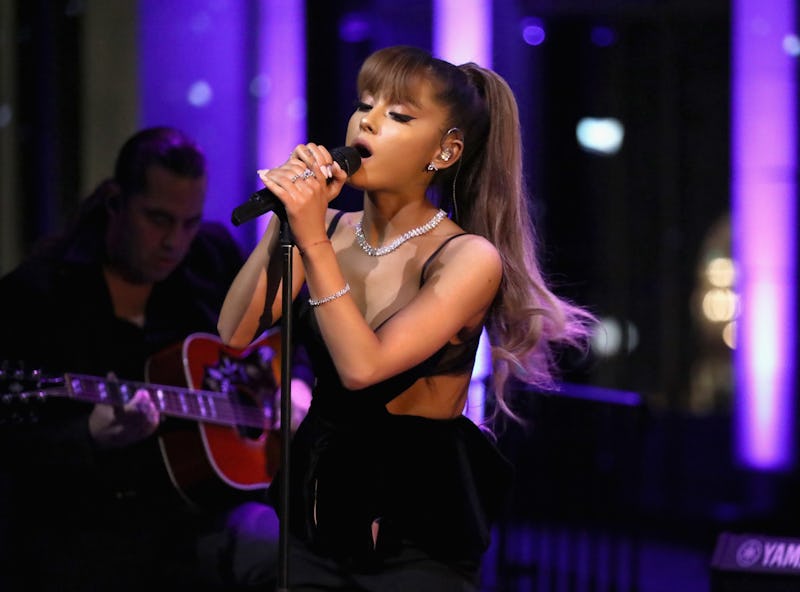 Handout/Getty Images Entertainment/Getty Images
In the wake of the horrific event at her concert in Manchester, Ariana Grande will reportedly be suspending her tour, at least through the June 5 date. In a statement to TMZ, Grande's manager said, "Due to the tragic events in Manchester, the Dangerous Woman tour with Ariana Grande has been suspended until we can further assess the situation and pay our proper respects to those lost." There are seven European tour dates, including two in London, that her manager said are postponed for the time being.
Beyond those dates, Grande has not postponed or canceled the remainder of the tour, which is slated to run until June 17, at which point she is scheduled to visit Latin America, Asia, followed by Australia and New Zealand. As of now, Grande's next scheduled tour date is June 7 in Paris. Billboard received a statement from LiveNation that said, "Refunds will be granted to all ticketholders at the point of purchase" for any of the seven dates Grande has announced are suspended.
The statement from Grande's manager continued by asking fans to do whatever they can to help Manchester get through this difficult time:
"We ask at this time that we all continue to support the city of Manchester and all those families affected by this cowardice and senseless act of violence. Our way of life has once again been threatened but we will overcome this together. Thank you."
The bombing that took place after Grande's concert, which left 22 dead and at least 59 injured, is being called a terrorist act. The suicide bomber, 22-year-old Salman Abedi, died in the attack, but NBC News reported that Abedi's younger brother and father have been arrested.
In the days following the bombing, the world is learning more about those who were lost in what the New York Times reported was the deadliest terrorist attack in Britain since 2005. As of now, 11 victims have reportedly been identified, according to USA Today, including 18-year-old Georgina Callander, who was the first victim to be identified. The BBC reported that another victim, 32-year-old Kelly Brewster lost her life shielding her 11-year-old niece from the blast.
It's been reported that Grande has offered to pay for the funeral expenses of those lost in the bombing. The singer nor her representatives have confirmed this is true. For the time being, Grande is reportedly home safely in Florida with her family and boyfriend Mac Miller. Just like those who have lost loved ones in the attacks, all of us should also show support and respect for Grande, who has been through a traumatic experience herself.