Ariana Grande's Video Celebrating Her Debut Album Will Make Fans Seriously Nostalgic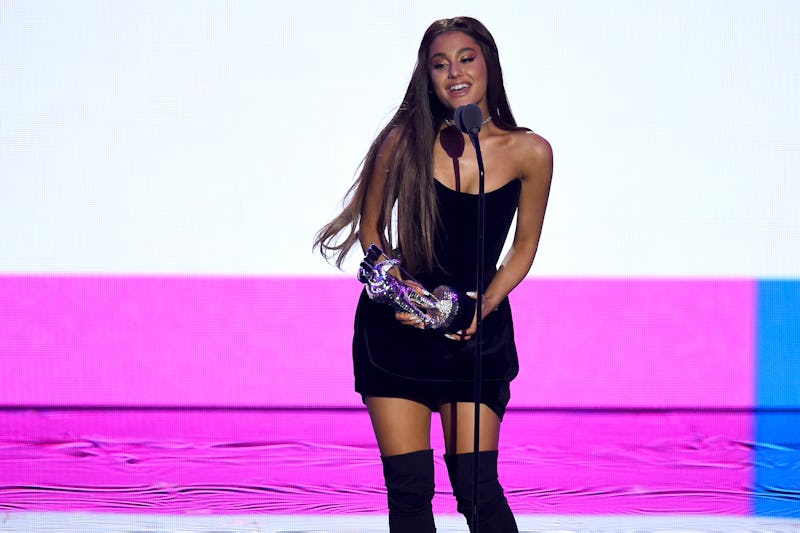 Theo Wargo/Getty Images Entertainment/Getty Images
It's hard to imagine a time before Ariana Grande was a mega pop star. But believe it or not, Grande's debut album, Yours Truly, came out just over five years ago, on Aug. 30, 2013. The singer has come a long way since then, but she still remembers her roots. Ariana Grande's Instagram video about her first album is a reminder that no matter how many accolades she gets or how much fame she achieves, she'll always appreciate her fans.
In the Instagram video, which was taken by her fiancé Pete Davidson, Grande and her friends are dancing and singing along to "Right There," one of the singles from Yours Truly. (If you've forgotten some of the other songs on Grande's first album, it also included the singles "Baby I" and "The Way.")
It's clear that Grande's pals support her career success, too — they look like they're having just as much fun as she is with the throwback tune. The "God Is A Woman" singer used the Instagram caption to thank her fans and to share her hopes for the next five years. She wrote in her caption,
"woooooah i cant believe it's been five years since my debut album ! ........ the f*ck. !!! i love u ! thank u for everything n may the next five years be just as special. 🌬video by pete davidson"
Grande's choice of song also hints that there are no hard feelings over a recently reported "controversy" in her relationship with Davidson. In an interview with Variety published last month, Davidson shared that his first tattoo, which he got at age 17, included a reference to Big Sean — who happens to be one of Grande's ex-boyfriends.
"It's a tattoo I got with my buddy Ricky, and it says 'swerve life,' because the Big Sean song," Davidson told Variety. "He was like, 'swerve,' in it. And we were like, 'That's gonna last forever.' So, that's on our legs."
After that revelation, plenty of fans wondered how Grande might feel about the fact that her former flame's word of choice is a permanent fixture on her future husband's body. But considering the fact that Grande chose "Right There," which features Big Sean, out of all the Yours Truly songs she could have picked, seems to be a hint that there are no hard feelings between her and her ex, or between her and Davidson about the tattoo.
Since her 2013 album, Grande's career and personal life have gone through plenty of changes. She's a four-time Grammy nominee, and Grande recently had the honor of performing at Aretha Franklin's funeral. And in addition to her career success, Grande has also recently gotten engaged and moved in with Davidson.
Five years after her first album, Grande is now one of the most recognized pop stars in the world. But videos like the one she shared on Instagram this week show that no matter how famous she gets, Grande will always be grateful for all of it.