Arie & Lauren Just Made A Major Commitment To Their Future Together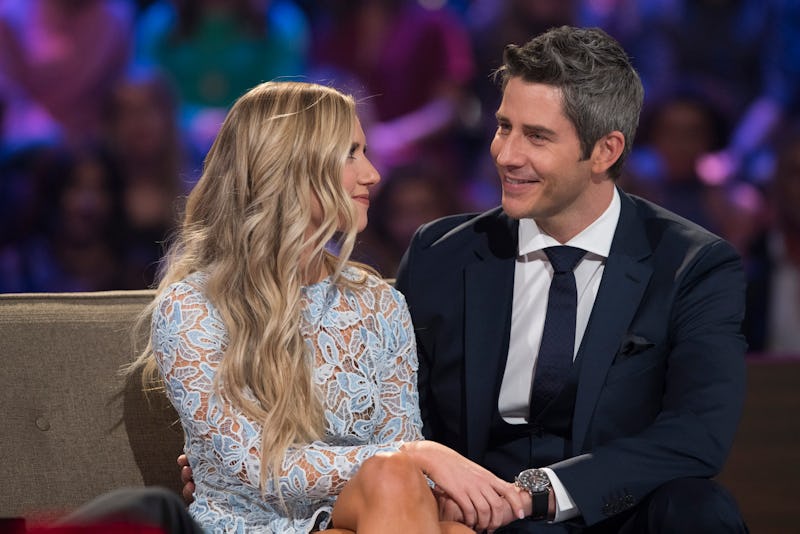 ABC/Paul Hebert
Arie Luyendyk, Jr. and Lauren Burnham's relationship seems to be progressing quite nicely, despite the Bachelor controversy at the end of Arie's season. Arie and Lauren bought a house together, so it's safe to say their engagement is off to a great start.
Both Lauren and Arie shared Instagram photos of themselves posing in front of what's apparently their new home. And the couple appears thrilled to be able to live together in a place of their own. Back in March, the two of them revealed on the After the Final Rose special that Lauren was moving to Arizona, Arie's home state. And it looks like they've finally set down roots, ahead of their upcoming wedding. Lauren captioned her Instagram post, "Officially new home owners!," while Arie made a joke about his pants matching their house's blue front door.
Lauren appears to have settled in nicely to her new state, too. She posted an Instagram story about seeing Kenny Chesney in Phoenix over the weekend, and she recently saw Old Dominion perform in the city, too. Aside from taking in the country music scene, Lauren's also been taking real estate classes in Arizona, Us Weekly noted. Southern life seems to suit the former Bachelor contestant, who lived in Virginia Beach before moving to Arizona to be with her fiancé.
Arie and Lauren told Us Weekly in April that they'd bought a house together, but it looks like they might only have moved in recently. Apparently, they viewed almost 70 houses together before choosing the winning property. The magazine explains that they'd originally made an offer to buy a remodeled home, before deciding to buy this one, which was built this year. Lauren also joked to Us Weekly that each of their dogs, Dallas and Bastian, would have their own room in the four-bedroom house.
The photos each of them shared on Instagram only show the outside of the property. But Realtor.com has more photos of Lauren and Arie's new house, and they'll make Bachelor fans very jealous. The house has a gorgeous kitchen with an island that fits three bar stools. And there's a claw foot tub that would be the perfect place for a relaxing bath. There's also a fireplace and, yes, an open floor plan.
Fans who can't wait to see the couple tie the knot don't have too much longer until the big day, either. Arie and Lauren's wedding will be on January 12, and it sounds like it will be a beautiful ceremony. The two of them are getting married at Haiku Mill in Maui, which appears to be gorgeous in the photos on the venue's website. It sounds like the wedding itself won't be televised, but the two of them will likely share plenty of photos on Instagram for fans to see.
At first, Arie and Lauren's relationship was off to a rocky start, with Arie originally choosing Becca in his Bachelor finale and sending Lauren home. But as fans will remember, Arie started to feel regret over ending things with Lauren, which led to him breaking off his engagement to Becca, on-camera. Arie then proposed to Lauren on the "After the Final Rose" special following his Bachelor season.
That's a lot of drama to take in. But based on their recent updates, it seems like Lauren and Arie's relationship has been pretty drama-free since then. Now that the two of them officially have a new home, they have some time to relax and enjoy each other's company — off-camera — before the wedding. And it looks like they're settling into their new life quite nicely.