Here's Every 'Bachelor' Nation Favorite Who Attended Arie & Lauren's Wedding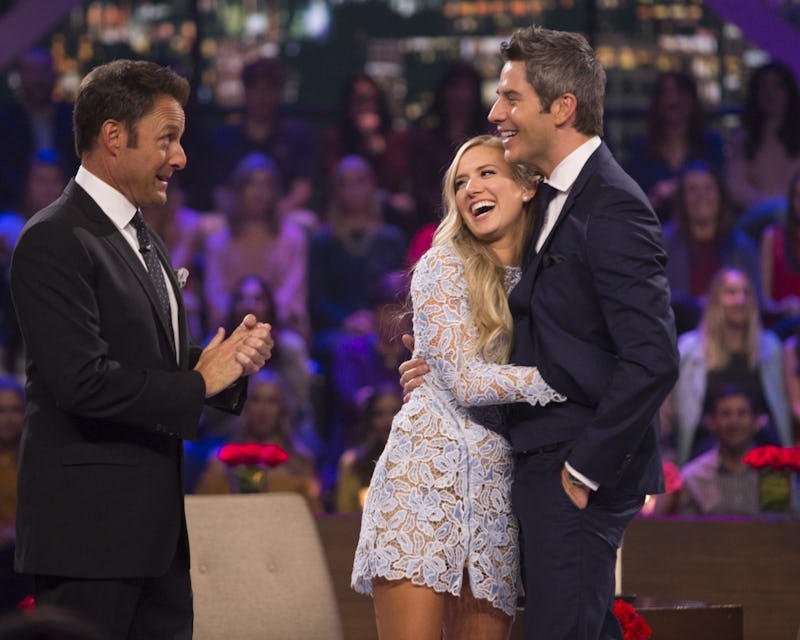 Paul Hebert/ABC
Bachelor Nation's newest married couple just got hitched. On Saturday, Jan. 12, Arie Luyendyk and Lauren Burnham got married on the island of Maui in Hawaii. And of course, Arie and Lauren's wedding guest list included lots of Bachelor alums, including Jenna, Maquel, Jacqueline, Marikh, Sean Lowe and his wife Catherine Giudici, Jenny Delaney and more. Arie and Lauren met on Season 22 of The Bachelor, and host Chris Harrison officiated the ceremony. The couple got engaged 10 months ago during the The Bachelor's After the Final Rose special. In March, Lauren moved to Arie's longtime home in Scottsdale, Arizona, and in November, the two revealed they are expecting a baby girl together.
Arie and Lauren's wedding was full of beach views, and the couple arrived in Hawaii several days early to enjoy the scenery before the event. On Wednesday, the couple took a romantic helicopter tour of the island, and shared a drink at the top of a mountain. Lauren and Arie also hosted a rehearsal dinner on a sunset cruise, bringing along Bachelor Nation friends to enjoy the Hawaiian sights and prepare for the big day. The couple's friends and fellow franchise stars were thrilled to see the couple wed, and posted plenty of updates and well wishes on social media from the nuptials.
After the couple's drama-fueled season, both stars were ready to settle down. After Arie's televised proposal in March, the couple revealed they wanted to be engaged right away, according to People. "We're so ready for this," Arie said. "Lauren told me I'm four months late on this proposal, and I wanted to give it to her and I wanted everyone at home to share in it." The two stars were open about the fact that they did not plan to have a long engagement, and confirmed the wedding would be within the year.
On Sunday, Us Weekly shared the first photo from Arie and Lauren's wedding ceremony, which shows the two sharing a kiss while guests applaud. Arie and Lauren discussed their picturesque wedding venue on The View back in June. "It's in Maui, it's at Haiku Mill which has this beautiful, old world feel with a lot of vines and greenery," Arie said. "It's not your typical beach wedding. And it's a private wedding, so not on TV, just a close group of friends."
On social media, the couple's friends were sure to post plenty of well-wishes. Catherine Giudici, whose husband is former Bachelor Sean Lowe, posted several pictures with the bride. She wrote: " CHEERS TO LOVE. Congratulations to Lauren and Arie (and Baby Girl Luyendyk) on making it official tonight! So honored to have witnessed it and to have celebrated you." Lauren's friend and former Bachelor co-star Seinne Fleming also wrote a special wedding message on Instagram, writing:
"Individually, we are one drop. Together, we are an ocean. Beyond thrilled to celebrate the union of Lauren Burnham and Arie Luyendyk Jr. in a few hours. Wishing you a lifetime of love, happiness, and beautiful Dutch babies!"
Lauren and Arie were surrounded by love from friends and family on their special day, and it's clear Bachelor Nation was out in full force to support the couple. The wedding was just the beginning for this couple, who are likely looking forward to starting their family together in Arizona. This relationship may have had an unexpected beginning, but the wedding day suggests smoother sailing from now on.