Here's How Arie's Age Compares To His 'Bachelor' Contestants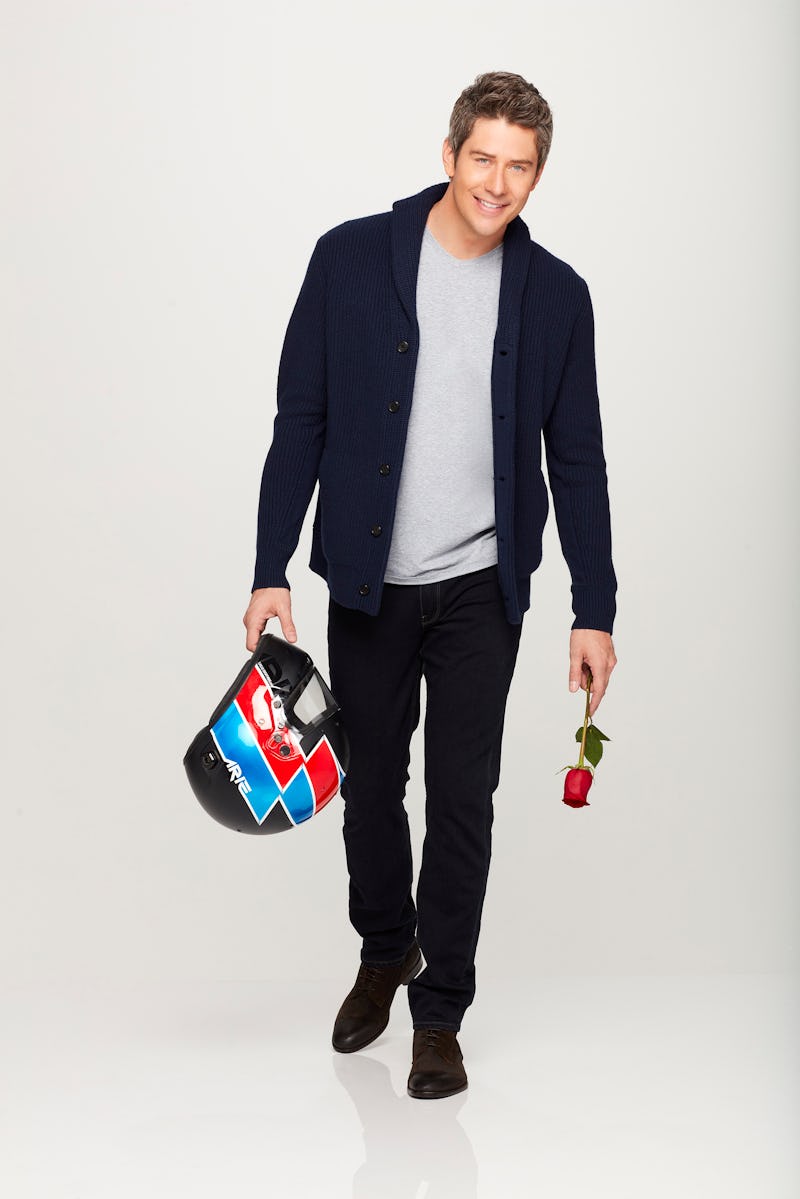 ABC/Craig Sjodin
In news that's sure to boost any TV fan's mood, Arie Luyendyk Jr.'s Bachelor contestants were revealed exclusively on People on Friday, Dec. 8. And now, fans can scour the list to begin preparing their Bachelor Nation bracket. Among the list of hometowns and names, you might be intrigued by Arie's Bachelor contestant ages and how they compare to his own. The 36-year-old race car driver has 29 women vying for his heart this time around. Let's just say, there's quite a range going on.
The youngest Bachelor contestants this season are 23 years old — Maquel and Olivia. Meanwhile, the oldest, Lauren J., is 33 years old. That's still a three-year gap between her and the man handing out the roses. There's also one contestant, Rebekah, whose age seems to not yet be listed. But when taking the average of the ages of the contestants we do know, the average age is 27 years old. That's nine years younger than Arie.
Of course, age gaps are nothing new on the Bachelor franchise. And two people don't have to be the exact same age to fall in love. But it'll be interesting to see whether the age gaps pose any issues for the potential pairs, in terms of maturity or just wanting different things in life.
Interestingly enough, the average age for Arie's contestants is actually one year higher than the average age of Nick Viall's contestants when he was The Bachelor last time around. While Nick was also 36 when looking for love, his average contestant was around 26 years old. And as for who he ultimately chose, Vanessa Grimaldi was 29 when she won Nick's heart. Sure, the pair has since split, but it's interesting to compare the ages of the finalists. Runner-up Raven Gates was 25, while third-place contestant (and eventual Bachelorette) Rachel Lindsay was 31 at the time. Corinne Olympios — who was dubbed the villain that season, but came in fourth place — was only 24.
Yes, Nick and Arie are two different guys, who may have very different tastes. But if considering Nick's data, this shows he ultimately went with an older contestant, but didn't rule out the younger ones either. That means, anything goes in Bachelor Nation. It's entirely possible the same scenario will play out on Arie's season, where the ages may not even wind up being a factor in who he ultimately (hopefully) pops the question to by the time the finale rolls around.
While some people have the philosophy that age is just a number, you may be wondering if Arie will be the oldest Bachelor ever. That answer is a resounding no. That same question popped up during Nick's season, but Season 6's Byron Velvick was 40 when he starred on the show, according to PopSugar. Most of the previous Bachelors have actually been in their 30s, but Season 5's Jesse Palmer was the youngest at 25, while Ben Higgins was 27 during Season 11.
Considering the varying success rates of Bachelor couples (and the fact that most pairs unfortunately don't actually stay together long after the series wraps), it seems impossible to speculate as to whether age is a factor for a lasting reality TV romance, and how much so. Ultimately, it seems to just come down to a genuine connection between two people.
Still, you can bet that fans are looking forward to seeing how Arie's relationships play out. And that includes who he winds up with — regardless of their age. The new season airs on Jan. 1, 2018 at 8 p.m. EST, so let the countdown officially begin.