Arie's 'Bachelor' Contestants Roasted Him After That Awful Breakup & The Tweets Are SO Harsh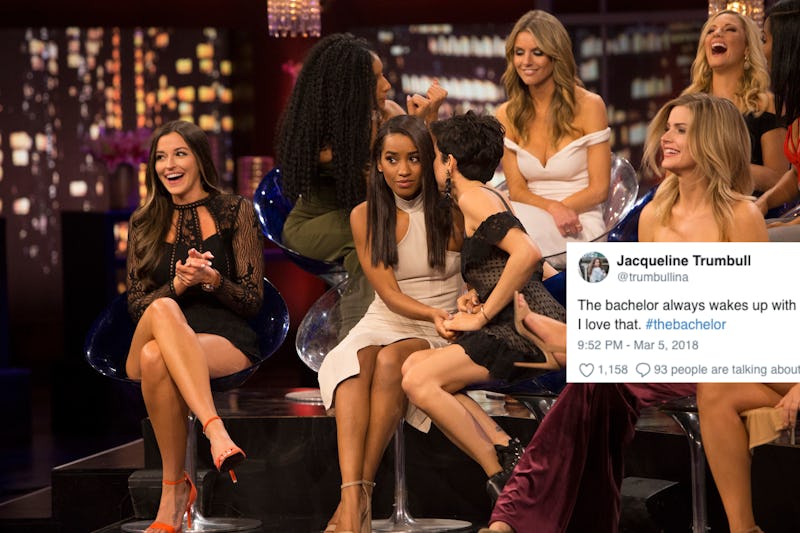 ABC/Paul Hebert
It is not a good week to be Arie Luyendyk Jr. On Monday night's Bachelor finale, Arie called off his engagement to Becca Kufrin — on camera — in the hopes of getting back together with his runner-up, Lauren Burnham, instead. So far, the internet has not been kind to him... including a few women who know him better than anyone else. Arie's contestants tweeted about the Bachelor finale, and everything they're sharing is total gold.
Of course, it's important to remember that these are all women who have been in Becca's shoes, eliminated from the show at one point or another (although none of them had to face quite what Becca did). Some of them probably weren't Arie's biggest fan to begin with, but regardless of how these women felt about Arie before, it makes sense that they'd be upset about him not only breaking up with Becca in an unkind way, but also for hurting their friend.
So far, Arie's not getting much positive feedback after what happened on Monday, and a lot of people who are angry with him for what went down include his former contestants themselves.
Jacqueline
Jaqueline, who didn't work out with Arie because her career goals didn't match up with what he was looking for in a partner, had plenty to say about what happened, and she shared how proud she was of Becca while also voicing how disgusted she was that the moment had to be captured on film and aired the way it was. She also took a jab at Arie finding clarity on the day of the proposal by saying his signature phrase.
Bekah M.
As for Bekah M., who has been just about everywhere since her time on the show came to an end? Well, she isn't messing around. Not only did she not hold back when it came to her true feelings about Arie (even calling him a tool), but she also shared some DMs she says he sent her after filming was over.
Seinne
Seinne not only encouraged people to watch the episode since it was "one of the craziest moments" she'd ever seen, but she also dropped a tweet in to root for Becca. Honestly, who wouldn't be rooting for Becca at this point?
Lauren S.
Lauren S. — one of the many Laurens of this season of The Bachelor — said exactly what most fans were thinking while watching that breakup scene play out. No matter how many times Becca told Arie she wanted him to leave, he just kept on hanging out, refusing to budge. Why wouldn't he just go? She clearly did not want to talk to him.
Marikh
Marikh tweeted that Arie should have listened to his heart and not his head, because duh — if he'd just taken that advice in the beginning (like, when he was trying to figure out who he should propose to) all of this drama could have easily been avoided.
Kendall
And then there was Kendall, who got eliminated just in time not to be a part of this disaster. She brought up a really good point in her tweet: Obviously, nobody can control who they love, but you are 100 percent in control of your actions and the way that you treat people.
Becca K.
But perhaps the best tweet of all belongs to Becca herself, who shared the post above on Tuesday morning in the aftermath. Her face says it all.
Chris Harrison promised us all the most dramatic season finale of The Bachelor we'd ever seen, and he definitely delivered. And after Monday night, we've all learned an important lesson: Don't propose to anyone unless you're absolutely sure, and maybe not even then. Oh, and don't bring a camera crew when you're going to break up with someone. It's just not nice.