Arie Just Commented On Becca's 'Bachelorette' Finale & It Was VERY Awkward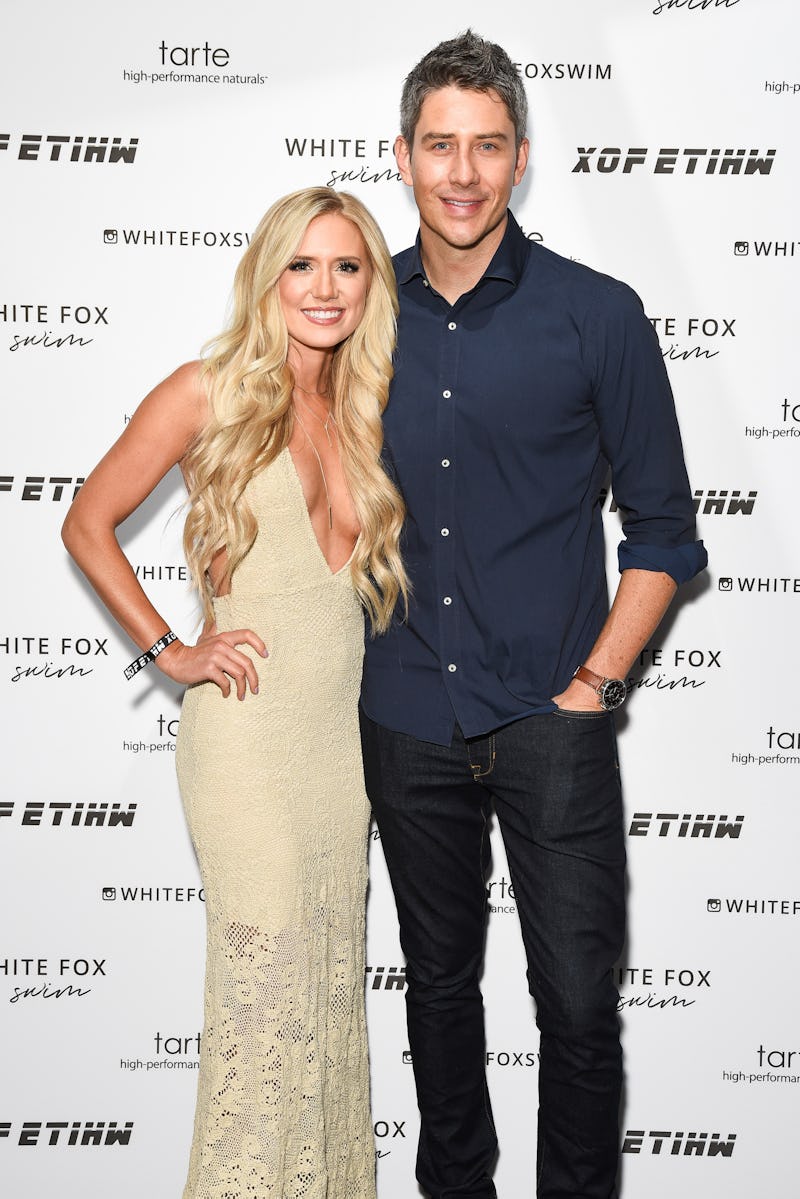 Presley Ann/Getty Images Entertainment/Getty Images
Arie Luyendyk Jr. and Becca Kufrin may not have left things on the best of terms, but it looks like they've had the chance to talk again since their Bachelor finale aired. During Monday night's Bachelorette finale, Arie revealed that he and Lauren saw Becca in the Maldives where she filmed her finale, but that footage won't be aired on the show. Why, ABC? This something fans definitely would have wanted to see!
This news isn't exactly shocking, since rumors have been swirling that Arie would make an appearance on The Bachelorette this season. But for whatever reason, the network decided not to air that footage, and that means that we may never know how that conversation actually went.
However, Arie did open up about their experience in his Instagram caption, and despite the fact that he and Becca didn't exactly part on good terms when we saw them on After the Final Rose last season, it sounds like this was actually pretty positive for everyone involved.
Arie wrote:
Lauren and I flew to the Maldives at The Bachelor and Becca's request. It's a conversation that unfortunately won't be shown but it was really positive for all of us. You can imagine this trip could have been very difficult for Lauren but she has supported and stood by me in all of this... I thank and love her everyday because of that. We wish Becca all the happiness in the world and can't wait to see how tonight goes!
Obviously, getting on a plane to talk to your fiancé's ex on camera — the same woman he dumped on national television so he'd be free to pursue a relationship with you, of course — wouldn't be easy for anyone, Lauren included, so she does get props for accompanying Arie on that trip. And it's good to hear that they were all able to have a positive conversation, since at one point, most fans would have assumed that'd be impossible.
Plus, who would pass up a trip to the Maldives? As we've seen on The Bachelorette finale, it's crazy gorgeous there. Awkward conversation or no awkward conversation, it's worth the plane ride. Now, the rest of us just have to live with the curiosity of what might have been discussed during that visit... and hopefully, we won't have to wonder forever. Maybe Arie, Becca, or Lauren can fill us in at some point? After watching this whole situation play out over the majority of 2018 so far, it only seems fair that fans know how it all ends, too.
Even if it didn't make it to air, it sounds like this conversation in the Maldives was good for everyone, especially so Becca could move on before she started the next chapter of her life with her final rose winner. The way The Bachelor played out for her definitely wasn't even close to ideal, but now, Becca's got her second shot at happily ever after, and she deserves it so much.