Arie Just Posted A Paris-Themed Throwback & It'll Make 'Bachelor' Fans' Jaws Drop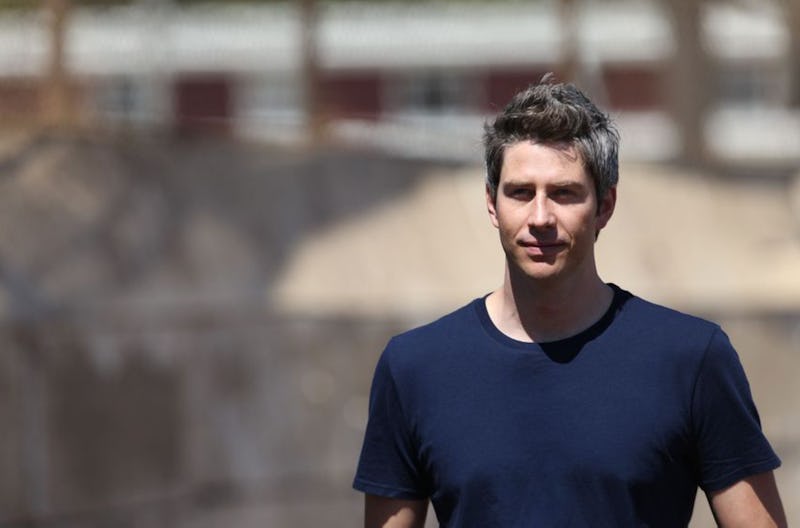 ABC
Who knew staring at a former The Bachelorette contestant's eighth grade dance picture could be sort of like looking at a crystal ball? On Friday, The Bachelor's Arie Luyendyk Jr. tweeted a throwback photo from middle school that he took with two classmates at what appears to be a Paris-themed dance. "I've been preparing for a Paris 2 on 1 since the 8th grade dance," he wrote. Huh. Isn't that something?
Wait a second. Arie went to a school dance with two people at the same time? And they took a photo together in front of the Eiffel Tower? (OK, yes, it's a rendering of the Eiffel Tower, but it's close enough.) Now why might that combination of ideas possibly ring a bell? Oh, right: On the Feb. 5 episode of The Bachelor, Arie takes Krystal Nielson and Kendall Long on a date. In Paris. And yes, the Eiffel Tower is a part of this two-on-one date, too.
However, it seems as though Arie might've forgotten about this school dance when he was filming voiceover for The Bachelor. In a promo for this two-on-one, which you can check out over at Us Weekly, Arie says, "I've never been on a date with two women at the same time." Well, that eighth grade dance photo sure begs to differ. Not to channel Krystal calling Arie a liar at the post-bowling cocktail party, but, uh, as Arie noted in his tweet, he actually has been on a two-on-one before.
On the upcoming episode of the long-running reality dating competition series, Arie and the remaining contestants will jet off to Paris together. While they're in the City of Lights, Arie will be accompanied by two contestants on the infamous two-on-one date. And as ABC announced earlier this week, Krystal and Kendall have been picked for this date. ABC revealed in their press release,
"Arie takes Krystal and Kendall to a beautiful chateau for their feared two-on-one date. The women argue and then at dinner, Arie makes a dramatic choice and takes the lucky bachelorette to the top of the Eiffel Tower where the two kiss while the other woman is left to wonder what went wrong."
The phrase "feared two-on-one date" is not hyperbole; season after season, this particular date format has led to a high-stakes, wildly tense excursion. Here's how the two-on-one works: The Bachelor/ette takes two contenders on the same date, and at some point, the Bachelor/ette gives one person a rose and sends the other one home. As if the format of this date wasn't dramatic enough already, the two contestants picked for this outing traditionally have some sort of beef.
This season's two-on-one entrants are no exception. Not only is Kendall one of the many cast members who has taken umbrage at Krystal's behavior this season, but she also just called her out. On the most recent episode, Krystal's post-bowling date rage prompted a dressing-down Kendall. And no, they didn't make nice afterward.
Suffice it to say, when the two of them join Arie for dinner at that chateau in Paris, the tension will probably be percolating. While Arie's eighth grade dance might've prepped him for cheesing in front of the Eiffel Tower, it probably didn't prepare him for going on a date with Krystal and Kendall just days after they got into a fight about bowling or whatever.
Oh, also? Here's hoping that this throwback photo inspires Arie to bring back his oh-so-late '90s middle part. Hey, maybe he could get it going for the After the Final Rose special. He could call it "the Chris Hair-rison." A fitting name for what would be the most dramatic hair moment in Bachelor history.