Arizona & Minnick Had A 'Grey's' Sleepover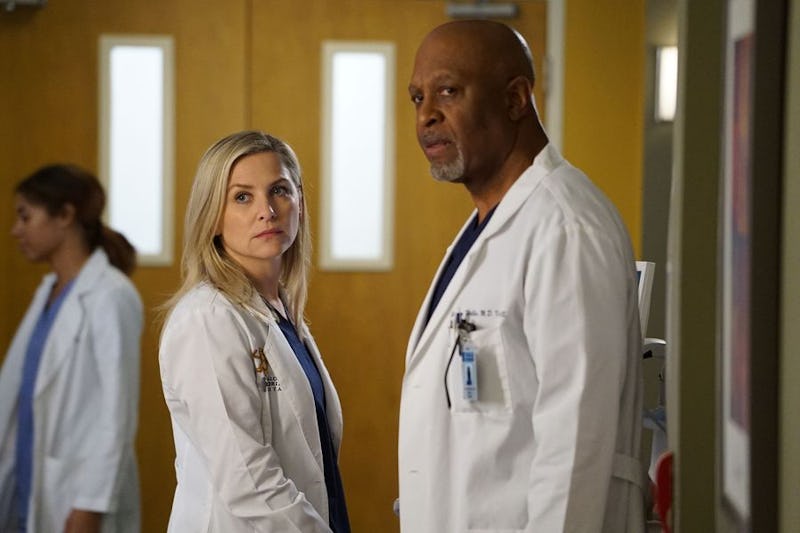 Eric McCandless/ABC
I'm not quite sure what Arizona is doing on Grey's Anatomy – she knows that playing both sides against the middle never ends well! She's an adult, after all! But still, she finds herself stuck between a Minnick and a hard place (that's Richard Webber, her mentor). Minnick has usurped Richard's position as head of the teaching portion of Grey Sloan, and the doctors are pissed. Arizona is on Richard's side, but she's really attracted to Minnick, too. What to do? Well, Arizona and Minnick made a date on Grey's Anatomy, and Richard was not too happy when he found out.
Richard is in a hard place right now – his wife, Catherine Avery, is the one who set up this whole "bring someone else to take over my husband's job" thing – and half the hospital staff is against him, too. He has some holdovers, namely April, Jackson, and Arizona, the latter of which has vowed her devotion to Richard. The only problem with this is that Minnick has already smooched Arizona and offered to come over to Arizona's house and make her homemade pierogi. I'm a happily married woman, but if a person offered me a hot kiss and homemade Polish dumplings and then spoke to me in Polish like Minnick did for Arizona, you'd have me hook, line, and sinker. But at the end of a long day, Arizona and Minnick fell asleep next to each other in the on-call room, woke up, and had an almost-smooch, which was interrupted by – you guessed it – Richard. The cat is out of the bag now.
Now Richard really has nowhere to go. He can't go home with Catherine (or won't, really), and even though Arizona offered him a place to stay, he probably won't take her up on that either. No word on how this will affect either relationship, but I think it's safe to say that eventually, Arizona will have to make a choice on what side she's on. Will she choose love or loyalty?