Chris Pratt Met Katherine Schwarzenegger's Dad Arnold & That's A Pretty Big Deal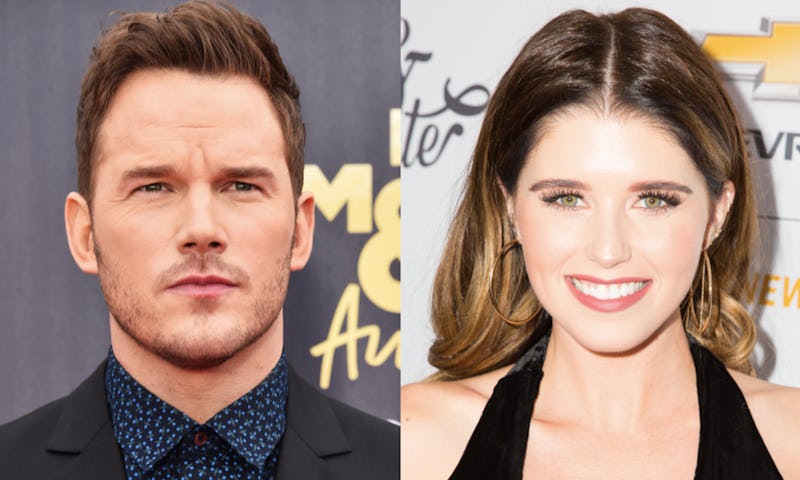 Alberto E. Rodriguez/Getty Images Entertainment/Getty Images; Alison Buck/Getty Images Entertainment/Getty Images
On Nov. 12, two major Hollywood action stars from two different generations came together for one common purpose: breakfast. Oh, and Katherine Schwarzenegger. Katherine's dad, Arnold Schwarzenegger, joined her and Chris Pratt for an early morning double date, People reported, hinting that Pratt and the Terminator's daughter might be ramping up their romance.
Meeting the parents is usually a pretty big deal for most couples. Pratt and Katherine have only been dating for a few short months — they were first spotted out together back in June —  but they blew through that milestone a while ago. According to People, the pair was originally set up by Katherine's mother, Maria Shriver, so there's one parent Pratt didn't have to worry about right off the bat.
In August, the Guardians of the Galaxy star hung out with a few more members of the Schwarzenegger family, including Shriver and Katherine's younger brother Patrick. Pratt joined the crew for some food and fun, as per a video Patrick posted on his Instagram Stories, but it didn't appear as if Arnold was around for that particular gathering.
Of course, it's totally possible that Pratt and Katherine's famous dad met in private before now. Pratt and Katherine's recent double-date with Arnold and his girlfriend Heather Milligan, however, marked the first time they've all been snapped in public together.
"Chris and Katherine met up with Arnold and his girlfriend Heather for Sunday breakfast at the FIG restaurant," a source told People of their outing. "Arnold seemed happy that Chris and Katherine joined him."
Another source for the publication called the foursome a "lively bunch," and said that there was "[a] lot of laughter and storytelling," throughout their meal. The second source continued,
"Arnold seemed very pleased to spend time with Chris. It was obvious that they got along and enjoyed getting to know each other. They had eggs, breakfast meats and fruit. Chris settled the check."
Well, well, well. Pratt settled the check, did he? Perhaps someone was gunning to impress his girlfriend's dad?
Another sign that the couple is getting serious? Katherine has met a bunch of Pratt's family, too, including his son Jack, whom he shares with ex-wife Anna Faris. After the trio was spotted having lunch together in Los Angeles, an onlooker told People that Katherine "seemed to be really happy and fit in with [Pratt] and his son."
The source added,
"She appeared to be genuinely enjoying herself and looked entirely comfortable helping him in doting over his son. Their body language spoke volumes about how serious they are about one another."
Less than a month later, Katherine joined some of Pratt's family and friends for a winery weekend in Napa, California, as per Us Weekly. The winery, Round Pond Estate, posted a few photos of the couple on their Instagram page, and noted that "they are every bit as warm and hilarious as you'd think!"
Even though Pratt and Katherine have reportedly only been together for about six months, engagement rumors have already started to swirl. There's no ring to be seen yet, of course, but with all these family hang-outs lately, it wouldn't be far-fetched to imagine that one's on the way.