It Seems Like 'Arrival' Will Never Leave Theaters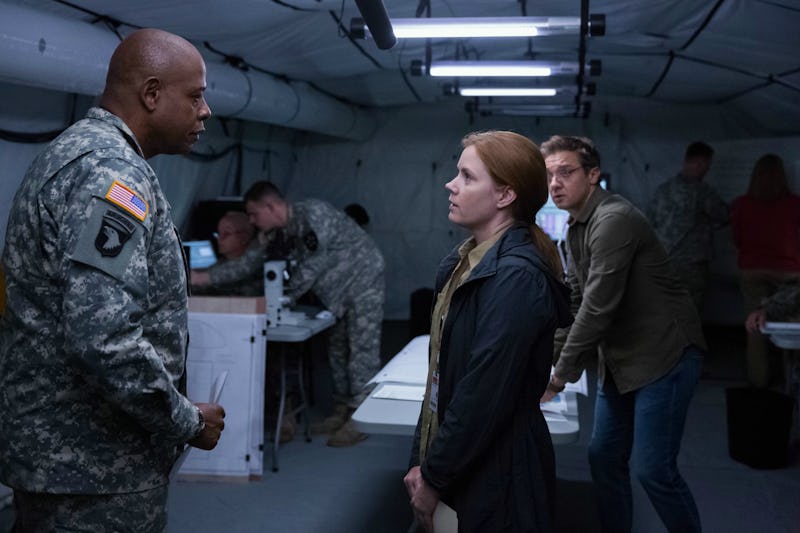 Of all the movies receiving Oscar buzz this year, perhaps the most unique is Arrival. It's not often that a science fiction film is considered among the best pictures of any given year, but the subtle and intelligent twist on the alien invasion film, driven by Amy Adams' stirring performance, is certainly deserving of all its praise. But what if you haven't yet had a chance to see the movie? Is Arrival still in theaters?
Although it's not one of the highest-grossing movies of the past year, Arrival has had a remarkable run at the box office. At first glance, the film's box office haul of $158 million isn't all that impressive for a big sci-fi movie. But the film cost only $47 million to make, and it hasn't seen release in China, the world's second-largest movie market, meaning its numbers are actually quite stunning. But what's especially striking is the movie's staying power.
Originally released on Nov. 11, Arrival has never ranked number one at the box office. Its debut weekend was overshadowed by the second weekends of Doctor Strange and Trolls, finishing third behind the newcomers and bringing in $24 million. But since then, those movies have gone the way most top-heavy movies do and faded away, while Arrival is still going relatively strong.
Despite being in theaters for two months, Arrival has yet to see a 50 percent decrease in its box office take from weekend to weekend — a rare feat. It took six weeks for the movie to even fall out of the top 10 at the box office, and it's remained in the same spot — 16th place — for each of the last two weekends. Currently, Arrival is still playing in 545 theaters nationwide. That's well shy of its peak of 3,115, but you'll still find it in more theaters than more recent "big" films like Doctor Strange, Trolls, or Allied.
Arrival is obviously slowing down after two months on the big screen, but given the movie's consistent popularity with theatergoers, as well as its Oscar buzz, I wouldn't expect it to exit cinemas just yet.