These Arya Stark Quotes From 'GoT' Season 7 Will Unleash Your Inner Badass Direwolf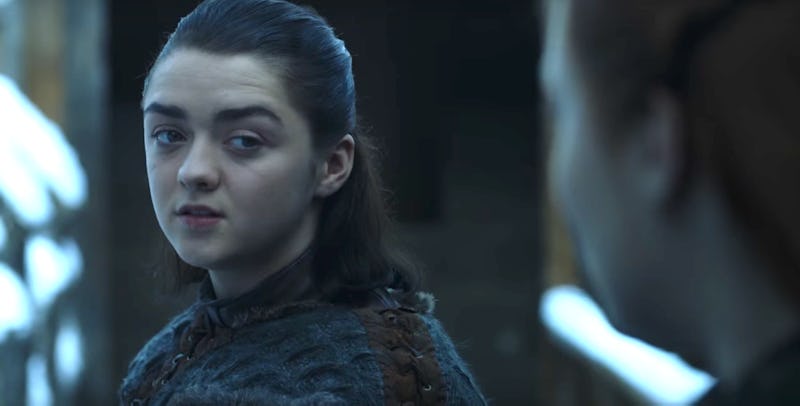 HBO
In a series full of women who know a thing or two about kicking butt and taking names, Arya Stark is probably the baddest badass of the Seven Kingdoms. And in Game of Thrones Season 7, Arya Stark's quotes were some of the most memorable — and worthy of some feminist adoration. The youngest Stark sister was on fire last year, and her words might just encourage you to take down your family's enemies — or you know, stand up for yourself more. Spoilers ahead for Game of Thrones Season 7.
Arya may look small, but she's a deadly assassin who knows how to get the job done. She is also fiercely loyal to her loved ones and has a bit of a smug sense of humor when it comes to her ambitions and her abilities.
The penultimate season had some of Arya's best moments — and best lines — to date. Considering fans don't know how long she'll have to live in the final season, let's remember some of the quotes and dialogue exchanges that had fans everywhere clapping in adoration.
"Leave one wolf alive and the sheep are never safe. When people ask you what happened here, tell them the North remembers. Tell them winter came for House Frey."
Arya began Season 7 back in Westeros, getting her revenge on House Frey. She says this line after poisoning the Freys while wearing the face of their patriarch and Red Wedding mastermind, Walder Frey, who she killed at the end of Season 6. Arya's quote here makes clear that, for as long as she's alive, no Stark enemy is safe. (Episode 1)
"I'm going to kill the queen."
After coming across a group of traveling Lannister soldiers (including singing red cloak Ed Sheeran), Arya joins the group to momentarily shoot the breeze. When one of the soldiers asks her why "a nice girl" is heading to King's Landing, she offers this response. After a moment of silence, the lads all start laughing. Arya joins in the laughter, knowing that she's giggling for an entirely different reason: She knows she's not a "nice girl," who really does have plans to kill Queen Cersei and very well could complete this mission. Leave it to a group of clueless young men to underestimate this fearless young woman. Of course, this isn't condoning murder, but instead, the idea of standing up for yourself to those who are quick to judge. (Episode 1)
"No one."
OK, so admittedly you need context for this one. Arya has arrived in Winterfell, and she and Brienne of Tarth decide to do a little sparring. When Arya whips out some incredible skills in her friendly duel with the lady knight, Brienne asks, "Who taught you how to do that?" Arya answers, "No one." This is both a cheeky response, and the true answer: She was taught her skills by the faceless men who go by the name of "no one." Hat's off to Arya for keeping it real while maintaining an air of mystery. (Episode 4)
"Do I have to call you Lady Stark now?"
After years of being apart from her siblings for years, Arya's first exchange with her sister isn't "I've missed you" or "I'm so glad you're alive," but instead a dig at Sansa's new status as Lady of Winterfell. Sentimentality isn't Arya's thing, but dry humor sure is. (Episode 4)
"Not if they lose their heads first."
After the heads of the minor houses in the North and the Vale come to Sansa to complain about Jon Snow, Arya is a bit annoyed that her sister didn't stand up for their half-brother. Sansa tries to argue that if she doesn't appease these men, then Jon loses his army. Arya replies, "Not if they lose their heads first." It's a more bloody approach to diplomacy, but it exemplifies just how Arya is a woman of action. (Episode 5)
"I was never going to be as good a lady as you. So I had to be something else. I never could have survived what you survived."
Though Arya and Sansa spent a couple episodes in the seventh season arguing, the two ultimately came together to take down Little Finger. The sisters always had a contentious relationship, but Arya showed her maturity by admitting admiration for her older sister despite their personality differences. It can be hard to open up to a sibling you see as a rival, but Arya took the challenge head-on. (Episode 7)
When Arya returns for Season 8, who knows what sort of badass things she'll say. In the meantime, let her Season 7 words inspire you to take down your enemies, laugh off some clueless dudes, feel cocky about your strengths, and maybe get better relations going with your sister.