How Bruce Campbell Is Helping 'Ash Vs Evil Dead' Fans To Say Goodbye To His Iconic Character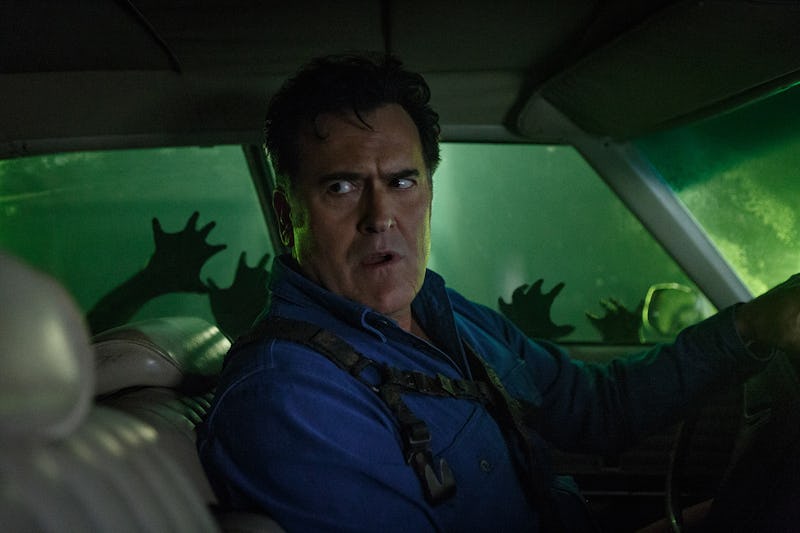 Starz
Fans of the horror-comedy series had been eagerly awaiting an official announcement about Ash vs Evil Dead Season 4. Unfortunately, on Friday, April 20, Starz delivered the final answer to that question, and it's not a groovy one: Ash vs Evil Dead is cancelled, as reported by Variety. The series finale will air on April 29, but it's not all bad news — Bruce Campbell recently took to Twitter to reassure his fans that wrapping up Ash vs. Evil Dead isn't such a tragedy. He also gave good reason for fans to feel positive about the conclusion in store.
Campbell first brought Ash to life in Sam Raimi's 1983 movie, The Evil Dead, which spawned two official sequels, Evil Dead II in 1987 and Army of Darkness in 1992. The franchise also added a more recent installment, Evil Dead, in 2013, although this one centered around female protagonist Mia Allen (played by Jane Levy), with Campbell's Ash only showing up in a post-credits scene. Hardcore fans also have a rich expanded universe of comics and video games to help sate their craving for Deadites and disaster.
Campbell took up the boomstick once more in 2015, as well as a new role of executive producer, for the Starz series Ash vs Evil Dead, created by Sam Raimi, the writer and director of the original films. The series added a host of new characters like the loyal sidekick Pablo Simon Bolivar (played by Ray Santiago) and the badass Kelly Maxwell (played by Dana DeLorenzo). The original warrior princess, Lucy Lawless, swapped her Amazonian armor for Deadite hellfire to become Ruby Knowby, the main antagonist terrorizing Ash and the rest of humanity in the series.
Ash vs. Evil Dead started off strong in Season 1, with an average rating of .21 million viewers in the 18–49 demographic, according to TVSeriesFinale.com. The following year, however, Starz moved Ash from Saturday nights to Sundays, and the ratings slipped down to an average of .177 million in the same demo. In Season 3, that number has dropped off to a paltry .08 million viewers. John Squires of Bloody Disgusting pointed out, however, that Starz did saddle Season 3 with the unenviable task of premiering alongside the mid-season premiere of The Walking Dead, and Episode 2 was up against both The Walking Dead and the Oscars. Not a great start for a show whose ratings were already sliding.
Ratings or no ratings, the fans have been out in droves on Twitter to express their disappointment at reaching the end of the line in this particular installment of the Evil Dead saga.
After the news of the cancellation, Squires wrote another post to encourage fans to make a last-ditch effort to lobby Netflix to #BringBackBoomstick. Fans hoped that the streaming giant might grant them a miracle like the one Hulu pulled off with The Mindy Project and Nashville. Sadly, Bruce Campbell himself, however, stepped in to applaud fans for the effort, but confirm that it really is time for him to say goodbye to the franchise.
While fans might be heartbroken that the Book of the Dead is closing already, Campbell thinks that they'll feel satisfied with the finale they've got in store. In an interview with IndieWire, Campbell revealed that the finale of Season 3 was always written to act as a series finale — just in case. And it's one he thinks fans are really going to enjoy. "I think it's good to have your story conclude," he said, "[to have an ending] that does button up and does seal up everything. I think that's important. Fans are not going to get screwed — they're going to get a good ending."
In these times of streaming TV and ever-expanding universes, though, you just never know if or how long a particular franchise is going to stay dead. With the introduction of Ash's daughter Brandy this past season, not to mention Kelly's demon-killing track record, there are plenty of options to pursue if the Evil Dead universe does manage to live on. But even so, Bruce Campbell's Ashy-Slashy is going to be sorely missed by old fans and new. Catch you on the flip-flop, good buddy.