A 'Bachelor In Paradise' Alum You Know & Love Is Officiating Ashley I. & Jared's Wedding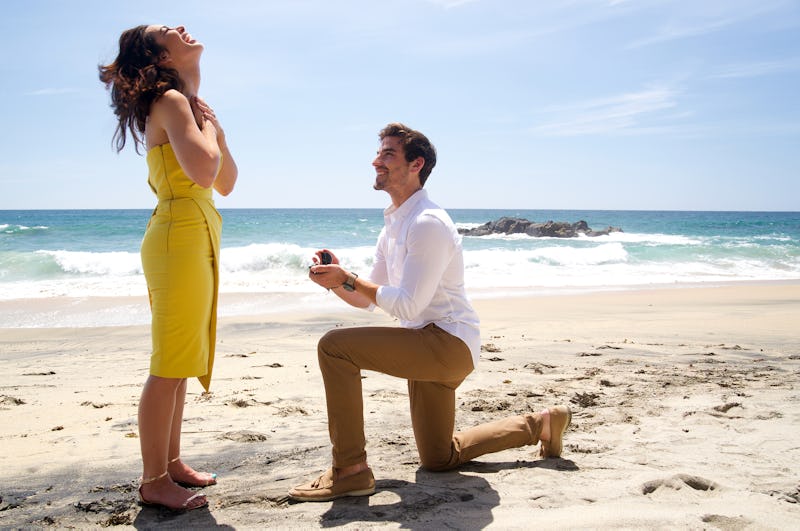 ABC/Paul Hebert
Ashley Iaconetti and Jared Haibon are one step closer to tying the knot. Tanner Tolbert will officiate Jared and Ashley I.'s wedding, Jared revealed in an Instagram post Wednesday. Considering the fact that Tanner and Jade Roper are one of the strongest Bachelor in Paradise couples out there, the news makes total sense.
In his Instagram announcement, Jared kept things short and to the point, writing, "Dearly beloved, @tanner.tolbert is officiating our wedding in August 2019. This is a preview of things to come." The "preview" is a photo of Jared, Ashley, and Tanner in casual dress, with Tanner mimicking the way he'd hold a wedding ceremony book in front of him. And while their outfits might be more formal during the actual wedding, Tanner does look quite at home while standing with Ashley and Jared in the mock ceremony.
Jared's post also confirms when fans can expect him and Ashley to get hitched. It looks like they're planning a late summer wedding, to be held next August. That gives them plenty of time to nail down all of the details before the big day. It's not clear exactly where the two of them are planning to get married, but Ashley did tell Us Weekly in July that the two of them are looking at wedding venues in Rhode Island, Jared's home state.
Having Tanner officiate the wedding is a dream come true for the couple, too. Before they were posting on Instagram about venues and wedding dress shopping, Jared told People in July that he and Ashley wanted Tanner as their officiant. Jared said to the magazine,
"We want Tanner to officiate the wedding. Tanner and Jade have been the couple that we were closest to within the Bachelor family. Tanner's been so intricate in our relationship the past couple years."
Based on what the couple shared over the summer, it sounds like Tanner played a part in Ashley and Jared's decision to start dating and get engaged. "He was the one who really supported me," Jared told People of Tanner, adding that his Paradise co-star encouraged him to talk to Ashley about how he felt for her.
It sounds like other details are falling into place, too. Ashley posted a photo from Kleinfeld Bridal in New York in July, sharing that she wanted a "ball gown" style dress for the big day.
After a lot of ups and downs on Paradise, Jared and Ashley announced that they were dating in May. The two then got engaged during Bachelor in Paradise Season 5's filming, when they guest-starred on an episode of the show.
Ashley and Jared may not want to relive all of their Paradise history — at first, they weren't on the same page romantically, to say the least. But it sounds like Tanner and Jade were there for them through the ups and the downs, so it makes sense that Tanner would have the honor of being their wedding officiant. If Ashley and Jared's love story has proved one thing, it's that anything is possible in Bachelor Nation, and it sounds like there will be plenty of Bachelor love to go around at their ceremony.