Ashley I. & Jared May Have Revealed Where Their Wedding Will Be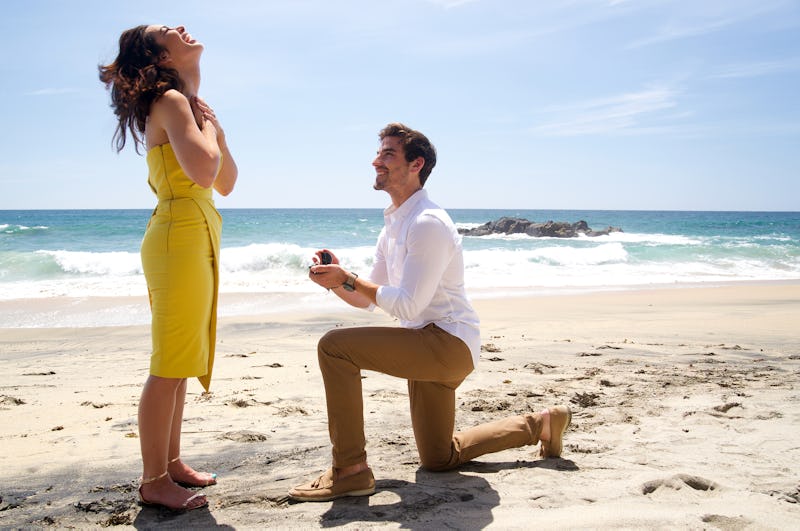 ABC/Paul Hebert
Last month, Bachelor Nation members Ashley Iaconetti and Jared Haibon revealed that they're engaged, and fans have been wanting more wedding details from the couple ever since. In a new episode of her podcast, I Don't Get It, Ashley I. shared details about wedding planning, and it sounds like she and Jared are going to have a picture-perfect ceremony.
In an Instagram story posted Monday, Ashley directed fans to "swipe up" to see where she and Jared want to tie the knot. The post linked to the recent podcast episode, in which Ashley shared that she wants to get married in the late afternoon or early evening, in a Protestant church. "I like the tradition of it," Ashley said on the podcast. "It's not going to be, like, a super-religious ceremony, by any means." She added that the ceremony would be fairly "non-denominational," despite the church setting. And her dream reception would feature a beach-adjacent ballroom.
Plus, Ashley revealed that Kleinfeld Bridal, the boutique featured on Say Yes to the Dress, has approached her about a potential wedding dress. She also shared that while she and Jared haven't really started wedding planning yet, she doesn't care as much about certain details, like whether the meal served to guests is plated or served from stations, buffet-style.
And while the engagement may seem fast, Ashley said on the podcast that she and Jared have "felt married" from the time they started dating. So even though they only got engaged a few weeks ago, the two of them seem to know exactly what they want for their future lives together.
Ashley also revealed on her Almost Famous podcast with Ben Higgins that she and Jared would consider having a TV wedding — as long as the guest list is completely up to them. Ashley said on the podcast,
"I think we're both down for it, but our caveat is that we want as many guests as we want and we don't want to have to be limited to that. So if we couldn't have it the way we imagined, that's the only reason we wouldn't do it."
The two of them seem to have plenty of connections, both within Bachelor Nation and beyond. So it makes sense that they'd want to be able to invite as many people as they could to witness the ceremony and to celebrate their love.
Ashley and Jared announced that they were dating in May, sharing a 44-minute video about their relationship with their fans. Then, on June 18, the pair announced their engagement. Apparently, Ashley and Jared got engaged on Bachelor in Paradise, so Season 5 of the Bachelor spin-off isn't one that fans will want to miss.
And while the engagement might seem quick, Ashley and Jared have known each other for years, as they explained in the video. They met during the second season of Bachelor in Paradise, but it looks like the timing is finally right for their relationship now. Haibon didn't talk about wedding planning on the podcast episode, but he's on the same page, too. He told People of Ashley, "I think we just both see each other as lifelong partners, so it's not scary, for me personally, to call her my future wife."
Considering the fact that Ashley and Jared are both prominent members of Bachelor Nation, and their engagement itself will happen on TV, it seems likely that the two of them could be destined for a televised wedding. Wherever the two of them decide to get married — and however many guests they choose to invite — fans would love to share in the couple's happiness.