Jared Posted A Tweet About His Engagement To Ashley That'll Make True 'Bachelor' Fans LOL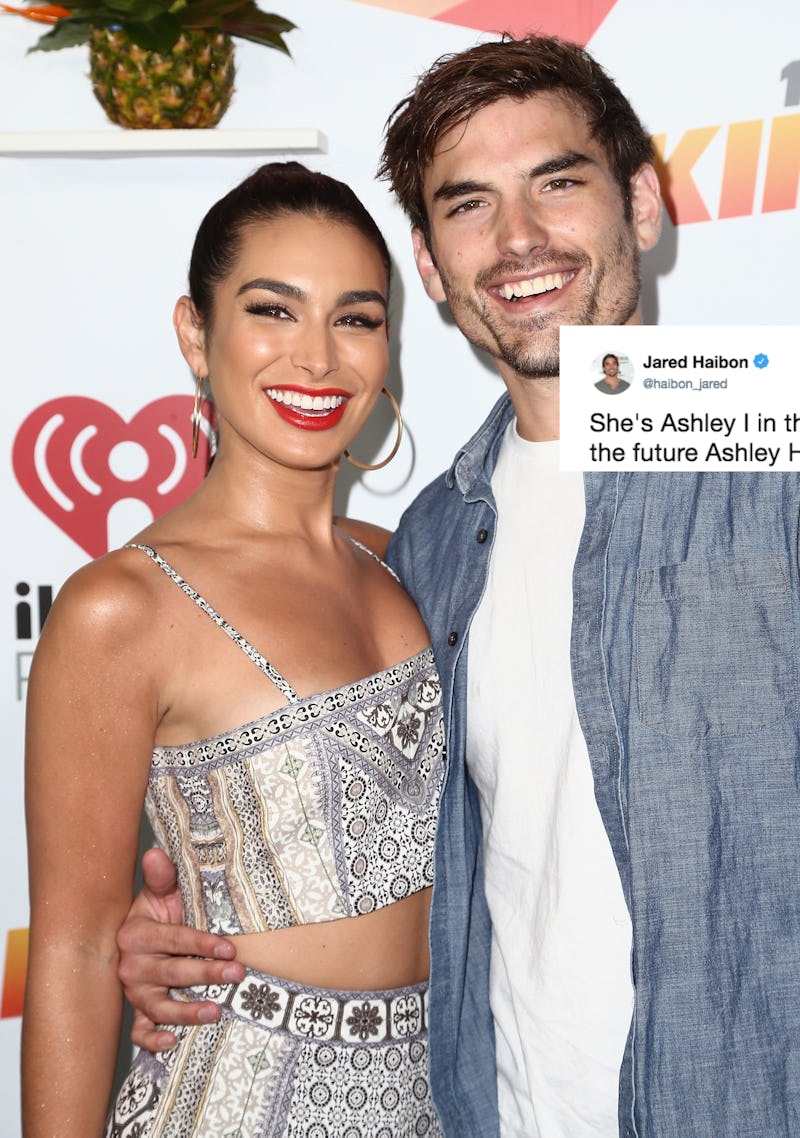 Tommaso Boddi/Getty Images Entertainment/Getty Images; Jared Haibon/Twitter
At this point, it doesn't seem like the love story between Ashley Iaconetti and Jared Haibon could get any more adorable, but it just did. Jared is ready for Ashley I. to become Ashley H., and it's pretty much the sweetest thing ever. After years of seemingly unrequited love, with some best friendship thrown in between, the Bachelor in Paradise alums got engaged and they are marking the occasion with some sweet social media posts, of course.
On June 18, Jared tweeted a photo of Ashley with the caption: "She's Ashley I in this picture. But to me she's the future Ashley H." At this point, "Iaconetti" isn't even Ashley's last name as far as The Bachelor fandom goes. She has been known as "Ashley I." for years and Jared's enthusiasm for her to soon become Ashley H. could not be any cuter.
Plus, the change from Ashley I. to Ashley H. can give her a fresh slate. Ashley I. was known for her crying, time in the "friend zone," and impeccable makeup that remained flawless when the tears were flowing. Ashley H. will only cry tears of joy while she's in a loving relationship— while still maintaining her impeccable makeup, obviously.
Jared and Ashley just announced their engagement on June 18, but the social media cuteness has already commenced. That same night, Ashley shared a beach selfie with Jared on Instagram with the caption "This was taken the night before we became fiancés!"
Additionally, Jared shared a professional photo on Instagram with the caption, "Love works in mysterious ways."
Considering that Ashley and Jared met and (eventually) got engaged while filming seasons of Bachelor in Paradise, it makes sense that the show's official Twitter account would post a photo from the proposal. And once again, this relationship is just getting even more adorable — one photo at a time.
They even poked a little bit of fun at Ashley's notorious crying by writing, "We're all crying now" in the tweet. Thankfully, it's just happy tears though. After everything she has been through, Ashley only deserves tears of joy from this point forward.
Even before Ashley and Jared got engaged, their (finally) official relationship was well-documented with Instagram photos. When they went public with the relationship on May 22, Jared posted a selfie with yet another heartwarming caption: "I came here tonight because when you realize you want to spend the rest of your life with somebody, you want the rest of your life to start as soon as possible."
That same night, Ashley shared a photo of the newly public photo. She wrote, "I love my boyfriend" in the caption.
On May 23, Ashley referenced Prince Harry and Meghan Markle's royal wedding when she wrote, "I'll take @jaredhaibon and a mini golf course over a prince and Windsor Castle any day," along with a photo of him carrying her at mini golf.
On May 25, Jared shared a photo of them kissing and remarked, "I'm the luckiest guy in the world."
On May 26, Ashley shared a photo from their vacation and joked, "Everything's all romantic before the after dinner bloat." So true, Ashley. So true.
The couple threw it back to where it all began by recreating a Bachelor in Paradise date by holding hands on the beach. Jared wrote, "Recreating our first date in Paradise. I should have been holding her hand then. I'm never letting go now."
The cuteness continued on June 1 when Jared posted about a date night that Ashley planned. He shared, "Ashley surprised me with dinner at the restaurant they filmed La La Land. It's the place Ryan Gosling and Emma Stone first meet. This is one of the many reasons why I love her."
On June 4, Ashley shared a Kardashian-esque black-and-white photo booth picure with the caption, "And he smells good too."
Even though Ashley and Jared met on reality TV and have such an unconventional love story, they are still a very relatable couple. On June 10, Ashley shared, "I'm sure exploring Europe is great, but have you ever snuggled on the couch while watching Jersey Shore?"
These two have one of the best (if not, the best) love stories in Bachelor in Paradise history. Not only do they have great affection for each other, but there are so many fans that are so invested in their journey and every single photo that hits social media. Now the countdown is on for the wedding — and the wedding photos, of course.