Ashley I. & Jared Want That TV Wedding Just As Much As You Do, 'Bachelor' Nation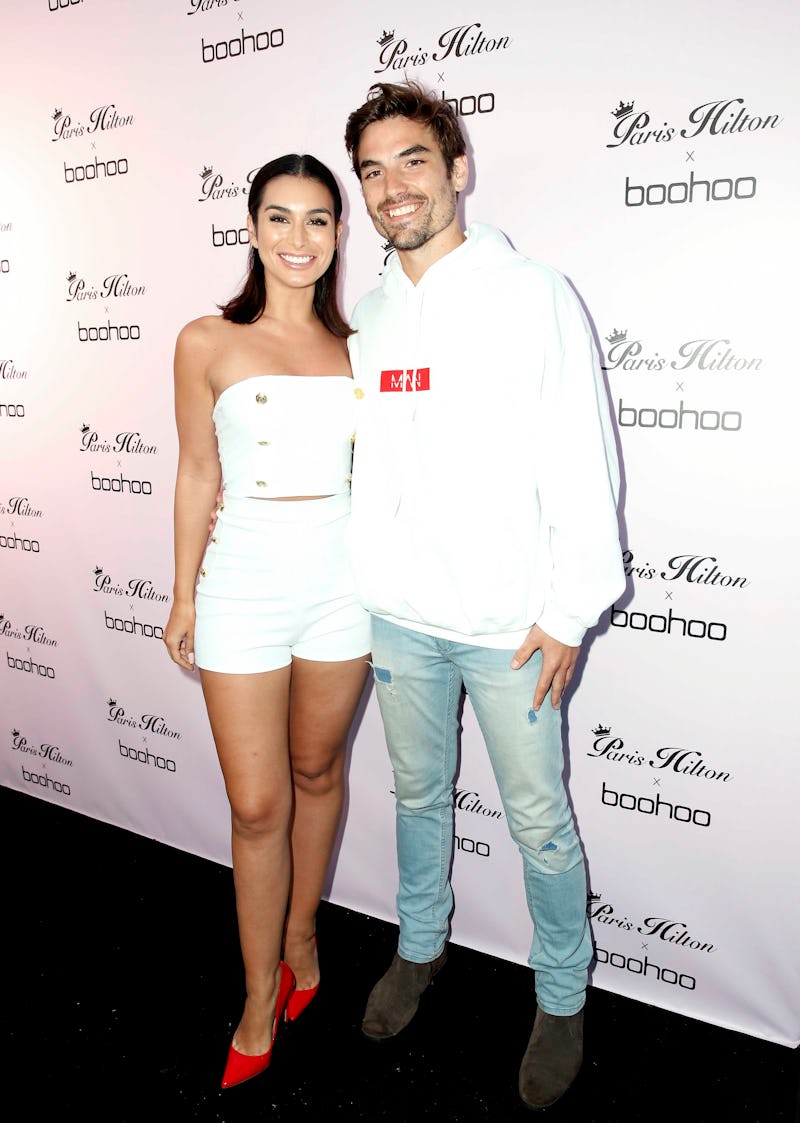 Rachel Murray/Getty Images Entertainment/Getty Images
Last week, excitement rocked Bachelor Nation when Ashley Iaconetti and Jared Haibon announced their engagement with a sun-kissed proposal photo plucked straight out of paradise. Bachelor in Paradise, that is. Ever since fans learned that their engagement would play out during Bachelor in Paradise's fifth season (a bit of news ABC later confirmed to Bustle), the internet's been dying to know: Will Ashley I. and Jared get married on TV, too? Not a totally unreasonable question, especially given that televised relationship milestones is kind of what the Bachelor, in any one of its many iterations, does best.
There's been no official word from the network as to the possibility of a televised wedding for Ashley I. and Jared — not yet, anyway — though Ashley I. had a few things to say about it during the most recent episode of Almost Famous, a podcast she shares with fellow Bachelor alum Ben Higgins. And while Ashley I. didn't offer any sort of definitive answer as to whether they'll tie the knot in front of the BiP cameras, her comments certainly suggest the couple is at least thinking about it. She said,
"I think we're both down for it, but our caveat is that we want as many guests as we want and we don't want to have to be limited to that. So if we couldn't have it the way we imagined, that's the only reason we wouldn't do it."
Those requests seem pretty reasonable — come on, ABC, make it happen.
Still, Ashley I. made herself pretty clear during Monday night's episode: If the logistics end up panning out the way they'd like, she and Jared are definitely interested in the possibility of a televised wedding. "We want it, we want it!" she finished, wrapping up her comments on that particular aspect of her newly-minted engagement.
Turns out, eager residents of Bachelor Nation really want it to happen, too. That shouldn't come as much of a surprise, since enthusiastic Bachelor fans have been buzzing about a televised wedding for Ashley I. and Jared for the better part of roughly eight days now. In fact, ever since the couple's Bachelor in Paradise proposal shot first graced the internet — as well as the exciting bit of news that accompanied it — fans on social media have been virtually screaming for more. In a lot of ways, that makes sense. Because, really, how can ABC expect to tease fans with the couple's engagement footage, but leave them hanging when it comes to the actual ceremony?
Suffice to say, if Ashley I. and Jared do end up scoring a matrimony-themed TV special, it sounds like Bachelor enthusiasts (especially those who've been rooting for an Ashley I.-Jared pairing since Bachelor in Paradise season 2) will certainly be tuning in. A couple of particularly creative fans even offered Ashley I. and Jared a few suggestions as to the wedding's entertainment. On that note, the current roster of ideas includes: Maroon 5, the Backstreet Boys, and/or Lance Bass.
Have your own suggestions? Feel free to head on over to Twitter, where Bachelor Nation has been celebrating the couple's engagement, and theorizing about the wedding pretty much all week long. And from the looks of it, that momentum doesn't seem to be slowing down any time soon.
During Monday night's Almost Famous episode, Ashley I. also gave Bachelor Nation a glimpse into the proposal they'll, thankfully, get a chance to watch in full later on this year when Bachelor in Paradise's fifth season kicks off. As fans who've seen their truly picturesque proposal snapshot know already, the engagement transpired along the gorgeous Mexican shoreline (where the show usually films) and might easily be mistaken for some kind of advertisement for a fairy tale weekend getaway.
"I thought [the proposal] was going to happen for a couple weeks leading up to it," said Ashley I. during Monday night's podcast. "And then the week of, everyone was throwing me off." How's that? The BiP alum continued, saying,
"I knew that Jared would ask my dad, he always said he would ask my dad. But I talked to my parents and they're like, 'Ashley, he did not call.' Total straight faces. [But] he did call. My parents are apparently really good actors."
Now, does that sound like the stuff of televised engagement gold, or what? If their surprise beach-side proposal is any indication, it certainly sounds like Ashley I. and Jared's wedding is going to be one Bachelor Nation won't want to miss. Since it'll probably be next to impossible to score an actual invite, let's hope the happy couple says "I do" with the cameras rolling, so everyone can join in the celebration.