No, You Shouldn't Ask If Amal Clooney Did IVF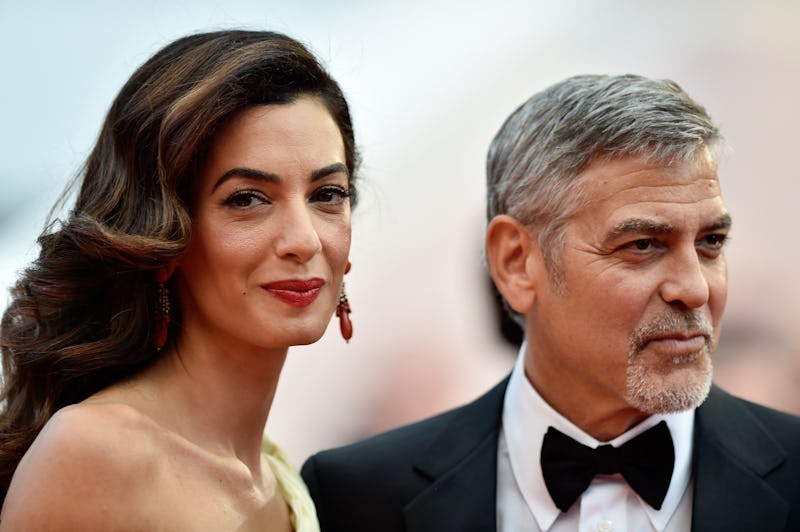 Pascal Le Segretain/Getty Images Entertainment/Getty Images
On Thursday, news broke that Amal Clooney is reportedly pregnant with twins, according to Us Weekly. And while many rushed to congratulate the expecting couple, some also began questioning if the Lebanon-born attorney had undergone in vitro fertilization. Not only is that wildly speculative but it's also deeply personal, because asking if Amal Clooney did IVF isn't any of our business. Asking if she's pregnant isn't even any of our business.
First of all, the only support behind the rumor is an unsubstantiated claim that she was planning to start IVF treatment in October 2016 after trying unsuccessfully to conceive "all summer," according to a source for In Touch Weekly. Fans took the announcement that Clooney may be having twins as further evidence, as multiple babies can result from the procedure, but again, the twin news is unconfirmed. (Bustle reached out to George Clooney's rep for comment, but did not receive a response at the time of publication. Amal's rep could not be reached.)
More importantly, however, is that if the last year has taught us anything, it's that celebrities are not public property, nor are their choices. Putting your life in the spotlight for the sake of your career doesn't entitle anyone to pry, especially when women's ownership of their bodies continues to be a problematic global debate. We should be protecting our right to reproductive privacy, not serving it up in headlines.
In fact, we've already seen what happens when a woman is pressured to defend personal matters like IVF on a public stage. When Chrissy Teigen revealed she'd turned to the procedure to get pregnant, she was repeatedly harassed with negative comments on Twitter. She tried to explain why she'd made the decision, but social media wasn't having it, and she was only met with more backlash.
But here's the thing, undergoing IVF isn't an easy choice. For many people, getting pregnant can be an extremely trying and emotional endeavor, and more often than not, IVF is something they don't consider until long into the process. So now we're going to turn around and put newly pregnant women through even more grief by offering up their bodies for public debate? No, thank you. All that should matter is that the Clooneys are reportedly having a baby (or two). That should be something to celebrate. Let's put this nonsense about whether or not Amal Clooney used IVF to bed. If she wants to comment on it, she will.