Astrologers Say These 3 Zodiac Signs Are Most Likely To Get Away With Cheating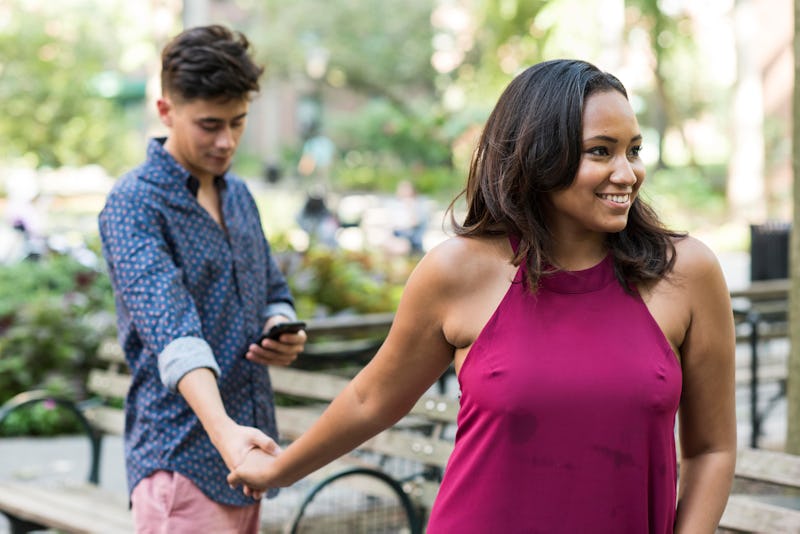 BDG Media, Inc.
When you're in a committed relationship, you always love each other — you don't always like each other, though. During these moments when your relationship isn't quite as passionate as you'd like it to be, you might start to wonder whether your partner is being unfaithful to you. This is especially the case if they are drawing away emotionally, staying late at work, or mysteriously texting people you've never met. It's hard to know for sure if your partner is cheating unless they confess or you catch them in the act. But according to experts, these zodiac signs are most likely to get away with cheating.
The signs that are most likely to cheat and the signs that are most likely to get away with cheating are not necessarily the same. For example, the signs most likely to cheat are Sagittarius and Gemini, due to their "changeable protective natures," astrologer A. M. Penn, tells Bustle. "Gemini changes its mind very quickly, while Sagittarius changes its entire way of being rapidly, and requires a lot of freedom to be able to do so," she says. But just because your partner is a Sagittarius doesn't mean that they'll be able to actually get away with cheating. They also may not cheat in the first place — it's important to remember that someone's Sun sign doesn't predetermine their personality, and to take astrological insights with a grain of salt.
Here are the signs that are most likely to be able to cover up their infidelity, according to experts.