Shailene Woodley Just Gave The "I Don't Watch TV" Excuse That Every TV Fan Hates & It's Rude AF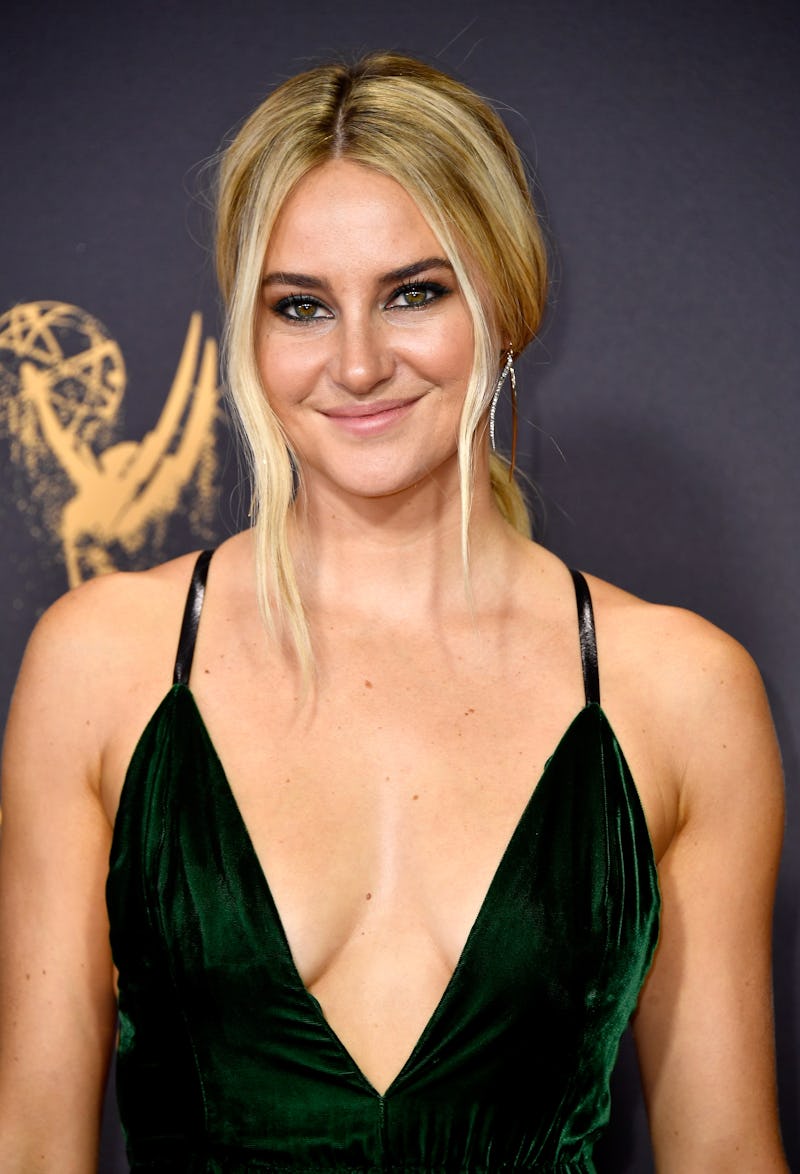 Frazer Harrison/Getty Images Entertainment/Getty Images
Shailene Woodley may have been up for an Emmy for her role in HBO's Big Little Lies, but, as she just revealed on the 2017 Emmy red carpet, the actor steers clear of TV in her real life. Woodley doesn't own a television; in fact, she just told E! News that she doesn't watch TV — she's more of a reader — and, while not surprising, it is disappointing. Shailene Woodley gave the "I don't watch TV" excuse that every TV fan hates, and, frankly, it's pretty rude considering she's attending a television awards show, where she could win a golden award for her role on a television show.
Woodley revealed her TV-less existence during a red carpet interview with E! News, telling Jason Kennedy that she doesn't have a home and so, does not have a place to put a television. "When do people have time to [watch TV]?" Woodley asked before admitting that she prefers books to television anyways. "I'm a reader. So I always read a book instead of turning on my TV," she said. Now, if you know anything about Woodley, the fact that the star doesn't have a TV won't surprise you. The actor is known for her love of nature and for refuting the Hollywood starlet lifestyle. What is surprising, however, is that an actress who has found such great success in television and on the big screen doesn't watch television at all.
Many fans on Twitter seemed unsurprised by the revelation, noting that it was very much on brand for Woodley. The actor has frequently spoken about her nomadic lifestyle. Three years ago she told Today about the benefits of couch surfing while promoting her hit, The Fault In Our Stars. Based on her 2017 Emmys red carpet interview, it sounds like not much has changed.
Woodley first shot to fame playing Amy Juergens on The Secret Life of the American Teenager, and she earned her first Emmy nomination this year for her role in Big Little Lies. And yet, she doesn't appear to be curious to see the great work being produced all around her. Has Woodley even seen the work of her fellow Outstanding Supporting Actress in a Limited Series or Movie nominees? (Woodley is up against her BLL co-star Laura Dern as well as Judy Davis and Jackie Hoffman from Feud: Bette and Joan, American Crime's Regina King, and Michelle Pfeiffer of The Wizard of Lies.) To many TV fans, Woodley's assertion that she'd rather read a book than watch television is somewhat of a slap in the face.
It's already strange for an actor to come to an awards show celebrating something she proclaims not to care about, but to then add that she's "a reader" is just rubbing salt into the wound. Woodley may have thought her words were just truthful, and to her credit she didn't try to fake interest in the work of the people around her, but to many TV fans, it just sounds like she thinks television is beneath her. As if a disdain for television, the thing that not only employs her, but also gives her love and adoration, was somehow intellectual.
At the end of the day, Woodley is free to watch as little or as much television as she pleases. Though it might raise some eyebrows that an actor has no interest in watching work outside of her own, it's a valid life choice that in no way takes away from her immense talent. It must be said, however, that Woodley's ignorance of television is really a shame. As the 2017 Emmys prove, she's missing out on a lot of great content. From A Handmaid's Tale to The Night Of, to This Is Us, there are plenty of great shows on television that Woodley might enjoy watching. She's welcome to borrow my TV anytime.