The 'Big Little Lies' Cast's Excitement About The Emmys Is Contagious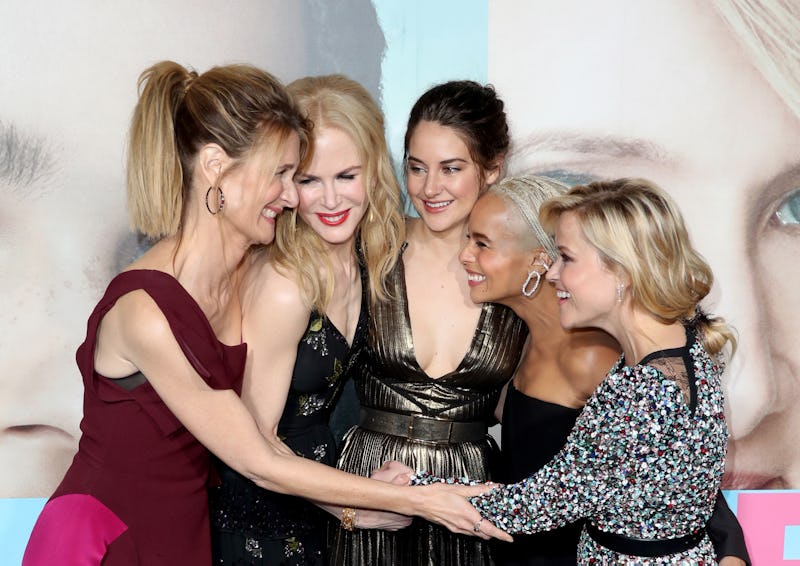 Frederick M. Brown/Getty Images Entertainment/Getty Images
The moms of Monterey will always stick together, but their crew seems to be especially psyched about having a gala event to attend that won't end in murder. It seems the Big Little Lies cast is excited about the Emmys, just as you are, in fact. Actually, they might be even more excited given that almost all of them are nominated for awards. Reese Witherspoon is channeling her inner Madeline and acting as the group's biggest cheerleader in the lead-up to the ceremony. The Big Little Lies actor shared several posts on Saturday touting the show and her castmates.
In one photo, Witherspoon reunited with Laura Dern. She captioned the image with "#madeline&renata." She also shared an all-too appropriate GIF that Shailene Woodley regrammed, and a BuzzFeed quiz that answers the age-old question of which Big Little Lies mom you are. Meanwhile, on Thursday, Dern appeared to be getting into the Emmy spirit with a throwback post to her time on the HBO miniseries' set.
Given the number of Emmys the show could take home on Sunday night, it's no wonder that the cast is so pumped. Big Little Lies garnered 16 nominations, and already picked up three wins at the Creative Arts Emmys. Witherspoon, Dern, Woodley, Nicole Kidman, and Alexander Skarsgård all have acting nominations, which means Sunday could be a big night for the cast. Zoë Kravitz isn't nominated as an individual, but hopefully she'll still be alongside her castmates, because the evening wouldn't be the same without her.
With many fans hoping for a Big Little Lies Season 2, Emmy night could be a sign of hope if the show rakes in trophies for HBO. And even if lots of wins doesn't turn into a second season of murder, sex, and intrigue in Monterey, seeing the cast all dressed up and ready to celebrate is reason enough to join Witherspoon and her castmates in getting excited for the big night.
Big Little Lies stacked its cast with Hollywood heavyweights, but there doesn't seem to be an over-sized ego in the bunch. The female cast members, in particular, seem to have remained close, and they're letting their appreciation for one another show in a big way as the ceremony approaches. There's Dern and Witherspoon's perfect reunion, Woodley showing Witherspoon's clever Instagram post some love, and, of course, Dern's wonderful collage of her memories from the set.
There's no doubt that Big Little Lies resonated with its fans, but it's wonderful to know it was also a rewarding experience for the stars who brought the memorable characters to life. Here it is, months after the show aired, and they're still reflecting back on the experience they shared — all the more reason for them to at least consider doing a Season 2, right, HBO?
After all, it's clear they had a blast making the series. More importantly, Big Little Lies put a group of intense, flawed, and fascinating women at its center. That's a rarity for television and one of many reasons why the cast and crew deserves to walk away with an abundance of awards on Emmy night. This cast is just too good to go unrecognized for their amazing work.
It seems unlikely that Emmy voters will fail to see the show's brilliance, so fans might as well relax and enjoy Witherspoon, Woodley, and Dern's excitement to reunite on Sunday.
No matter what happens, it seems clear that these actors will be rooting for one another — even if that means rooting against themselves in some cases. The Big Little Lies cast appears to be a rarity: a group of Hollywood elites that genuinely love being around each other. Maybe the next time they all pose for a picture they'll be flashing some well-deserved Emmy gold.