Instagram's Favorite Sneaker Brand Just Launched The Most Perfect Collection Of Pastel Kicks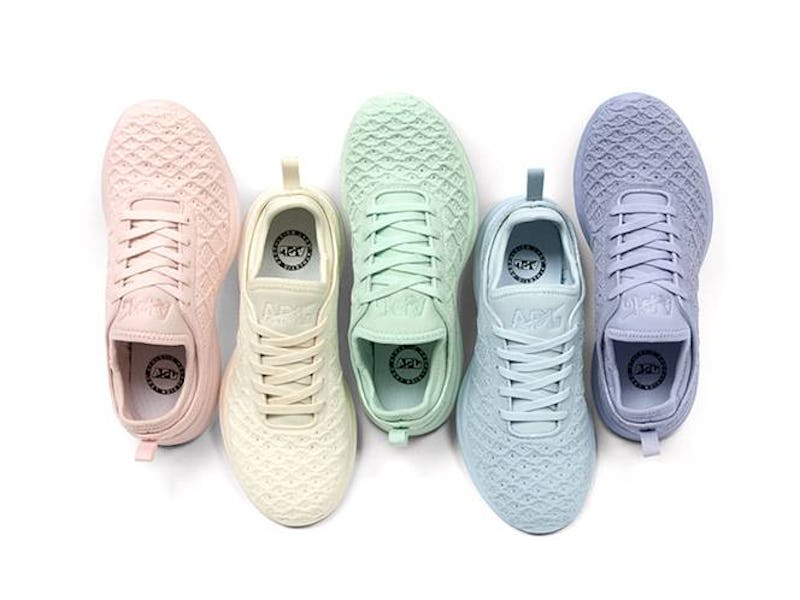 Courtesy of APL
If social media sensation APL (which stands for Athletic Propulsion Labs) wasn't on your radar before, prepare to get well acquainted with the brand. The Instagram famous sneaker shop that made its way into LuLulemon stores just launched a pastel collection of kicks your wardrobe needed as of yesterday.
The weather may still be in winter mode, but APL is bringing on the spring vibes a little early. Announcing their spring/summer 2018 collection, the sneaker makers added a lineup of Easter egg hues to the inventory of their fan favorite shoe, the TechLoom Phantom running sneaker. The best-selling shoe combines function and style for kicks that aren't your average running shoe. Now available with a pastel twist, it's an essential that sure's to brighten up any workout or trendy athleisure look.
As a brand rooted in creating performance-oriented footwear, APL sure is making its mark on the fashion community. Just a taste of the brighter and bolder selections within the new collection, the pastel newbies join a gang of other additions to the TechLoom line. For endless eye-catching looks, there are neutrals, metallics, and an assortment of other color schemes and patterns all worth giving a glance.
The new collection, available for both men and women, is just as great for maximizing your workout as it is captivating. Cushioning within the soles makes the sneakers super comfy for athletic activities, working out, or simply running errands.
The collection also features APL's signature 3D Stretch TechLoom, a grid pattern that's crafted to move with your feet for comfort while adding an intricate design element. Perfect for hitting the gym or painting the town, these pastel numbers make a major fashion statement.
Women's TechLoom Phantom Light Lavender, $165, Shop Bop
A lavender pair of the TechLoom Phantom sneaker kicks the spring season off right. It's hard to not fall in love with such a lovely hue.
Women's TechLoom Phantom Light Sky, $165, Zappos Luxury
You can never go wrong with sky blue. Seriously, never.
TechLoom Phantom Faded Peppermint, $165, APL
These minty kicks are definitely rare. It's not everyday that you see running shoes in such a bold hue, so you're guaranteed to stand out if you invest in this pair.
TechLoom Phantom Off White, $165, Net-A-Porter
As as off white pair that resembles a pale yellow, these TechLoom Phantoms are pretty unique. You'll definitely want to try your best to keep them squeaky clean.
Women's TechLoom Phantom Bleached Pink, $165, Saks Fifth Avenue
Rosy sneakers like these were made for the spring. The delicate hue compliments the sleek design of the shoe perfectly.
Though the pastel shoes will likely sell you on the TechLoom Phantom, there are other color schemes available. For the boldest sneakerheads, versions of the Phantom featuring real fur, dyed cow hair, offer a $250 upgrade on the trendy shoe.
The leopard print version surely stands out. Then there's a speckled "pony" pattern, making for a one-of-a-kind running shoe. And just in case pastels and patterns aren't quite your steez, the textured, all black pony style will turn heads just as much while keeping things classic.
Updates to the TechLoom lineup also includes new metallic styles. There's a silver and white version, a fatigue shoe that features gold metallic, a champagne and white combo, as well as a silver, black, and nude sneaker. So there's really something for every shoe lover with APL's new additions.
Finding a way to not throw all of your monies at APL is going to be a serious chore when their virtual shelves are loaded with so many trendy goodies. Although there's not a single shoe that isn't an eye-catcher, the monochromatic, pastel beauties are arguably some of the chicest sneakers to hit their site.