This Woman-Owned CBD Company Makes The Instagrammiest Tinctures & Gummies Out There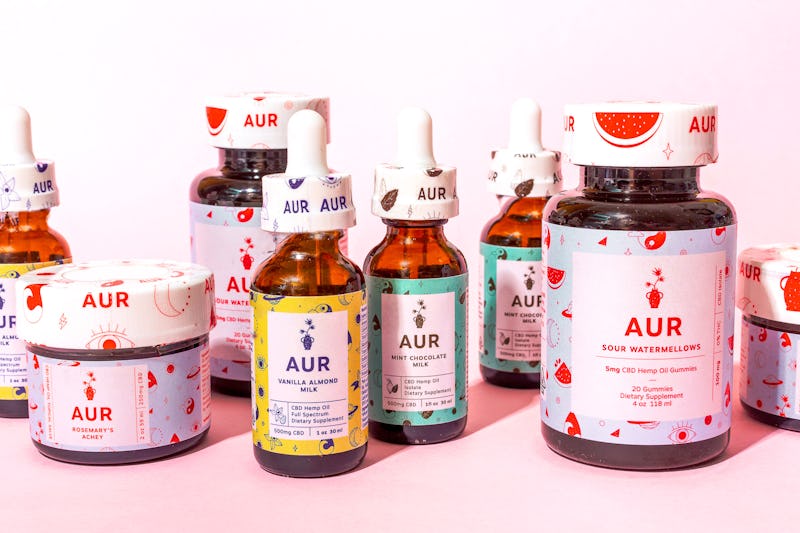 Courtesy of AUR Body/Marianne Taylor Photography
Confession: I, like many others of my generation, am a complete sucker for cute packaging. Even though I'm not constantly posting on Instagram, I am constantly scrolling, judging proverbial books by their literal covers with such little abandon it would make my elementary school teachers cringe. But even though we're cautioned from childhood to, well, not do that, there's a serious case to be made for the value of good design, especially when it comes to a product that people may not be familiar with, or worse, might stigmatize. At least that's how 25-year-old Dori Light, founder of the new CBD brand AUR Body, might put it.
The design-focused (read: extremely Instagrammable) line launches Tuesday, Nov. 20, with four products: a vanilla almond milk tincture ($57), a mint chocolate milk tincture ($63), Watermellow gummies ($25), and Rosemary's Achey body oil ($50). With .3 percent or less THC in each product, a dose won't get you high, but they can impart the (numerous!) benefits of CBD, aka cannabidiol, the cannabis compound you've been reading about everywhere this year.
Light founded AUR Body after a negative experience working in a male-dominated field and being exposed to essential oils for anxiety relief. "I left a field surrounded by men and built a company surrounded by strong, smart, and incredibly creative women," she tells Bustle via email. "We based our research off of three pillars: it had to be earth based, people minded, and delicious."
And delicious they are: each product separately tastes like bottled nostalgia. "We wanted the vanilla almond milk to remind you of your grandma's famous cookies," Light says, noting that the blend of vanilla, almond, and cinnamon "tastes like a hug." The mint chocolate milk sits cooly under your tongue, delivering the slightest chocolatey sweetness, but would be equally at home spiking a hot chocolate. The Watermellow gummies, in contrast, taste exactly like your favorite movie theater candy, down to the stickiness. "Just floss before bed," Light says. The Rosemary's Achey oil is not meant to be ingested, duh, but it sure smells nice. (You rub it on areas where you're achey just like you would any lotion.)
But beyond the taste, which is yum, and the design, which is straight out of your Instagrammiest dreams, how do these all work?
CBD exists in a gray area, legally — that less-than-.3 percent THC threshold is a standard that distinguishes legal industrial hemp from recreational or medical cannabis, which is only legal on a state-by-state basis. Because of this, research into it is similarly limited. Though studies have shown that the compound does have anti-anxiety, anti-inflammatory, and neuroprotective effects, the dosage at which the compound may have these effects is not proven, as Vox notes, and may be substantially higher than the typical dosage suggested by CBD manufacturers. (An exception to this would be Epidiolex, the first FDA-approved CBD-based drug, which is prescribed to treat rare forms of pediatric epilepsy.) This means that it's often up to the consumer to make their own informed choices about whether or not to use CBD.
That said, if you've previously tried CBD and found it to be effective for you, there's no reason not to continue using it, so long as you're sourcing from reputable brands. As a relatively seasoned CBD consumer, I enjoyed the relaxing effect of a Watermellow gummy and a dropful of the mint chocolate milk tincture, though they're probably more of a nighttime ritual than, say, something I'd keep at my desk for anxiety. Another charming detail? The expiration date on each sample tincture I received was hand-written on the bottle. With 5 milligrams of Kentucky-sourced, full-spectrum CBD hemp oil per gummy, and 500 mg per tincture bottle, you can feel good about getting your money's worth, too.
The field of CBD products may be crowded since the compound exploded in popularity this past year, but AUR Body is a rare brand that stands out. With its chic packaging and nostalgic flavors, its products are deeply top shelf-worthy.
Readers should note that the regulations and data surrounding marijuana, CBD, and other related products are still developing. As such, the information contained in this post should not be construed as medical or legal advice. Always consult with your doctor before trying any substance or supplement.