Ava DuVernay Has A Netflix Miniseries On The Way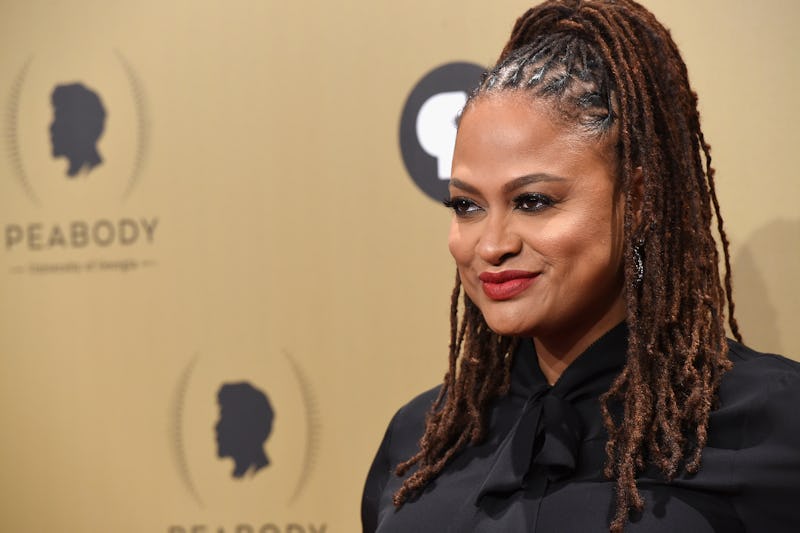 Michael Loccisano/Getty Images Entertainment/Getty Images
Since bursting onto the Hollywood scene in 2008, director and screenwriter Ava DuVernay has been on a roll. The Compton native has lent her voice to a diverse range of projects, including Netflix's 13th, which earned her a 2017 Oscar nomination, and Martin Luther King Jr. biopic Selma — giving the world history lessons while empowering the masses to take a stand against injustices affecting the world. DuVernay's next Netflix miniseries is of no exception, as it'll tackle the criminal justice system yet again.
Not yet titled, DuVernay will adapt the story of the Central Park Five into a miniseries for the streaming service, airing in 2019, according to The Hollywood Reporter. All men of color, Antron McCray, Kevin Richardson, Yusef Salaam, Raymond Santana, and Korey Wise, were arrested in 1989 for allegedly raping Trisha Meili while she was jogging in Central Park. In spite of having an extreme lack of evidence connecting the teenagers to the crime, the CP5 served 13 years in prison before a serial rapist confessed to the crime in 2002.
Filmmaker Ken Burns took a stab at examining the prominent case in the 2012 PBS documentary, entitled The Central Park Five. DuVernay's five-part miniseries will take a look at the case from 1989 to 2014, analyzing how the criminal justice department handled it.
The high-profile case led to a strong divide between the American people — many pushing for the five teenagers to be punished to the fullest extent of the law. Donald Trump was among those pushing for the death penalty, and took out a reported $85,000 worth of print ads pushing for the state of New York to reinstate it.
According to The Hollywood Reporter, DuVernay is looking forward to having a hand in sharing the story with the world. In a statement, she said,
"The story of the men known as the Central Park Five has riveted me for more than two decades. In their journey, we witness five innocent young men of color who were met with injustice at every turn — from coerced confessions to unjust incarceration to public calls for their execution by the man who would go on to be the president of the United States."
DuVernay's passion for educating the masses on the criminal justice system and defending the defenseless is admirable. And just as 13th has, her story on the Central Park Five is bound to be another teaching tool to inspire young revolutionaries.