Avicii's Ex-Girlfriend Paid Tribute To The Late DJ In An Extremely Touching Way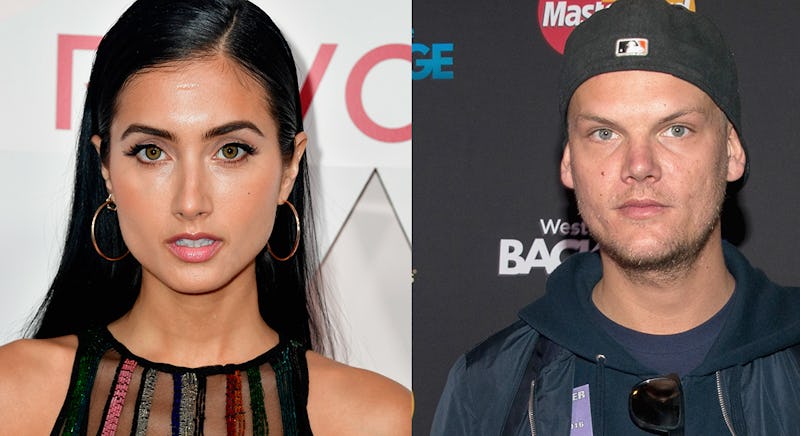 Frazer Harrison/Getty Images Entertainment/Getty Images; Christopher Polk/Getty Images Entertainment/Getty Images
Just days after his sudden passing at the age of 28, Avicii's ex-girlfriend Racquel Bettencourt's tribute to the beloved EDM DJ is a touching post that just how much of an impact he had on the lives of everyone around him. Bettencourt, a model and blogger professionally known as Racquel Natasha, shared a touching post via Instagram which reveals the overwhelming sense of grief that she's felt since Avicii's passing on April 20. A photo montage and note, which directly addressed the "Wake Me Up" producer, detailed many memories shared between the former flames. Bettencourt started the post off with a single sentence to describe her current emotional state. "My heart is broken," she wrote before diving into a deep reflection on her relationship with the Swedish entertainer.
People indicates that Bettencourt and Avicii, whose real name is Tim Bergling, dated for more than a year, and reportedly lived together in Los Angeles before breaking things off in December 2014. Bettencourt's touching post to her former loved continued:
"Tim, It Feels like it was just yesterday when we were inseparable. We talked and laughed till sunrise. It was us against the world. Memories to last a lifetime. Through all of our ups and downs I wanted nothing more than to make sure you were healthy and happy and be there for you every step of the way. Give you life, something to look forward to, but the universe had different plans for us."
Amidst the post, she also thanked the entertainer for teaching her "what true love feels like" and taking her along on his "journey." She continued,
"The bond, and connection we shared was so pure and real, I don't think it ever really truly broke. It has always been and will always be in my heart forever. It was far too soon for you, so gifted and so special. You were the biggest part of my life and played a huge role, I will forever cherish those moments. I just want you to know that I never stopped having love for you."
Bettencourt is among many close friends, colleagues, and fans who have shared an outpouring of love for the entertainer since his death to include; Liam Payne, Rita Ora, Zedd, Calvin Harris, Dua Lipa, DeadMau5, Charlie Puth and Pauly D.
Avicii underwent surgery for a blocked gallbladder and a burst appendix back in March 2014, and was also diagnosed with pancreatitis in 2013 which caused him to cancel several performances in the months to come, according to Us Weekly. In an October 2014 interview with Billboard, the "Levels" hitmaker credited Bettencourt as being a huge part of his recovery. People reports that Avicii's ailments were reportedly related, in part, to excessive drinking.
The ongoing health issues ultimately prompted the world-renowned DJ to retire from touring in 2016. During his skyrocket to fame, Avicii reportledy kept up an extremely grueling schedule. Page Six indicates that he performed a total of 813 gigs between 2008 and 2016. In a 2013 interview, he told People: "I'm tried, really tired, but I've been at it since I was 17, 18 years old — touring pretty much nonstop, 300 shows a year, and it's been very hectic. I need a break."
Upon his decision to retreat from the scene at the age of 26, Avicii told The Hollywood Reporter:
"To me it was something I had to do for my health. The scene was not for me. It was not the shows and not the music. It was always the other stuff surrounding it that never came naturally to me. All the other parts of being an artist. I'm more of an introverted person in general. It was always very hard for me. I took on board too much negative energy, I think."
For his contributions to music, Avicii won the American Music Award for Favorite Electronic Dance Music Artist in 2013, and the Billboard Music Award for Top Dance/Electronic Song in 2014 for "Wake Me Up." He has also been nominated twice for Grammy Awards in the category of Best Dance Recording in 2012 and 2013. Though he retired from touring two years ago, he continued to create new music. His most recent EP AVĨCI (01), which was released last August, is nominated for a 2018 Billboard Music Award for Top Dance/Electronic Album. The 2018 Billboard nomination was announced just days before his death.
As one of the most beloved EDM performers to ever grace the genre, Avicii will be forever missed by those who were touched by his music and presence. It goes without saying that his spirit will live on in the hearts of those that love him forever.