This Avocado Pool Float Exists & It's Honestly Better Than Avocado Toast
by Callie Tansill-Suddath
Urban Outfitters
Honestly, there is no end to what you can do with an avocado. The fruit (yes, fruit) is most notably to thank for an abundance of breakfast and skincare items. Most recently avocados have become an integral part of many wedding proposals — it's strange, but it's SUCH a good idea. Just imagine being asked to get married and then eating the box your ring was in! 2018 appears to be the year of offbeat uses for millennials' produce of choice, so perhaps it should come as no surprise you can now buy a huge avocado pool float.
Some kids want to be doctors when they grow up, some kids want to be superheroes. But some want to be an avocado pit, and now they finally can. Described on the Urban Outfitters website as an "Inner tube pool float in the shape of your favorite androgynous summer fruit," this beauty is a vinyl take on your favorite toast topping. For $28, you can soak up the sun in the buttery Mexican export. Hey, why not go all out? Lounge in the fruit while sporting an avocado face mask, or perhaps whilst snacking on some unconventional avocado snacks. The possibilities are as endless as the uses for the verdant beauty.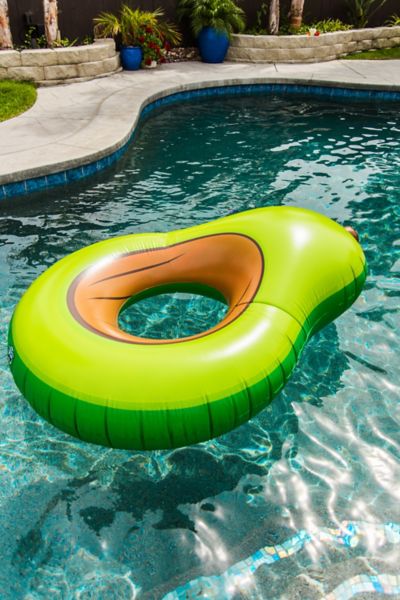 Avocado Pool Float, $28, Urban Outfitters
Pool floats appear to be the "it" accessory this summer, with the avocado float being only one of around 25 available for purchase on Urban Outfitters' website. If avocados aren't your thing (uh, who do you think you are??), do not despair, as you are sure to find a float that fits all your pool lounging needs. Some other floats that may tickle your fancy include a cactus, a pretty purple donut, a luminescent LED swan, and my personal favorite, a llama. The latter of these is a collaboration between Urban Outfitters and luxury pool float masters, FUNBOY.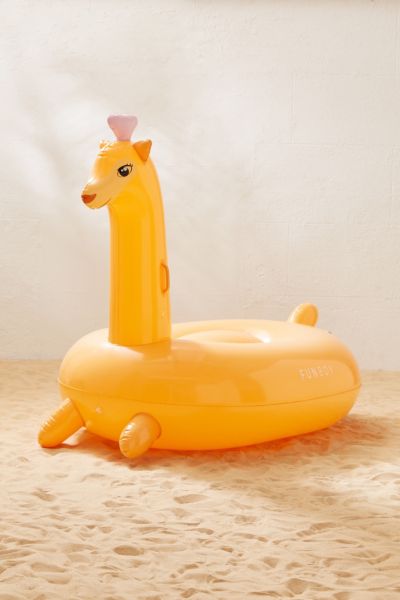 FUNBOY for UO Llama Pool Float, $79, Urban Outfitters
If the name FUNBOY doesn't initially ring a bell, allow any number of A-List celebrities to remind you what the company does best—swan floats. For those looking to to truly take their pool parties to the next level, FUNBOY offers an array of outlandish pool accessories including the aforementioned inflatable avian. This year's releases kick it up a notch and hone in on the company's commitment to luxury. Look no further than the Retro Pink Convertible Float or the Funboy Yacht Float to fulfill all the buoyant dreams you never knew you had.
FUNBOY Yacht Float, $128, FUNBOY
To simply call either the Retro Pink Convertible Float or the FUNBOY Yacht Float a raft would be a gross misunderstanding of everything the products have to offer. In addition to providing the user with a means of staying afloat, the two queen bed-sized floats both boast TWO cupholders, as well as an enormous front cooler compartment — perfect for holding everything from ice to speakers and maybe a small dog (note: the last one is not recommended). Like most good things, to snag one of these you may have to put in a bit of overtime at work, as both retail for $128 on the FUNBOY website, plus shipping. Though, life hack: sign up for emails on the website to receive 15 percent off your first purchase.
With April a little over a week away it's safe to say summer is swiftly approaching. Those of you who have already finished spring break are likely counting down the days until you can get away again. So, next time you're dreaming of sun, sand, and surf, add the image of yourself on a giant inflatable avocado to the picture: tasty AND useful.