Wait, Avril Lavigne Is Friends With Ryan Cabrera & No One Told Me?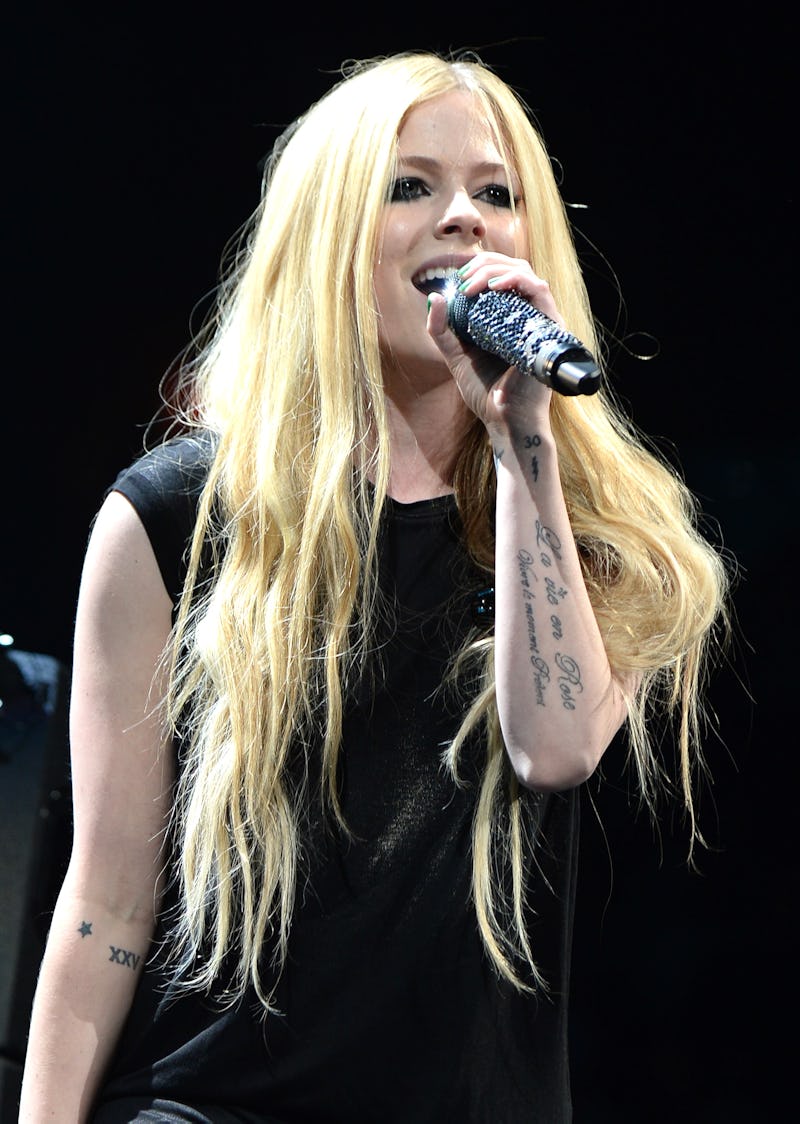 Larry Marano/Getty Images Entertainment/Getty Images
Celebrity BFF pairs are always a delight to discover for the first time, like when you realize that Oscar nominee Michelle Williams and under-appreciated comedic actor Busy Philipps are actually super close and have been since the Dawson's Creek years. But when Avril Lavigne wished Ryan Cabrera a happy birthday on Instagram, it was a real head-scratcher. Because, what? The two of them crossing paths in life would make sense, but the fact that a 15-year-plus close friendship has completely escaped the public's notice is really something to chew on.
On July 18, Lavigne posted a photo of the two of them drinking Coronas in a pool, adding a lengthy, colorful caption populated by four-letter words. She opened with the effusive phrase, "Happy f**king Birthday to ma #1 Batch bff @ryancabrera," which begs the question: Wait, what? Are they actually best friends? And does "Batch bff" mean they watch the Bachelor together? Well, early to mid '00s music fans, you're about to have your minds blown.
"I can always count on you to make me laugh especially back when I felt like crying. You are such a rad ray of light," Lavigne wrote in her post. And, seriously, did anyone on the internet have any idea that Avril Lavigne and Ryan Cabrera were this close? Lest you have your doubts, the Sk8r girl got specific about their friendship:
To bbqs, beers, blondes, bachelorette binge watching, art night, songwriting, guitar lessons, playing our first show together in 2002 in Dallas and more to come...
It turns out, Lavigne and Cabrera might be the buddy comedy people never knew they needed.
There's so much to unpack here! The unicorn pool floats, for instance, or Lavigne's fabulous throwback look, or the fact that she and Ryan Cabrera are best friends and no one is talking about it. They've shared so much together! They're close enough to relax together, pose for goofy photos, wear a revealing bathing suit in front of each other (in Cabrera's case). It's enough to make fans wonder whether they really know their favorite celebrities at all. Not to mention, the whole post is such a nostalgia machine. Both musicians boast devoted fan followings thanks to their early 2000s success, but it's admittedly been a while since either had an inescapable hit.
Honestly, it's hard to say whether they ever had major hits at the same time — or what touring circles would have brought them together back in 2002. But it's all-around a good time. His guitar-driven pop wasn't quite the same breed as Lavigne's early, angsty hits, but hey, the friendship offers something for everyone. For those wondering, Cabrera just turned 36, and Lavigne is 33, and turns 34 at the end of September. Let it be said, the two are just pals and probably not dating; Cabrera made headlines in June 2018 for getting back together with ex Audrina Patridge (yes, that one). Meanwhile, Lavigne is reportedly dating a billionaire, which is straight-up awesome. Even so, that didn't stop E! Online from announcing that the pair moved in together — or that Cabrera moved in with Lavigne, rather — after he went through a breakup in November 2017. Despite their co-habitation, however, it appears this famous duo really are just friends.
So, a happy birthday is in order for Ryan Cabrera, who is clearly spending his special day surrounded by people who love him. Also, fabulous musician friends: If you ever want to invite fans over to hang out at that pool with those amazing rose gold unicorn floats, there are a great deal of millennials who would love nothing more than to answer your call.