The 'BiP' Season 4 Cast Could Be The Best Yet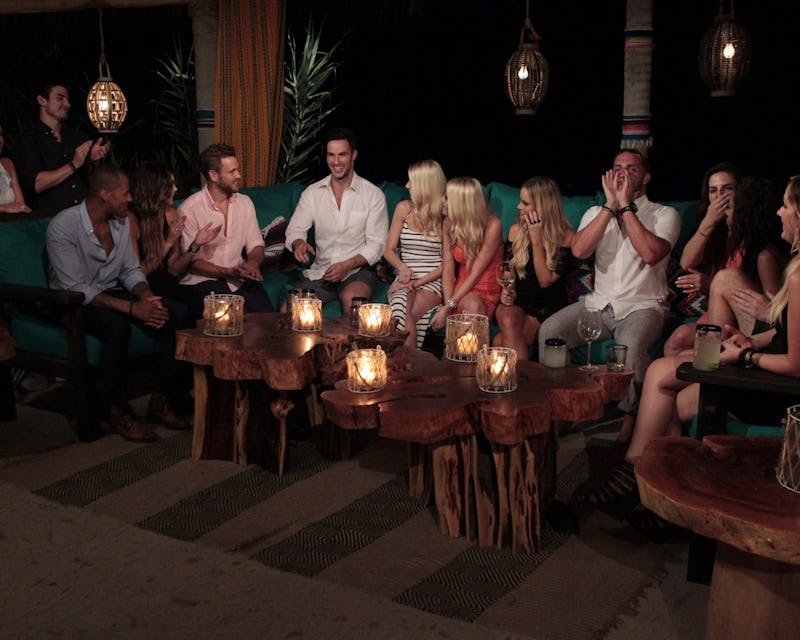 ABC
Back in the day, contestants entered ABC's reality dating franchise with the hopes of finding love, exploring the world, and maybe getting a little famous. That all changed when ABC gifted us The Bachelor's drunker cousin, Bachelor in Paradise, in August 2014. Years and seasons have passed, and the show will be on its fourth run this summer. Forget about predicting who gets proposed to at the end of Nick Viall's season of The Bachelor, let's talk about who will make it on Bachelor in Paradise Season 4. Because if the contestants don't end up getting engaged to Nick, at least they have BiP to fall back on.
If there's one thing we know about paradise, it's that the drinks, the waterfalls, and most importantly, the tears, will flow. That could be because most of the contestants have just had their heart trampled on and are coming to the beach (almost) straight from the reject limo. The wounds are fresh. This year, expect no different with this new batch of contestants. (Last year, there were a whopping 30 people who came in and out of that beach, composed of 16 women and 14 men. Season 4 will probably have the same number, so that's what my predictions reflect.)
Unfortunately, it's already been confirmed that Jorge the Bartender will not be there to pour Chris Harrison a glass of champagne. Here's who else might end up finding love on that Mexican beach.
1. Chad Johnson
Apparently Chad Johnson has already confirmed his reprisal role as the most villainous version of himself. So this one's kind of a meat — sorry, moot — point.
2. Alexis i.e. The Dolphin Trainer
Anyone with two eyes and a sense of humor is gunning for Alexis to roll up on that beach in her "dolphin" costume.
3. Corinne
Whipped cream in tow.
4. Grant
Grant coupled up with Lace almost instantly on Season 3. He never really got the chance to explore other relationships, and since the two have recently split up, think of all the dramatic possibilities.
5. Lace
If Grant's there, then Lace will have to be there. And then everything will be just fine.
6. Chase
Chase was in the top three during JoJo's season. Remember him? It's OK, I barely do either.
7. Jasmine
The pro basketball player has all the makings of a good BiP contestant. By that I mean, she likes to choke people and isn't afraid to try choking people.
8. Izzy
Izzy's second chance at not messing it up with someone she actually likes for a guy with a lamp.
9. Daniel
Mostly because Daniel and Alexis need to get together.
10. Olivia
Please let Olivia talk about smart things.
11. Liz
She never really shared her side of the story and was sent home pretty soon. What better platform to give Liz? Also, if someone happens to give birth on the show, it'd be great to have a doula on hand. Just going to throw that out there.
12. Alex
Alex will be the Evan Bass of this season. No one will take him seriously at first, but then someone will seriously fall for him after he manipulates them into an E.R. visit. Also, he's a bit of an underground pot-stirrer. And he has a rivalry with Chad. I should be hired by ABC right now.
13. Whitney
Much like Jen Saviano, the contestant who uttered a mere three sentences on her season, Whitney will get the chance to prove she has a voice box. She deserves it after getting left on that island.
14. Ian
It's a stretch, but Paradise is known for giving people second chances. After the meltdown he had on Kaitlyn Bristowe's season, Ian, "Princeton graduate, former model that defied death and has been around the world a couple of times," needs a second chance.
15. Danielle L.
Danielle L. is the Jade of the season. Sweet, quiet, a total catch. They even both modeled for The Chive.
16. Cupcake
There has to be one dude for all the ladies to fawn over. That dude should be Cupcake. Hopefully he will bring his scarves.
17. Luke
Speaking of dudes for ladies to fawn over, whatup Luke. His appearance on BiP might be a long shot, considering he had his heart broken by JoJo, and then by ABC when they decided to go with Nick as the Bachelor instead of him. But if they can get Luke on the show, he will be quite the commodity.
18. Robby
Rounding out the other top spot in JoJo's season was the swimmer who bore a striking resemblance to a Ken Doll, Robby. The way he handled his recent breakup brought up concerns from the audience and JoJo, so let's see if he can shed that image on the beaches of Mexico.
19. Josephine
She seems like a goofball that would add some comic relief.
20. Raven
With her winning personality — and her ability to stand up for herself using a stiletto heel — who wouldn't want to date Raven? (That is, if she doesn't end up engaged to Nick on this season of The Bachelor.)
21. Vinny
Poor Vinny. He was left for a guy with a lamp, but he deserved so much more. So did his mom.
22. Danielle M.
Danielle M. sounds like a Disney princess. In fact, I think she might actually be one.
23. Chris Soules
He didn't want to go last year. But come on, Chris. You can leave the "corn, soybeans and piggies" alone for a few weeks.
24 & 25. Emily & Haley
Can you picture a BiP without Emily and Haley Ferguson? I didn't think so.
26. James Taylor
The beach needs a town troubadour.
27. Derek
It also needs its own Jim Halpert.
28. Taylor
The mental health professional will have a field day on the set of BiP.
29. Kristina
Kristina deserves a vacation. Give Kristina a vacation.
30. Josh Murray
He might not be everyone's idea of a catch, but watching Josh Murray eat pizza whilst sweating sure makes for some good TV.
Whatever happens, I just hope Jorge the Bartender is doing alright.