Evan Bass Shares Everything You DIDN'T See When He & Carly Returned To 'Paradise'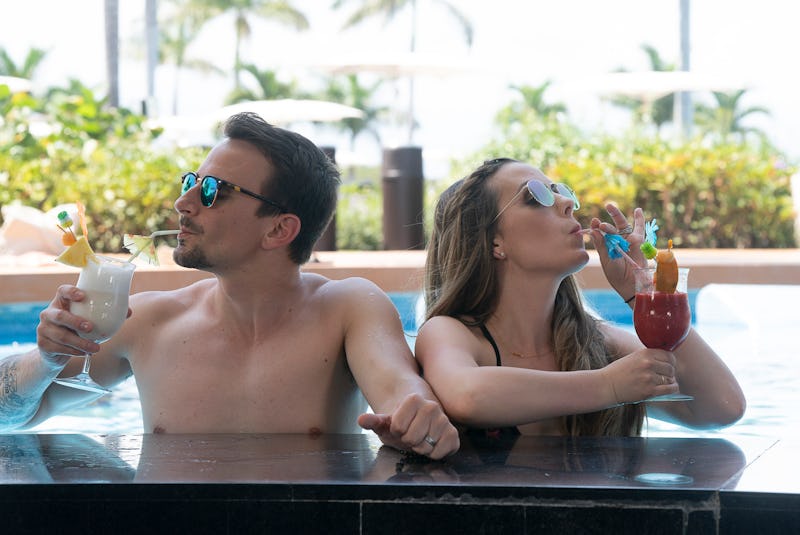 ABC/Paul Hebert
Bachelor in Paradise Season 3 star Evan Bass knows Bachelor franchise love: He married Carly Waddell after meeting her in Paradise, and they now have a daughter, Bella. Read what Evan has to say about the remaining relationships on Bachelor in Paradise Season 5.
Well folks, Tuesday night was the best episode of Bachelor in Paradise of the season and probably of all time. Me and Carly's daughter, Bella, and Jade and Tanner's baby, Emmy, made their national television debut and they slayed. Emmy was very dramatic, which made Chris Harrison happy, and Bella was the first person in the history of Paradise who didn't cry. (I'm simultaneously proud and slightly disappointed. Maybe by the time she's the Bachelorette in 2044 she will be ready to express more emotion on TV.)
I'll spill some behind the scenes details about the babysitting date with Grocery Store Joe and Kendall, but first let's talk about the magic of Paradise beginning to dispense with some of the flakier relationships to highlight the more serious ones.
Colton officially ended his relationship with Tia, thus clearing his schedule to become the Bachelor. I was excited that their relationship ended so I wouldn't have to watch their vacillations anymore, but then I realized we will be force fed this whole Tia and Colton thing over and over again in January when Colton's season of The Bachelor begins. Oh well. The upside is that I met Colton at Good Morning America yesterday and he actually seems like a really great guy. He mentioned that he brought a personal air conditioner to Paradise and my respect for him at least doubled. What a genius idea! That's the kind of Bachelor I can get behind. And let's be honest: Who cares who the Bachelor is, anyway? We watch for the drama between contestants.
Chris and Krystal finally had some positive screen time, receiving the blessing of BEN FREAKING RECTOR, although the raccoon interrupting his profession of love seemed a little ominous. I'm going to be happy for them at the end if they do end up together… although Chris will never know it because he blocked me on Twitter. Yes, I may have said some mean things about him when he was being an idiot with Tia — I wish he didn't take my tweets so seriously — but I will be their biggest fan if they end up engaged regardless of if I can tag him on social media or not.
Venmo John and Olivia re-enacted me and Carly's Guinness World Record hot pepper kiss and we are honored that they attempted such a daring move. To be clear, it wasn't the right kind of pepper and they broke no world records.
Eric, meanwhile, melted down in classic Paradise fashion. He was with Angela, got distracted by Cassandra, and then regretted all of his decisions and decided to awkwardly get into an SUV and leave. Cassandra was probably right — the only relationship that Eric needs to pursue right now is with himself. I hope we see him return next year as more of an aged cheddar than a cream cheese.
Shushanna, everyone's favorite Russian witch, exhibited extreme signs of "Paradise Paranoia" (trademark is mine). I personally love her because we shared some great times when we were on Paradise Season 3 together. But she absolutely lost her mind and provided premium content while sabotaging her chances at love along the way. She stared at Kamil, bailed on Kiwi Jordan, refused to go out with Diggy, tried to sort of get Jordan back, and then cried her eyes out for a while. It was bizarre, and I have to wonder what she thinks watching this back or if she's still gazing longingly at the shrine of Kamil in her closet.
And now, let's get to the most important date in Paradise history.
I was super emotional walking onto that beach again. So. Many. Memories. I cried at least three times and Chris Harrison just gave me a look like, "I'm going to retire soon if I have to see much more of you."
Interviewing the couples was such a blast. I really wanted to meet Jordan and it was so fun asking everyone funny questions, many of which were unfortunately not shown. I had no idea who Jenna was at the time, but I wish I had known how amazing she is and I would have loved seeing Jordan and Jenna babysit Bella. They would have done a fantastic job and Bella would have a leg up in her modeling career.
Interviewing Kamil and Annaliese was a little sad — they seemed like they were on different pages. Kamil was really cool but just seemed a little overwhelmed by the speed and intensity of everything. Annaliese was charming and so invested in the process. I feel like we are kind of similar in some ways in that we both so badly wanted to find love on Paradise; that emotion sort of overtakes any logical thought process that you would normally use back home. She is genuine and I admire that, but I felt bad for her and wasn't sure that they could overcome the gap in the way they were approaching the relationship. Hopefully they can find common ground during the finale week.
Shushanna and Jordan were fun, too, and she seemed completely normal. It was funny how she mentioned us later as a way to justify her madness. Sorry, Shu, unless you're willing to fake your own death you just can't bring us up like that.
Joe and Kendall were so so cute. The way they interacted was so endearing. Joe, who is as normal in person as he is on TV, hadn't been out on a date all season, so it seemed like a natural choice to pick them. We felt like they needed a little push for their relationship and that worked. So cool! We had brunch with Kendall yesterday in New York and she gave us an update, and I'm looking forward to watching which way their relationship goes next week.
The executive producer told us the babysitting date was the most expensive date in Paradise history because they had to fly in all kinds of extra staff, including a nurse and a teacher. Yes, an actual teacher. There are a million rules bringing a baby to any set. Suffice it to say, the babies were extremely safe and well cared for. Because of her age, Bella could only be on the set for 20 minutes and the teacher carried a stopwatch to make sure the time wasn't over 20 minutes! Emmy could be on a little longer, but still it was a little stressful for the crew making sure that they got all the camera shots and angles right to make great television. And they did make great TV! The date lasted around 20 minutes, but in reality it actually took about 16 hours over two days to film. It's incredible to see how much time and effort go in to making two segments, not to mention an entire series. There are hundreds of staff members that have to be on site in Mexico each day.
As for Carly and I, this may be the end of our time on Paradise. I feel like I completed my character arc. I went from bumbling Bachelorette candidate to delusional Paradise attendee, to engaged, married, and the father of my first baby girl... all in two years. I'll forever be grateful to this show, and I'm cheering for these new couples to find long lasting love like we did. See y'all next week for the finale!