Bachelor Nation Alums Have Some Thoughts About Colton Becoming The Next Bachelor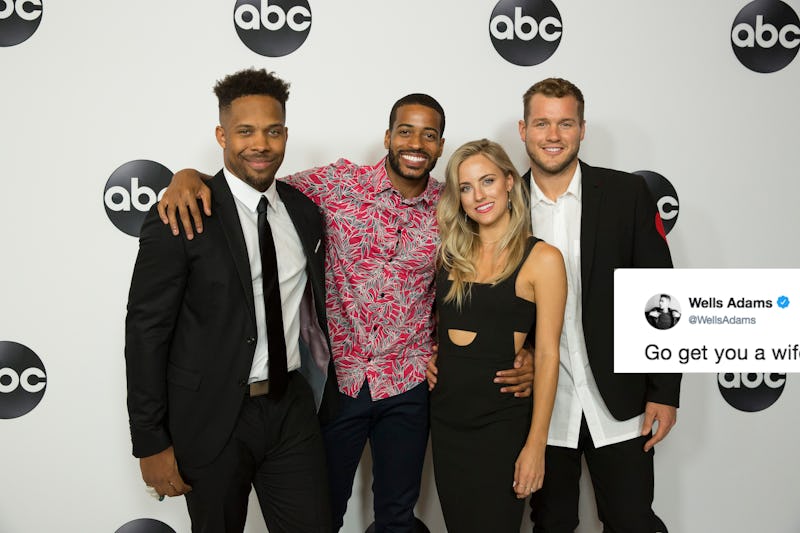 ABC/Image Group LA; Wells Adams/Twitter
On Tuesday, Sept. 4, Good Morning America unveiled that Colton Underwood will be the next Bachelor. The news itself didn't prove to be all that shocking, considering rumors of Colton's rose-y future had been making their way across social media for a few days now. But while some fans may have been hoping that the position would fall to the likes of Blake Horstmann or Jason Tartick, Bachelor alum reactions to Colton becoming the next Bachelor prove that his friends totally have his back and wish him well on his journey to find love.
Colton first made his debut on the franchise when he appeared as a contestant on Becca Kufrin's season of The Bachelorette back in May. He ended up coming in fourth place and was heartbroken from the split, having told her that he was falling in love with her and opening up about being a virgin. However, their relationship was never without some form of drama right from the start — mostly because he'd briefly dated Becca's good friend Tia Booth a few weeks prior to coming on the show. After his elimination, Colton headed to Bachelor in Paradise Season 5 and attempted to pick things back up with Tia, but ultimately ended up leaving when he realized the feelings just weren't there.
So will he find the connection he's been looking for on Season 23 of The Bachelor? Fans will have to tune in this January to see how it all plays out, but Colton seems eager to start this next chapter of his life, saying on GMA, "One thing I took pride in on both seasons was being true to who I am. It took all of that to get to where I'm at now and know who I am as a person and know what I want in a life partner."
And based on the reactions from his fellow Bach alums, they're absolutely thrilled over the news — even if fan reactions are proving to be a somewhat mixed bag. Check out what your favorite members of Bachelor Nation had to say on the matter and see just how much love and support Colton has in his corner.